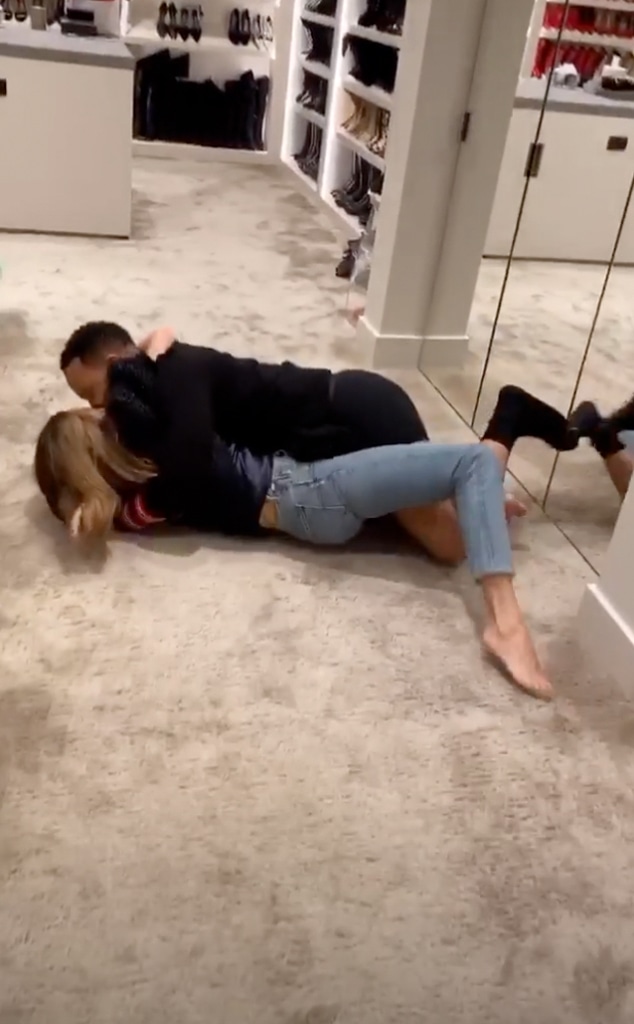 Instagram
Kris Jenner invited John Legend and Chrissy Teigen over for her annual Christmas dinner on Wednesday and things got a little out of hand. 
Luckily, the momager documented all of the silly shenanigans via Instagram Stories. 
It all started when the Keeping Up With the Kardashians star expressed disappointment that the cookbook author wasn't sharing any of her culinary tips. 
"OK, you guys know how I've been asking Chrissy Teigen to teach me how to cook," she teased. "She came over for dinner tonight, and I thought she would teach me something—like an appetizer, whatever, a dessert. And there she is just, like, on the couch—not paying any attention to me at all. I'm not sure what to do."
She even left out Teigen's Cravings series as a little hint. Although, Luna and Miles' mom just acted unimpressed.
"So, I put the cookbooks in back of her thinking that she would pay some attention to me and she promised me she'd help me cook something and—do you think she'd look at me? Look at the cookbooks?" Jenner quipped. "She's not going to help in the kitchen."
Jenner then joked Teigen was "stealing" presents out of the family's Christmas stockings. 
"If they end up in her car, I'm really going to be pissed," she quipped.
However, things really took a turn after she accused Teigen and Legend of getting "way too comfortable." From climbing into Jenner's bed and making out in her closet to sitting in her bathtub and using one of her toothbrushes, the dynamic duo made themselves at home. At one point, Legend even ditched his pants. 
"Worst dinner guest ever," Jenner teased, referring to Teigen.
The night ended with Teigen and Legend pretending to swipe a few goodies.
"I got these from home," Teigen said after jokingly being confronted by Jenner's security.
Of course, the celebrities were just joking with each other.
They also weren't the only stars at the party. Kim Kardashian and Jenner's wax figure made appearances, as well.
We can't wait until next year!