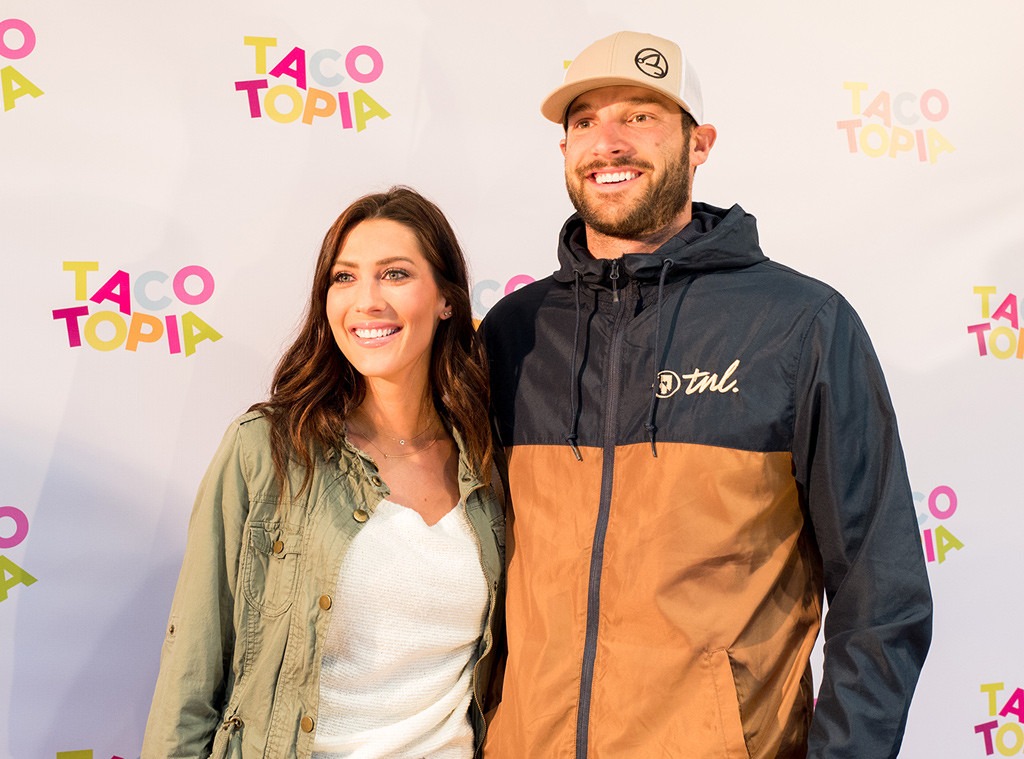 Kylie Gayer/E! News
When's the wedding?
On Wednesday, former Bachelorette Becca Kufrin opened up about her wedding planning status on the Bachelor Happy Hour podcast. After revealing that she and her fiancé Garrett Yrigoyen, who found love on season 14 of the hit show back in 2018, are in no rush to tie the knot, the 29-year-old admitted that they haven't planned anything yet.
"We literally have zero wedding plans right now," she told host Rachel Lindsay. The couple might not be putting any pressure on getting married, but she said she feels it from everyone else—especially on social media.
She continued, "I went on the show to find somebody to get engaged to eventually get married, so I understand that that's why people always ask and they're interested… If post a picture of Garrett and I, the only comments I feel like we get are, 'Oh, my gosh, have babies right now.' Or, 'Oh, my gosh, when's the wedding?' There's more to our relationship than that, but again, it's because we put ourselves out there in that regard."
While on the topic of her fiancé, Becca addressed the backlash the couple receives on a regular basis. Recently, she attended Bachelor nation star's Chris Randone and Krystal Nielson's wedding solo in June and was slammed on social media for not bringing Garrett along.
Fans were quick to speculate that the they'd broken up and some even called her a bad fiancé.
"He still has a life," Becca began. "He still has friends from his hometown, and they were having a birthday…Fast forward to now a couple of months later when the wedding actually airs, and I'm watching the wedding on TV and I'm just getting all of these DMs and messages from people being like, 'Oh, my God, did you guys break up?' 'Oh, my gosh, you're a bad fiancé,' or, 'Garrett's a bad fiancé.' 'Why didn't you go together?'"
Watch:
Becca Kufrin & Garrett Yrigoyen Address Instagram Scandal
But Becca knows that she can't let the haters keep her down. Speaking to E! News, the Bachelor alum explained her relationship with social media, saying, "I think, as great as social media can be, it also I think can be a really negative space. There's so much bullying going on and so much negativity. I've learned firsthand…just how quick people are to judge."
In fact, she confessed that she was grateful none of the guys had their phones while filming The Bachelorette because it made them more genuine with her. "That's what I loved about being on this journey is getting to know the guys for who they are away from social media," she told E! News. "I feel like I was really lucky in the sense that I got to know them for who they are."