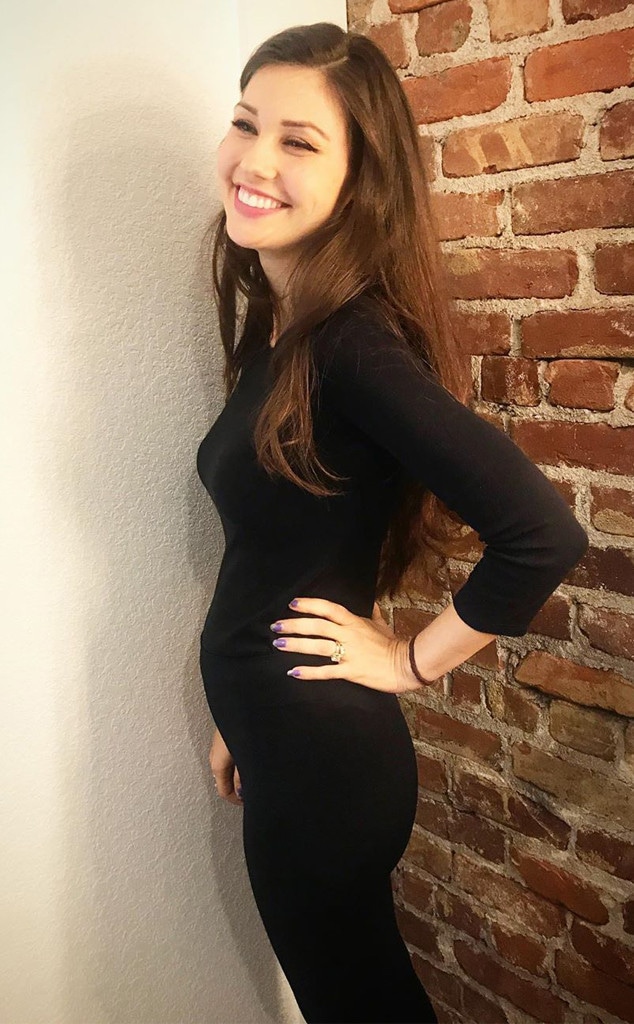 Instagram
Congratulations are in order! The Bachelor's Britt Nilsson is pregnant with her first child.
The former reality show contestant revealed on Instagram that she and her husband Jeremy Byrne will be welcoming their first child in 2020. Nilsson competed on Chris Soules' season of The Bachelor in 2015 and was almost The Bachelorette herself, but she ultimately lost the spot to Kaitlyn Bristowe.
The happy news came on Dec. 14 when the 32-year-old shared a video announcement on her YouTube channel. She dropped the news about the video on her Instagram with a selfie of her and Byrne (who got married in 2017) excitedly holding up a pregnancy test.
As she wrote in the caption, "Pure JOY! We have an announcement, video link in profile!!!"
The video itself shows Nilsson and Byrne's real-time reaction to the pregnancy test results. As she says in the clip, "I can't believe it. It just didn't seem real. I didn't think it could be. I thought I just had a late period!"
"We're pregnant! I feel like I don't believe it because I've never been pregnant before," she said at another point in the video. "And I feel excited and overwhelmed and I don't know, this is just something that's always happened to other people and not to me! But it's like, the biggest blessing."
Through tears, Nilsson went on, "I love other people's kids, I just can't imagine how much I'm going to love our little baby."
Lots of "I love yous" are exchanged throughout the emotional video.
For his part, Byrne said in reaction to the happy news that he had a gut feeling Nilsson was pregnant. Still, he admitted, "I can't fathom it quite yet."
"You know what's funny?" he continued. "I was just thinking, when I tell people, I feel like I'm gonna say, 'I think we're pregnant' still." 
Later on, the former Bachelor star started crying again when she realized they could show this video to their little on when it's older. As she quipped, "Oh maybe I really am pregnant. I'm crying a lot, even for me!"
Watch:
Did the New Bachelorette's Watch Chris Soules on "DWTS"?
Nilsson's latest Instagram leaves no room to doubt that she is, in fact, having a baby. On Tuesday, the mom-to-be shared a photo of her bump at 14 weeks, a big smile on her face. The video paired with the sweet photo shows the monitor at her 10-week sonogram.
As she wrote in her caption, "Swipe to see who's inside!!!! First pic is me at 14 weeks, second is baby Byrne at 10 weeks. I can't believe our little boobah is zootin all around so much with their little legs and arms, makes me cry!! Can't wait to keep watching you grow, I already love you so much!"
Congratulations to the happy couple!