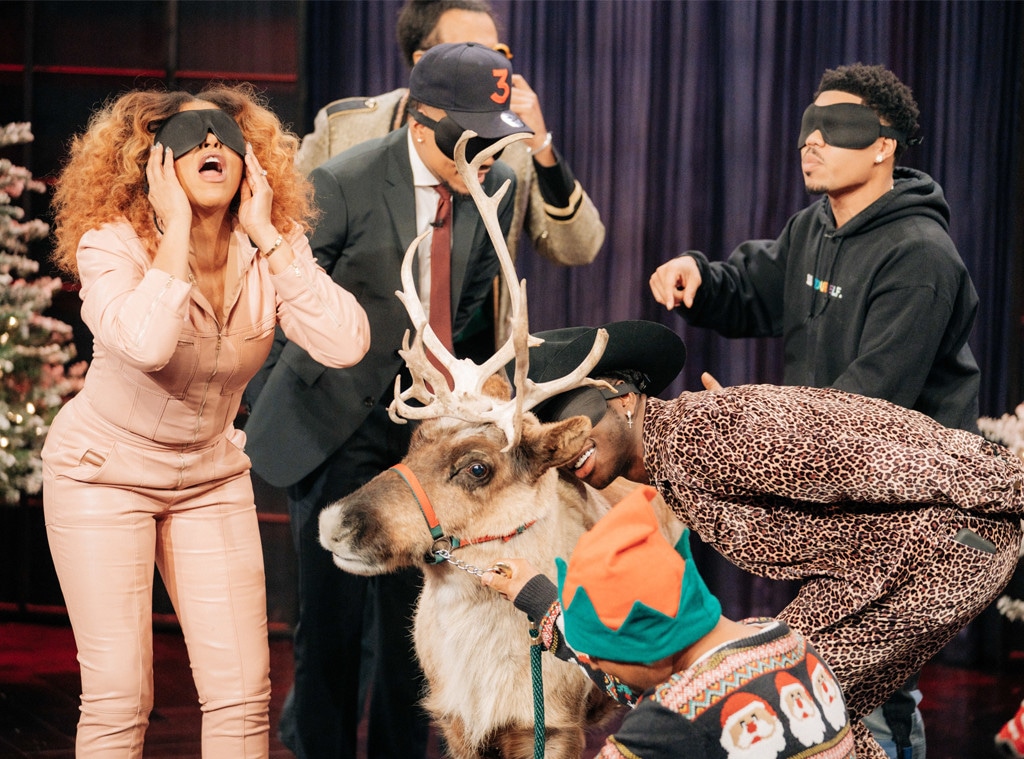 Terence Patrick/CBS
Nothing like a nuzzling competition to spread holiday cheer, right?
On Monday, Lil Nas X and Taraji P. Henson faced off in The Late Late Show's holiday-themed "Nuzzle Whaaa?" game, where they were tasked with identifying festive items by nuzzling their faces against them. The unusual game was the brainchild of guest host Chance the Rapper, who was filling in for James Corden. Also participating in the holiday late night fun was the "Big Day" rapper's brother Taylor Bennett.
Fully blindfolded and ready to go, the duo tried their best to make out the first object, which was a traditionally-decorated gingerbread house. Unable to figure out what it was, Taraji listed every holiday food she could think of. "A lollipop?" she began. "Sugar stick? Sugar cane? A candy cane? A ham? Chestnuts? Cranberries?" But alas, neither she nor the "Old Town Road" singer got it. 
Next up, the Bennett brothers put their blindfolds on and nuzzled their faces against a mall Santa Claus. "It's furry!" Chance proclaimed as he pressed his face against the Santa's beard. "I'm not licking it…"
For the final round, all four contestants competed against each other as they tried to snuggling up with a miniature reindeer. At first, the group had a hard time finding the little guy with their blindfolds on, but Taraji was spot-on with her guesses. "It's a pony!" she yelled. "Is that a horse? It's a reindeer!"
Excited to get the answer correct, the Empire star took off her blindfold, only to be scared by the surprise visitor. "I'm just letting him be him," she said while hiding across the stage.
Monday night's episode marked Chance's first time behind the late night desk and he proved that he had no problem taking over for James. Kicking things off with a hilarious monologue, the new dad effortlessly delivered jokes and analyzed some of the day's biggest headlines.
To keep things on a positive note, he even edited some news headlines to be more uplifting—starting with a headline that read, "Health officials say two alcoholic drinks a day no longer safe." Putting his own spin on it, the new headline became, "Health officials say two alcoholic drinks a day no longer enough to have fun."
Watch:
Kanye West and Chance the Rapper's Kids Dance Together
Then, Chance hit the streets of Los Angeles to give Late Late Show fans an opportunity to win some cash. Playing a round of "Cry Right Now for Chance the Rapper (and $100)," he challenged strangers to cry on command for $100.
Seeing that the task wasn't the easiest to complete, Chance quickly came up with other fun challenges for the fans to do. Some included cutting their hair with tiny barber scissors, hurling insults at an innocent Golden Retriever puppy and telling children that Santa isn't real.
Someone get Chance his own late night show ASAP!