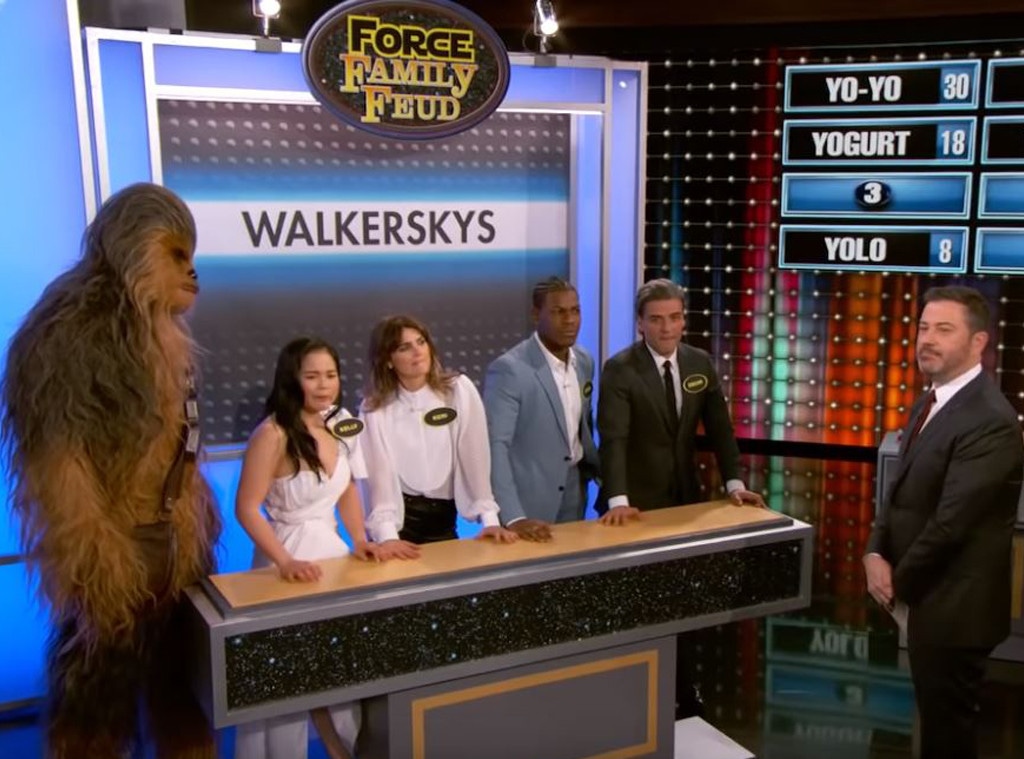 YouTube
The feud is strong with these ones.
During an appearance on Monday's Jimmy Kimmel Live, the cast of Star Wars: The Rise of Skywalker played an out of this world round of Force Family Feud. On Team Vadersteins was director J.J. Abrams, Daisy Ridley, Billy Dee Williams, Anthony Daniels and newcomer to the franchise Naomi Ackie. On Team Walkerskys was Oscar Isaac, John Boyega, Keri Russell, Kelly Marie Tran and Chewbacca!
First up to bat were Abrams and Isaac. As host Jimmy Kimmel asked, "What's the worst body part to get chopped off by a lightsaber?" The Isaac responded, "Hand." Abrams then guessed leg, which was the answer with the higher points, so the game then shifted over to the Vadersteins.
Ridley then guessed head, which of course, was the highest possible answer. And then, Lando Calrissian himself said what everyone was thinking. As he was gearing up to give his answer, Ackie quipped, "Say it, Billy." Then, looking Kimmel right in the eye, Williams said, "A penis." And yes, private parts were one of the answers on the board. Eventually, the Vadersteins won the round.
Next up were Rey and Finn, er, Ridley and Boyega.
As they approached the podium, the two buddies yelled in delight, "I love you, Peanut!" And then, they were given their question. As the host prompted, "Besides Yoda, say something that starts with 'yo.'"
Russell cracked up in the background, clearly thinking this question was impossible. Then Ridley buzzed first and hilariously said, "Yo dawg?" Unfortunately, that wasn't one of the answers. As Boyega then accurately responded with yodeling, and the Walkerskys finally got their turn and ended up winning their round. 
The last question made things personal. "Kerri, Billy Dee," Kimmel said. "Which Star Wars character would make the worst roommate?"
Russell shot first and said, "Chewbacca," which was awkward, considering he was standing right there! As for Williams, he guessed Han Solo. Russell ended up guessing correctly, and then Tran got her turn. The actress accurately named Jabba The Hut. Chewie's answer, unfortunately, wasn't on the board, but not to worry. Isaac and Boyega brought things back by guessing Kylo Ren and Darth Vader.
Watch:
Daisy Ridley Talks "Star Wars: The Last Jedi"
Russell thought C3PO would for sure be the last name on the list, but alas he was not. Amazingly enough, Daniels—the man who has played the beloved gold droid in all nine of the Star Wars films—accurately named Jar Jar Binks as the last worst roommate.
And with that, the Vadersteins won! We're just glad this feud didn't escalate to the point where lightsabers needed to be involved. May the force be with you always.