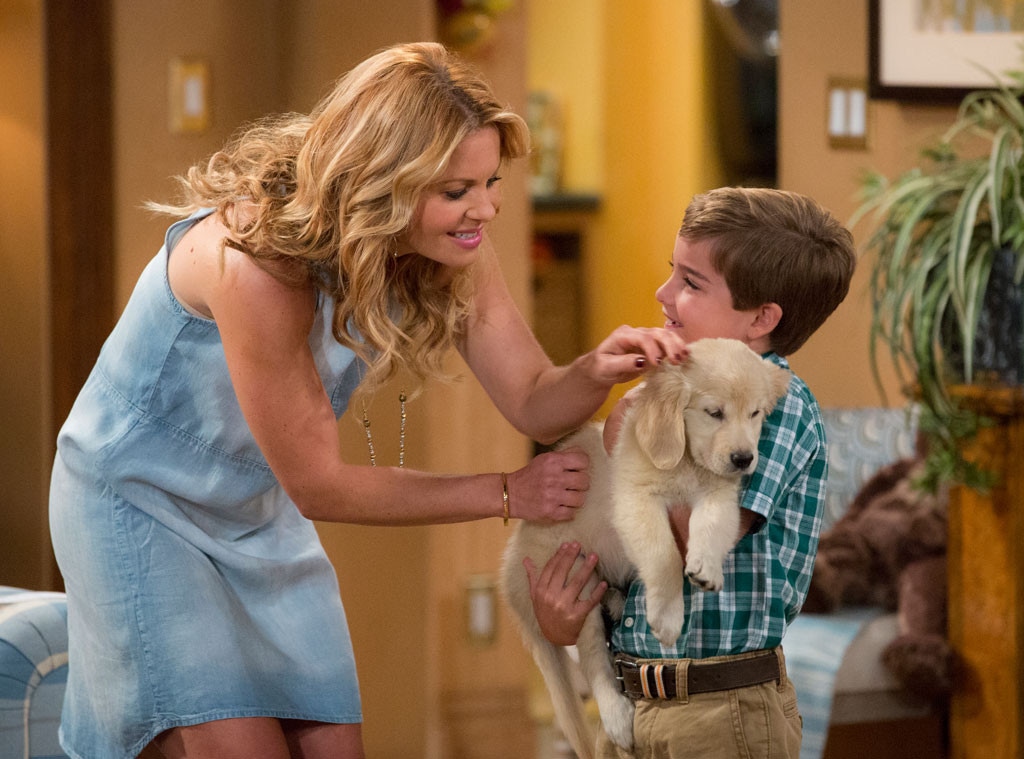 Michael Yarish/Netflix
Just as fans weren't ready to say goodbye to Fuller House for good, they also weren't ready to unexpectedly say goodbye to the furry friend who made the show 100x better, Cosmo. 
On Monday, Dec. 16, the cast of Fuller House announced that their golden retriever passed away after suffering complications from surgery. 
"We're sad to share that the Fullers' faithful dog Cosmo, who grew up on our set, passed away after complications from surgery. There will never be another quite like your boy. We'll miss him forever," wrote the show in a statement on Twitter, alongside pictures of Cosmo through the years. 
Fuller House star Candace Cameron Bure also shared the show's statement on Twitter and wrote: "so much love." 
On Instagram, she also shared a series of pictures and videos of their beloved Cosmo, and wrote: "Our sweet boy Cosmo is now running around in doggie heaven. I imagine he's playing with Comet right now. Cosmo has been in Fuller House since the start and we are heartbroken that he passed away during surgery complications. You'll be so missed love bug." 
Fans and followers alike also took to social media to share their best memories of watching Cosmo on Fuller House in past years. 
Soni Nicole Bringas, who portrays Ramona Gibbler on the Netflix series, also shared how deeply she'll miss Cosmo. 
On Instagram, she wrote: "Cosmo, you completed our family. You were such a good boy, always working hard, excited to play and every single one of us loved getting to see you each week."
She also gave her condolences to the animal trainer on set who cared for the Fuller House star.
"I know how much you cared for Cosmo as if he were your own son. We are so appreciative to both of you for all the time and love you gave the show," Bringas continued on her caption. "Unfortunately, Cosmo passed away quite recently due to surgery complications. It was devastating news but we are grateful he got to be a part of our family. We will miss you Cosmo!" 
The child actors who play DJ Tanner's youngest son also shared their condolences on Instagram, writing: "Heartbroken over losing one of our favorite faces." 
The Full House revival premiered on Netflix in February of 2016 and Cosmo has stolen the hearts of viewers ever since.
As fans of the show recall, Cosmo was the great-grandson of Comet, the Tanner family's pet from the original '90s sitcom. 
Watch:
An Emotional Farewell by "Fuller House" Cast