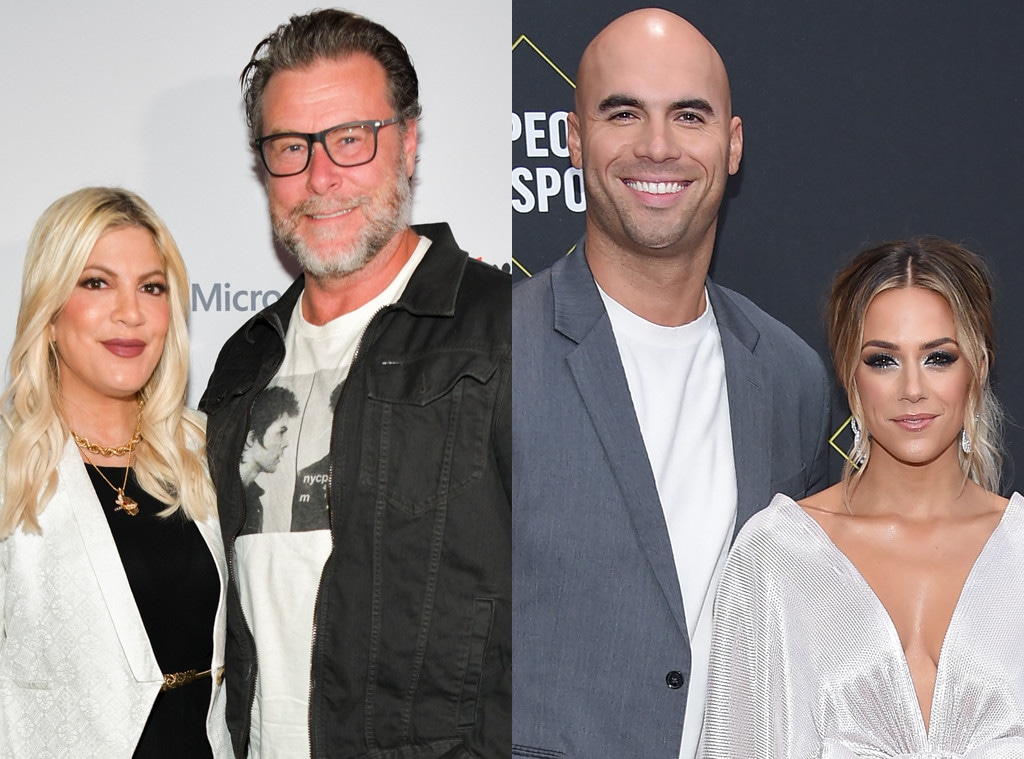 Rodin Eckenroth/Getty Images, AFF-USA/Shutterstock
Jana Kramer and Tori Spelling may have more in common than you think.
In addition to being two successful Hollywood stars and business women, the proud moms always put family first.
And on the latest episode of iHeartRadio's Whine Down podcast, Jana and her husband Mike Caussin invited Dean McDermott onto the show where they quickly discussed the topic of surviving infidelity.
"Doing [True Tori] really got us together and got us talking right away, which was great. Looking at it now, sort of solving your problems in the town square—there's a price to it," Dean shared on the latest episode. "Everyone can chime in. We were doing it with the thought of getting through it ourselves but also helping others. But with that, we weren't thinking of all the backlash and the haters and all the naysayers."
Despite more than a few tabloid headlines and skeptics, Tori and Dean remain dedicated to their love story and vows.
"We did it and the great thing is we worked it out and we're together and things are stronger and better than ever," Dean shared.
Mike added, "That sounds so identical and parallel and familiar for us."
Watch:
Jana Kramer Gets Real About Mom Challenges
During the open and honest conversation, listeners were reminded that Dean and Mike's cheating scandals first made news in the tabloids. In fact, former friends were the ones to sell the stories to the press.
And if that wasn't bad enough, Tori and Dean's scandal broke just before the holidays.
"[Mike] and I, we shouldn't have been doing what we were doing but it didn't need to play out that way and our story broke Christmas Eve," Dean shared. "It's all my fault but it's done."
As Jana could relate to, Dean was the first to admit that his wife got more than a few comments questioning why she wanted to stay with a cheater. With hard work and healing, however, things have taken a turn for the better.
"Tori would get comments and especially on social media. Tori would get a lot of flak for [staying]. That's something she had to work through. She's so strong," Dean shared. "It's turned. Now a lot of people say, 'We're so glad you stayed together. You're a great example.' As guys, we want to fix everything and be done…that's not going to happen in this situation."
Before the discussion came to an end, Dean had to give credit where credit is due.
"Guys, keep up the good work. Three and a half years out? That's awesome that you're still together," he shared. "Awesome work."
Jana replied, "You've been our beacon of hope so thank you."
Listen to the entire interview on iHeartRadio's Whine Down podcast. Plus, find out where the Whine Down tour is coming in 2020 here.