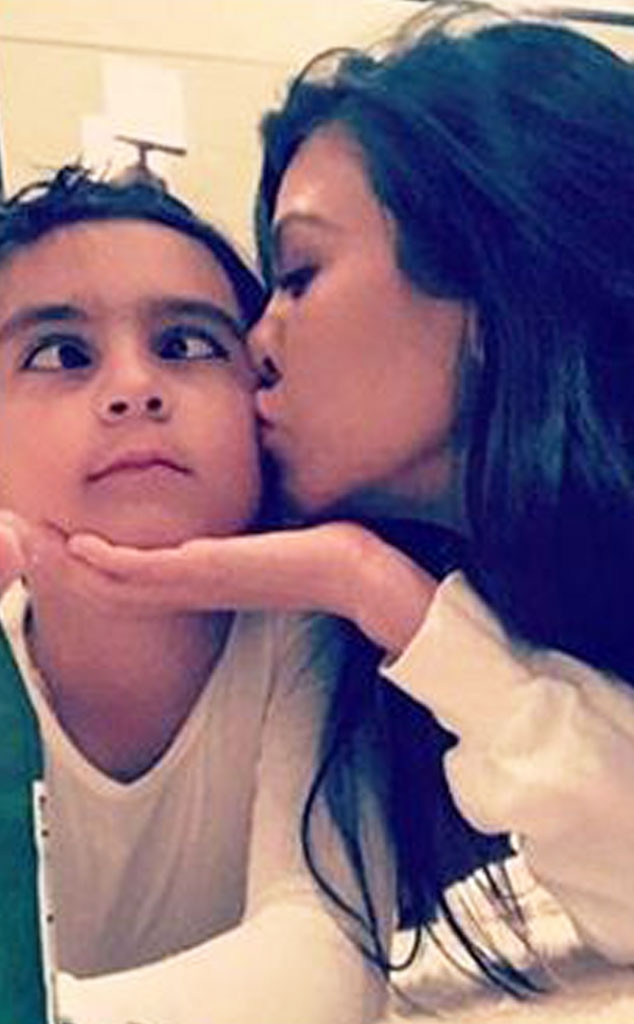 Instagram
It seems like it was yesterday, at the start of the decade, when we found out that Kourtney Kardashian was pregnant with her firstborn, Mason Disick, on an episode of Kourtney and Kim Take Miami.
Now, Mason (and the rest of Kourtney's kids) are growing right before our eyes!
If you keep up with the Kardashian's, then you also know that today marks both Mason and Reign Disick's birthdays. Specifically, Mason turns 10 today while his little brother turns 5! Dec. 14 is a special day for Kourtney and the rest of the Kardashian family as they celebrate these two sweet young boys. 
Who knows what extravagant celebration the family may have up their sleeve for the two, but in the meantime, Mason's aunts and grandma are wishing him the best on Instagram. 
Of course, the mother of three and Poosh founder also took to Instagram to share some sweet birthday shoutouts to her kids. 
After reposting Simon Huck's Instagram Story of Mason—which he captioned "Happy birthday BOSS! We love you!!!"—Kourtney posted a video to her stories of the 10-year-old singing. "My baby is 10," Kourtney wrote alongside the video of Mason rapping along to a Travis Scott song. 
In another Instagram Story, Kourtney also shared a sweet video of her youngest son Reign speaking in cute gibberish, writing: "and this one with his own language is five today. Time. Flies."
Additionally, Scott Disick took to social media to wish his boys a special birthday. "It's just me and my best friend. 10 years of the best love ever," the home renovation expert said of Mason.
As for his baby boy? He wrote, "My little reign maker turns 5 today! Nothing better then this."
Watch:
Kourtney Kardashian Insults Troll Who Criticized Her Son's Hair
Kim Kardashian took to Instagram to share a picture of herself with Mason as a newborn, captioning it: "Happy Birthday Mason! You are so special and bring such a light into all of our lives! I know it's annoying all of the other cousins are so much younger but they look up to you so much! Thank you for being the best big cousin for my babies. I can't believe you were this photo was taken 10 years ago. We all love you so much."
Kourtney also commented on Kim's picture, writing: "TIME FLIES (with a crying face emoji)."
Kourtney Kardashian/Instagram
She wrote: "Happy Birthday Reigny! You are the silliest little kid I know. Thank you for being Saints best friend and always having his back! I love you more than you could ever imagine!!!!" 
Of course, the queen of birthday posts for her family, Kris Jenner, also shared her own tribute to Mason on his special day. 
Sharing a series of pictures of both Mason and Reign over the years, Kris wrote: "Happy birthday to my precious grandsons Mason and Reign! You are the greatest blessings, and we love you so much. Mason, I can't believe you are 10 today! You are growing into the funniest, smartest, most loving and amazing little man and I'm so proud of you!"
When wishing Mason's little brother happy birthday in the same caption, Kris wrote: "And Reign, 5 today, and the coolest kid in the world." 
She added: "It brings me so much joy to watch you both grow together as amazing brothers, sons, grandsons and cousins. I love you both to the moon and back. Xo. #HappyBirthdayMason #HappyBirthdayReign."