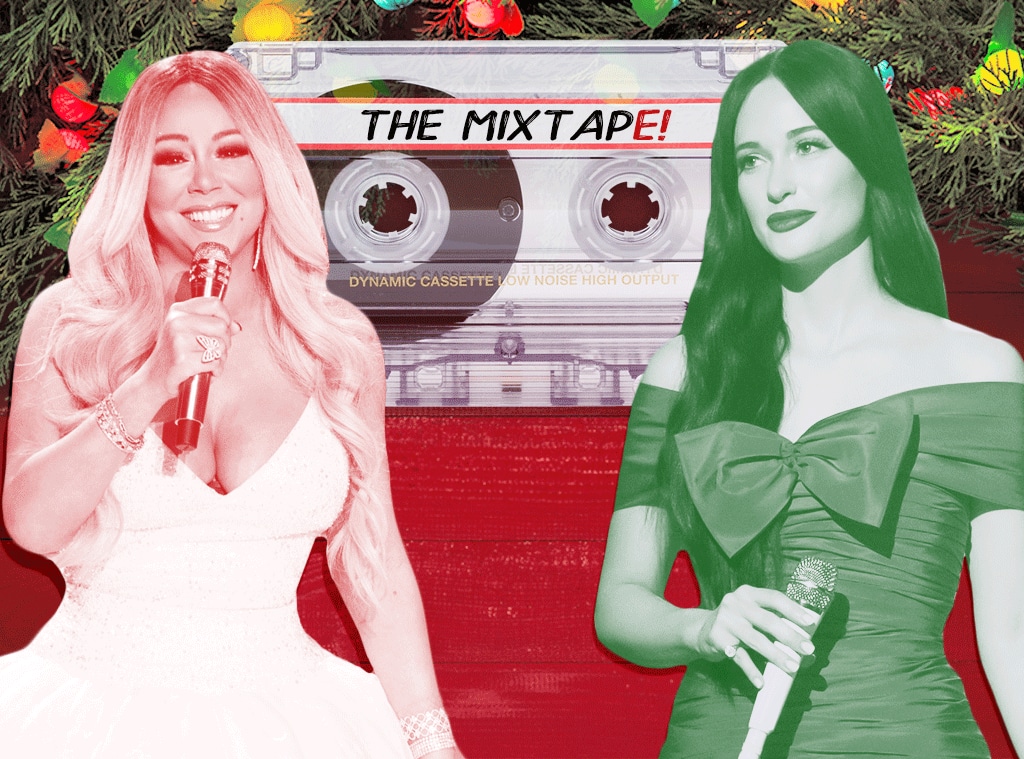 Getty Images; Amazon/E! Illustration
The holiday season is officially in full swing.
And since 2020 has forced us all to forgo hosting family and friends or making the long trek to wherever it is we usually celebrate, chances are you're looking for just the right music to get you and yours in the spirit. Pop music isn't lacking in the Christmas-inspired section, what with the holiday album becoming something of a time-honored tradition (and way to make a quick buck). But not all of it is good. That's where we come in.
Welcome to a special Christmas edition of The MixtapE!
Rather than just surrender to the same old songs you've been forced to listen to since childhood, we've come prepared with our favorite 20 or so Christmas songs that will make your playlists full of just the right amount of holiday cheer. With classics from Mariah Carey and Darlene Love to modern originals from Kacey Musgraves and Ariana Grande, plus a few unexpected tracks from the likes of RuPaul and Lady Gaga, there's something for everybody. No lumps of coal in sight, we promise. 
Mariah Carey — "All I Want for Christmas Is You"/"Oh Santa!"
No Christmas playlist would be complete without an appearance from the Queen of Christmas, herself, Mariah. But why choose between her record-breaking modern Christmas classic, which has freshly returned to the No. 1 spot on the Billboard Hot 100 26 years into its lifespan, and the '60s girl-group swing-influenced lead single off 2010's Merry Christmas II You, her second holiday album? Especially since the latter just got an updated version featuring Ariana Grande and Jennifer Hudson! 
Kacey Musgraves feat. Troye Sivan — "Glittery"
While much of the music performed on The Kacey Musgraves Christmas Special, now streaming on Amazon Prime, came from the country songstress' 2016 album A Very Kacey Christmas, this gorgeous mid-tempo track with an assist from our favorite Aussie pop prince was brand new. It's the sort of wistful, romantic thing that's just perfect this time of year as you cuddle up near the fire with a warm drink and the one(s) you love.
Kelly Clarkson — "Underneath the Tree"
Recorded for her 2013 holiday album Wrapped in Red, this big band-style track feels timeless thanks to the Wall of Sound treatment reminiscent of the '60s-era classics produced by Phil Spector and, of course, the OG Idol winner's unparalleled vocals. (Fun fact: Every single backup vocal was sung by Kelly, too!)
John Legend — "Bring Me Love"
This track, recorded for John's 2018 album A Legendary Christmas (which got a totally adorable televised special co-hosted by wife Chrissy Teigen on NBC), feels like a gender-flipped version of Mariah's "Oh, Santa!" with the silver-tongued crooner singing over some expertly-produced big band instrumentation. What can we say? We love a Christmas song that's about finding love. Sue us.
The Waitresses — "Christmas Wrapping"
This post-punk band from Akron, Ohio, didn't last long, active only from 1978-1984, but luckily for us, they delivered one of our absolutely favorite Christmas songs in existence before they disbanded. Released on the ZE Records compilation album A Christmas Record in 1981, this song finds lead vocalist Patty Donahue, who passed away from lung cancer in 1996 at age 40, explaining why she's sitting the holidays out this year before fate brings her the happy ending she'd been hoping for all along. Between her unique delivery and the song's exuberant saxophone, this track is truly one-of-a-kind.
Ariana Grande — "Wit It This Christmas"
In 2015, Ariana released Christmas & Chill, a six-song EP that Vulture hilariously referred to as "very horny." While none of the songs are downright naughty, there's certainly enough sensuality on this track to make Santa blush. And that's OK. We're all adults here!
Joni Mitchell — "River"
While this heartbreaking 1971 song, which is more set at Christmas rather than being about the holiday, has been covered many, many times (famously by Sarah McLachlan in 2006 and both Ellie Goulding and Ben Platt (during the first episode of The Politician) in 2019), we're partial to Joni's staggering original. Not everyone can muster the happiness this time of year seems to require—especially in 2020. This one goes out to them. Skate on, friends.
The Jonas Brothers — "Like It's Christmas"
What better way to cap off an incredible comeback year than with a Christmas song? Nick, Joe and Kevin did just that in 2019, sounding right at home on this cheerful little track, expertly produced for maximum good tidings by Ryan Tedder.
Wham! — "Last Christmas"
Look, the movie this song inspired may not have been everyone's fave, but there's no denying that this synth-pop track from George Michael and Andrew Ridgeley's pop duo, written and produced solely by the now-deceased former, is a true classic. 
Aimee Mann — "Calling On Mary"
Remember how we said that not everyone can be happy this time of year? Well, Aimee made a whole album for those among us whose teeth begin to hurt from all the saccharine sweetness in the air in 2006, entitled One More Drifter in the Snow. On this track, the singer-songwriter taps into her usual downbeat blues-y delivery for a song with lyrics like "And to all the lost souls down below/Merry Christmas, Merry Christmas/What's one more drifter in the snow?/Merry Christmas, Merry Christmas." When we're in our feelings around the holidays, it's our go-to. (Usually followed by a listen to Sara Bareilles and Ingrid Michaelson's crushing "Winter Song" if it's been an especially rough week/month/year. Which, you know, it has.)
RuPaul — "Merry Christmas, Mary"
All right, time for a change of pace. For those of you who want to really make the Yuletide gay, look no further than Mama Ru's disco-kissed Christmas track off the 2015 album Slay Belles—the drag icon's second of three holiday LPs. Like Ru says, this ain't your mama's Christmas carol. And for that, we're grateful.
Darlene Love — "Christmas (Baby Please Come Home)"
There's a reason most modern Christmas music makes use of Phil Spector's Wall of Sound treatment—and it's because of this song right here. It's been covered many, many times by some of our favorite artists, but we will be forever faithful to Darlene's 1963 original, recorded for Spector's compilation album A Christmas Gift for You. 
*NSYNC — "Merry Christmas, Happy Holidays"
If you need your Christmas music bubblegum pop-scented, look no further than the kings of the genre and this, the lead single from their 1998 album Home for Christmas. Co-written by lead vocalists Justin Timberlake and JC Chasez, it's cheesy Christmas perfection.
Brenda Lee — "Rockin' Around the Christmas Tree"
Brenda was just 13 years old when she recorded this classic in 1958. 13! For that reason (OK and maybe because it reminds of one of our favorite scenes in Home Alone) we will always stan the original, no matter who else might try their hand at the Jonnny Marks-penned track.
Run-DMC — "Christmas in Hollis"
Sadly, hip-hop and the holidays hardly every find themselves sharing the same space. But for one glorious moment in 1987, when one of the genre's most influential groups recorded a track about the holidays in their hometown in Queens for the excellent compilation album A Very Special Christmas, we saw what could've been. An absolute classic.
Eurythmics — "Winder Wonderland"
While we've been partial to the originals when sharing some of the season's most iconic tracks here thus far, we're proving that there's always an exception to every rule with this very '80s and very odd cover of the 1934 classic from Annie Lennox and Dave Stewart's new wave pop duo, also recorded for A Very Special Christmas. If the ominous 35-second opening makes you wonder just where this song is going, don't worry. Annie and Dave soon give way to a very synth-y if somewhat traditional take on the track.
Kylie Minogue feat. Dannii Minogue — "100 Degrees"
The Minogue sisters join forces for this nu-disco track from the 2015 album Kylie Christmas. With lyrics that reference the fact that, in their native Australia, Christmas time always comes with a sunny sky, the immensely danceable song will help steam up even the coldest of climates.
Lady Gaga — "Christmas Tree"
Released in the very beginning of her career, just as debut single "Just Dance" was taking off on the charts, this dance track from Mother Monster is so full of sexual innuendo that it earned her a spot on some critics' naughty lists back in 2008. Over a decade later, it stands as such a weird and unlikely entry into the Christmas music canon that we have no choice but to stan. It isn't Christmas if we don't listen to this oddball at least once.
Eartha Kitt — "Santa Baby"
All due to respect to Madonna, Kylie and Ariana, all of whom have released a version of their own, but there's no topping the OG when it comes to this frisky little jazz track. No one purrs her way through this song quite like Eartha. Originally recorded in 1953—if you can believe it—it fully came into its power 10 years later when the erstwhile Catwoman re-recorded it, giving it just a touch more sultriness. That's the version we've included here. It's a must-listen this time of year.
Destiny's Child — "8 Days of Christmas"
Shortly before Beyoncé went solo, she, Kelly Rowland and Michelle Williams released their 2001 album 8 Days of Christmas. And it's this same-titled track, which Bey co-wrote with Kelly and Errol McCalla, Jr., that captures their early-aughts R&B sound perfectly. 
Happy (and healthy) holidays!
(Originally published on Dec. 15, 2019, at 1 p.m. PST.)
Watch:
Necessary Realness: Kardashian Holiday Kards