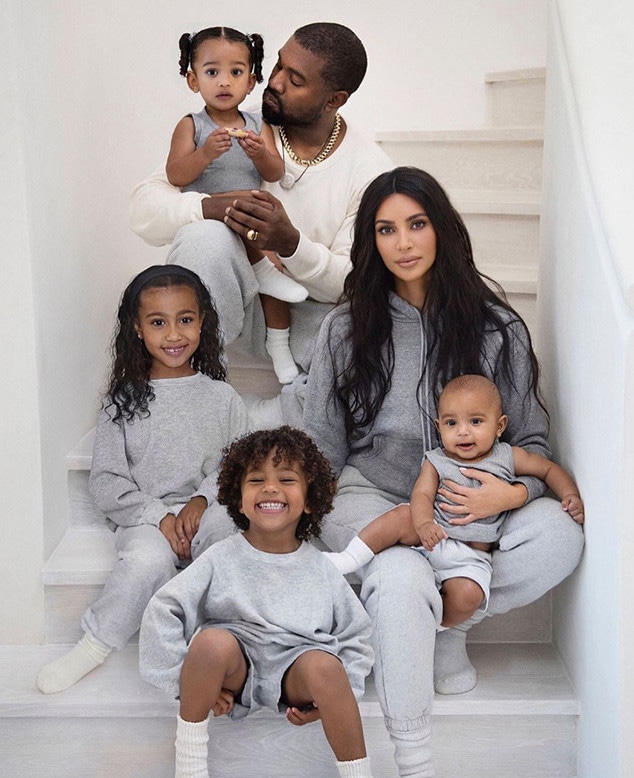 Instagram
The moment you've been waiting for is finally here!
On Friday morning, Kim Kardashian kicked off the weekend by sharing her family Christmas card on social media.
Joined by her husband Kanye West, the family of six appeared to pose on the stairs of their fabulous home. And between Saint West's smile and Chicago West's cookie, there's a whole lot of Christmas cheer in one photo.
"The West Family Christmas Card 2019," Kim wrote on Instagram as the crew posed in matching gray outfits.
Just last month, the businesswoman warned fans that the entire Kardashian crew wasn't going to be part of a holiday card. Instead, Kim was planning something more intimate for her immediate family.
"I think this Christmas card will be just my family, like me, Kanye and the kids because it's a lot to wrangle everybody," Kim shared with E! News when talking about SKIMS Solutionwear. The mother-of-four also said she was going for "something really chill and cozy."
Now that the Christmas card is revealed, there's one more family tradition fans have to look forward to.
Watch:
Kendall Jenner on Holiday Traditions & Kardashian Christmas Card
Anybody remember the annual Christmas Eve party?
While it's a big secret about whether or not Kim or Kris Jenner will host, Jonathan Cheban revealed that he's invited—and he couldn't be more excited.
"I don't want to say because I don't want to get uninvited, but I literally just asked last night. I'm like where is the party? Oh. No comment," the self-proclaimed Food God joked to E! News. "I want to be on the good side, I don't want to be on the bad list. I'm not naughty, Kris." Smart thinking, Jonathan! See more Kardashian holiday cards in our gallery below.
Crossing fingers for more Kardashian cards in the days to come!