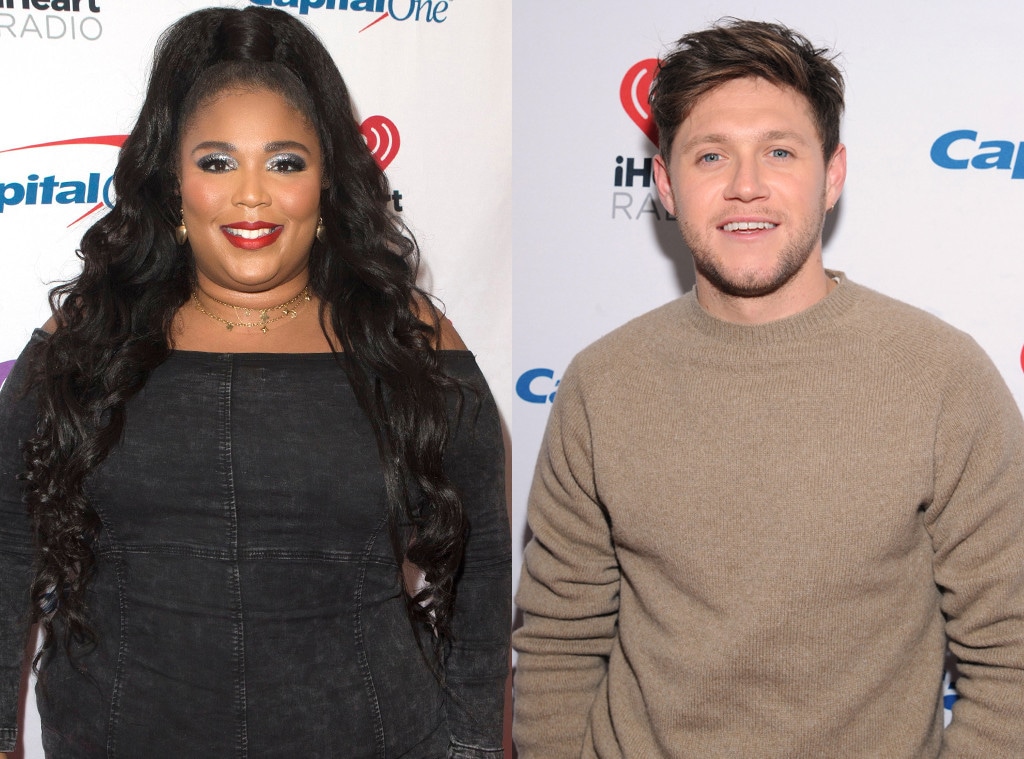 Owen Sweeney/Invision/AP/Shutterstock, MediaPunch/Shutterstock
Lizzo is an expert at juicy pick-up lines.
During an appearance on Thursday's The Tonight Show starring Jimmy Fallon, Niall Horan shared the story of the first time he ever met Lizzo. Unsurprisingly, it includes quite the pick-up line from the "Truth Hurts" singer.
As Horan explained to host Jimmy Fallon, the moment came when they were both at a radio station across the pond. "I was in London doing a radio performance in the studio," he said. "And she was coming in to do an interview in the studio as well. And someone said, 'Oh, Lizzo's here! She'd love to meet you.'"
As the former One Direction member continued, "We're passing in the corridor, I was like, 'Ah! Lovely to meet you!' Gave her a big hug. 'You're voice is incredible. Your songs are amazing. You're absolutely smashing it.' And literally, without missing a beat, she just went, 'You can smash this!'"
Then, the star mimicked his reaction, which included an agape mouth and slow clapping. As he added, "And I was just like, fair play. I actually started blushing myself!"
Despite Lizzo's swift pick-up line, both of the stars are still single. Last week, Horan said on Australia's Hit 90.9's Brekkie Crew podcast, "Do I have a girlfriend? I don't, no. I'm very much single. Very much single."
In fact, Horan's new album—which he revealed to Fallon will come out either in February or March 2020—is all about breakups. Of course, he didn't dish on which of his reported exes the songs will be about (he's been connected to Hailee Steinfeld and Selena Gomez in recent months), so fans will have to fill in the blanks themselves while listening to the breakup tunes.
As the "Slow Hands" crooner revealed, "There's all these different sides to a breakup. It's not all sad, all the time. When you break up with someone, it's not just like, I'm sitting at a window. I'm looking out. I'm feeling sorry for myself. It's raining against that window. Sometimes you're like out on the town, throwing some shapes and you write songs like 'Nice To Meet Ya!'"
"And then the sad ones come," he continued. "On this album, I just kind of wanted to write a nice mix of the ups and downs of that."
Watch:
Hailee Steinfeld Denies Throwing Shade at Ex Niall Horan
A new song from the album may very well be arriving soon, as the 26-year-old is the musical guest on this weekend's Saturday Night Live, hosted by Scarlett Johansson. (He has already released singles "Nice To Meet Ya" and "Put A Little Love On Me.")
And it turns out, Horan is very nervous to take the stage. "I mean, it's SNL," he admitted to Fallon, an SNL alum. "I know you come from there, so maybe not, but for us it's like the Grammys and SNL are like one and two right next to each other. To get the call from [Lorne Michaels] to say that you're gonna be musical guest is pretty sweet. So, I get proper nervous."
Lizzo probably knows how to calm those nerves.
(E! and NBC are both part of NBCUniversal.)