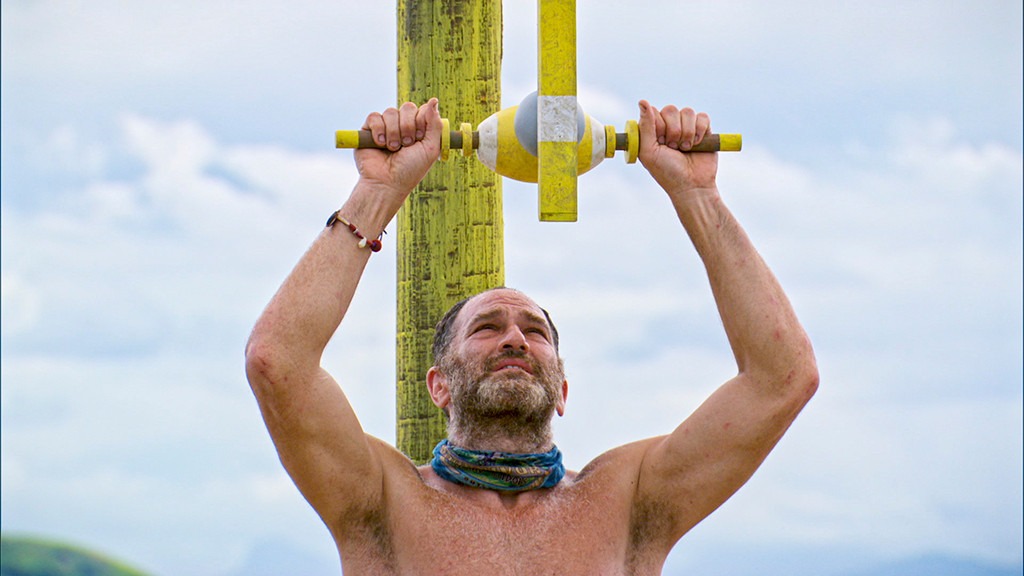 CBS
It's a complicated time to be a Survivor fan.
We're a week away from the finale of Survivor: Island of the Idols, and it's feeling hard to be excited about who might win this season's million dollars. There are five castaways left on day 36, with four days left in the game, all reeling from the fact that for the first time ever, a contestant was removed from the competition—up to 35 days too late, many would argue.  
What should have been a season all about legacy and lessons learned thanks to Survivor superstars and season 39 mentors Boston Rob Mariano and Sandra Diaz-Twine barely even had a chance to get out of the gate before things turned sour, and it became clear that there was a different kind of lesson to learn this season, though it's unclear if anybody has learned it.
On the very first morning on the beach, Kellee Kim brought up concerns that tribemate Dan Spilo was a little too touchy-feely, which he visibly was. On camera. We could see him touching hair and putting his arm around women and massaging backs, and while that was enough to be concerning, we could never have guessed the many ways this situation would unfold over the course of the season.
It wasn't just Dan getting too close to some female tribemates. After the merge on day 22, when Kellee and Dan were reunited, the inappropriate touching returned, and Kellee voiced her concerns to tribemate Missy Byrd. Instead of being sympathetic, Missy and tribemate Elizabeth Beisel used the issue to their own advantage, exaggerating their own reaction to Dan in order to get people to vote him out, lying to Janet Carbin in the process and undermining real concerns from Kellee and other female players.
Producers were heard stepping into interviews, and a title card explained that producers and execs met with the players, and Dan was warned about his behavior.
Then, instead of getting rid of Dan (which would have actually solved an awful lot of problems), it was Kellee who was voted out, and forced to sit on the jury at every tribal council afterwards, silently watching discussions about the situation in which she was the true victim. Missy and Elizabeth were soon voted out after that, on days 27 and 30.
This week's tribal council put Dan in the final six, along with Janet, Lauren Beck, Tommy Sheehan, Noura Salman, and Dean Kowalski, but the morning after tribal, the contestants saw Jeff Probst walking up the beach.
He explained that Dan had been removed from the game completely, for the first time in the show's history, and a title card further explained that Dan had been removed "after a report of another incident, which happened off-camera and did not involve a player."
CBS and Jeff Probst said they would not elaborate due to privacy concerns, and while People reported that the incident involved Dan touching a crew member's leg after a challenge, it almost doesn't feel important to know what he actually did based on that wording. The key words in that statement are "did not involve a player." It took an issue with a crew member, after weeks of complaints from players, to get Dan kicked out, and it was important to note.
Does this mean that any behavior within the game, with the other players, is considered fair? Is it only when a player steps out of the game that they become a problem? Why was weeks of on-camera behavior and actual on-camera complaints from Kellee, who was even seen talking to Dan about it herself, not enough?
And now, with five players remaining in the game, why should we be rooting for anyone who played this game this way and allowed it to be played this way? Winning this season doesn't feel like a win for anyone, because after those complaints and behavior that clearly continued, Dan should have been gone many days before he was gone, meaning there are other players who should have been there in his place. He affected the futures of so many other players, all while making them uncomfortable in the process—a microcosm of the power situations the #MeToo movement has been trying to bring to light, but one that could have easily been fixed by the network, by producers, even by other players who could have spoken up instead of seeing it all as gameplay.
The show didn't fully take care of its stars or its viewers, plain and simple. An excellent piece in THR on Thursday pointed out several things that should have been done on the part of CBS and the show's producers to better handle the situation. For one, Dan and all players should have been told not to touch any other contestant without their permission for any reason or they'd be done.
For two, CBS should have been more forthcoming. What exactly did producers say to the players? What were the specifics of the warning given to Dan? What level of behavior was required to get Dan kicked off the show, if weeks of on-camera touching wasn't enough?
For three, they should have just given up on the season. Survivor is a social experiment, and this experiment failed, which is a thing that happens sometimes! But instead, we got the bare minimum of a response from the show and network, and the problematic player was removed only after all the damage had been done, while the game continued.
Big Brother and the Bachelor franchise have suffered recently from similarly badly behaved people, but Big Brother is a lot more live. They can hide less, and they air more often, giving more time and space to everything that's going on in the season, including all the ugly stuff. The Bachelor is a lot more like Survivor, with time to edit down the most compelling stories, keeping only the ugly stuff that makes it better—which is admittedly how reality TV works.
But reality TV is only successful if the viewer feels like they can trust the show—trust it to give them the fairest view of actual reality, to not lie to them, to keep its talent safe, or at the very, very least, to provide them with entertainment. It feels like this season of Survivor is failing on all counts, because what we have seen doesn't feel like the fairest view of reality. It feels like someone's being lied to, and the contestants have definitely not been kept safe, and it's not even fun to watch. This is not entertainment; this is painful. And even as the scandal of Missy and Elizabeth's terrible mishandling of Kellee's concerns faded to the background as the game continued, it was hard to watch as a viewer, knowing how many people had been taken out of the game while (and because) Dan remained.
Dan was not a satisfying Survivor villain; his actions and the situations that came out of them felt far too real, far too close to home even though they were taking place on a beach thousands of miles away. They felt unrelated to the game, and as soon as they were used as gameplay, there was no coming back. The game was ruined for us and for the players, and the show might be too. Even the "live" finale and reunion special is no longer live, and will tape hours in advance because of everything that happened over those 39 days.
Survivor lost our trust this season, and it's hard to tell if it will ever get it back, but hopefully a change can be made for the better. There's a reason Survivor has been on for so long, and we'd love nothing more than to happily tune into the landmark 40th season in the spring with our faith restored. 
Survivor's finale airs next Wednesday at 8 p.m. on CBS.