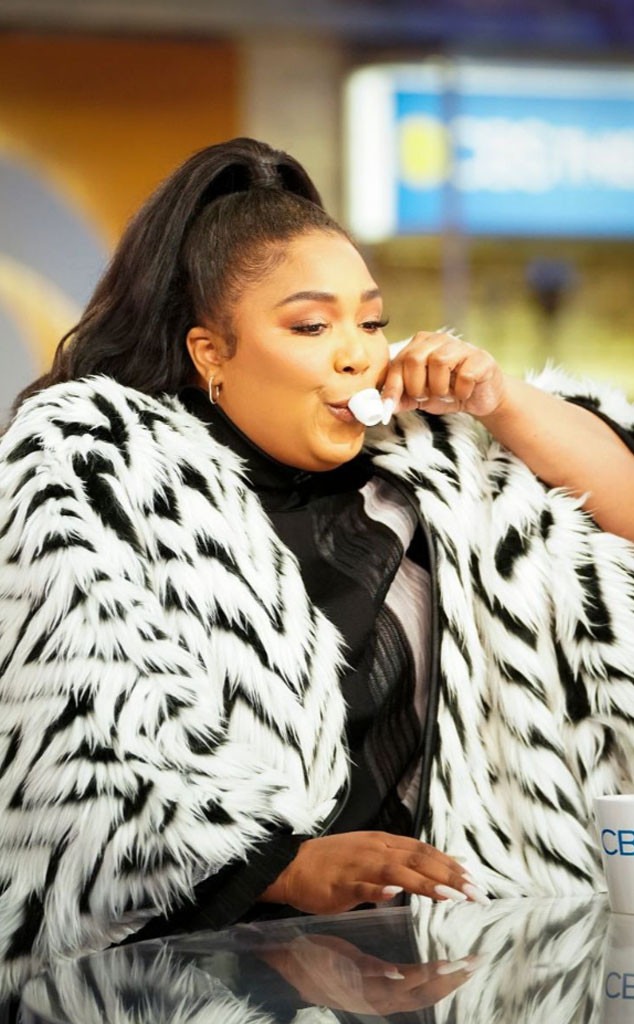 Michele Crowe/CBS
It's not about the size of the mug, but how you use it! 
Lizzo is a big fan of tiny accessories. The musician made waves when she showed up to the 2019 American Music Awards with arguably the tiniest purse on the planet. "bag big enough for my f--ks to give," she captioned the legendary pic of her on the red carpet. "Big body bitch in a Valentin-HO custom look for."
Of course, when she stopped by CBS This Morning for her first major post-Grammy nominations interview, the hosts of the show had a little surprise for her—a tiny mug! Hosts Gayle King, Anthony Mason and Tony Dokoupil did the honors of presenting the "Truth Hurts" singer with a tiny show mug. They all did a toast before drinking their pretend coffee. Lizzo has a ton to toast to this year! 
She's finally hit a level of success and recognition in her career that she's still stunned by. 
"I've been a successful musician, a touring musician for a long time," she shared about her rise to global musical phenomenon. "I was an indie artist, I had my own label, I got signed to an imprint in Atlantic, and I was good. I was like, 'This is great. I'm a career musician, I have a fan base, I'm selling out tours, I'm good. My wildest dreams have been realized.'" Little did she know, the journey was just beginning. 
Being famous doesn't come without it's ups and downs, and Lizzo recently faced a little bit of backlash after a video of her dancing in her thong at a basketball game went viral. In true Lizzo style, she's not letting the haters get her down. "It's their opinion, so it's not for me to really ingest," she shared. "So I got up and did what I always do. Anyone who knows me knows that this is how I've always been. This is how I've always liked to dress."
She's become a huge success for her music, but has also used her newfound platform to speak out about body positivity and to remind people that the most important thing you can do is love yourself. "You know how long it took me to fall in love with this body?" She shared with the hosts. "My butt was my least favorite thing about myself. And I learned to love it. And now it's the thing everybody can't stop talking about... Be you. Do you. Don't let anybody steal your joy." 
Watch:
Lizzo & More Musicians Who've Been Read on "Hollywood Medium"