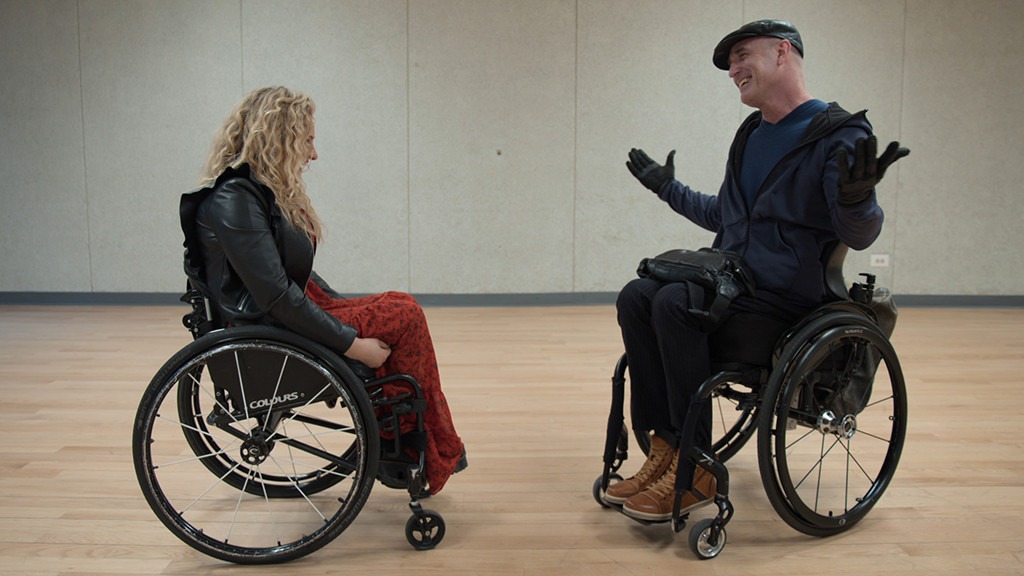 Disney+
Grab the tissues, because this exclusive Encore! sneak peek is going to hit you right in the feels.
In the below exclusive preview, Tony award winner Ali Stroker of Oklahoma! is called in to help Woody, one of the Brookwood High School alumni who is reuniting with his former classmates from Snellville, Georgia to restage their version of the musical. Since graduation, Woody has become paraplegic.
Woody explains his worries about participating in the dance numbers as he once did in high school. "Being on wheels, it's just like this whole other vocabulary. And it's so smooth and can be so sexy," Stroker tells the Encore! cast member.
Stroker even demonstrates some dance moves with Woody in the exclusive sneak peek.
"I have a lot of respect for Woody wanting to take on this sort of new adventure of going to perform again," Stroker tells the camera. "It takes a lot of guts to get out there and do something you did again, but in sort of this new body and in this new life."
Stroker won the 2019 Tony Award for Best Featured Actress in a Musical for her work as Ado Annie in the revival of Oklahoma! She was the first person in a wheelchair to be nominated and win a Tony for acting. Her TV work includes Glee, Faking It, Instinct, Ten Days in the Valley and Charmed.
The episode features the former classmates coming together to turn their struggles into success for their restaged encore performance in just five days.
Watch:
"Frozen 2" World Premiere ft. Kristen Bell & More
Each week, executive producer Kristen Bell brings together former high school castmates and tasks them with restaging their musical. It's a high school reunion like you've never seen before, with emotions running high, rekindled friendships and, oh yeah, choreography. New episodes drop Fridays on Disney+.
In addition to Oklahoma!, the show features restagings of beloved musicals such as The Sound of Music, Beauty and the Beast and Annie.