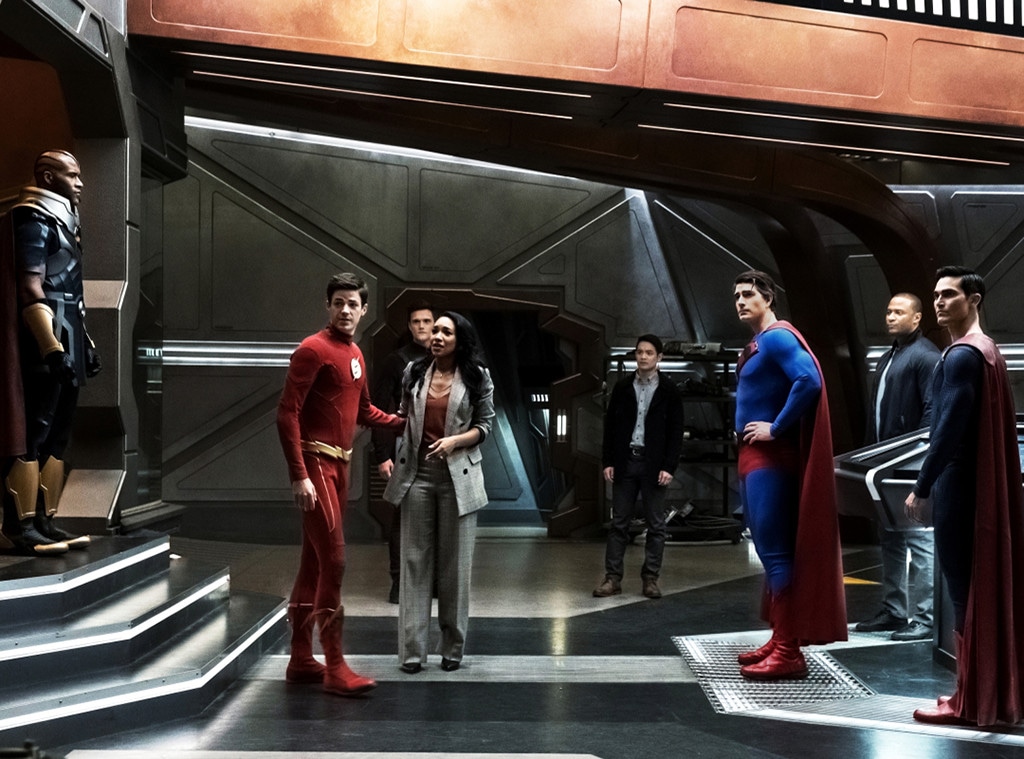 The CW
This Crisis is really causing some problems, huh? 
Tonight's ep of the giant CW crossover ramped things up as half the crew searched for a way to bring back Oliver and the other half worked to slow the rapidly moving wave of anti-matter that was threatening to destroy every single thing ever. 
This brought in John Wesley Shipp as the Flash from Earth-90, and Cress Williams as Black Lightning from Black Lightning, whose family and universe had apparently been destroyed. This was the moment from the episode that really gave us pause, because we just don't feel like it's likely anyone from Black Lightning would let these other shows destroy their universe. That means there's hope that everyone could come back, which makes the stakes feel just a bit lower. So hopefully there are some tricks up some sleeves as we head towards the end of this, we thought at the time, before we learned just how many other Earths we were gonna lose tonight. 
As it turned out, we lost them all. All of them! All the Earths are gone! And so is almost everybody! 
As the anti-matter wave was about to hit the waverider, destroying the last remaining people, whoever Tom Cavanagh is currently playing sent all the paragons away, leaving behind a few more people we had to watch disappear, including Iris, Black Lightning, Kal/Clark/Superman/Tyler Hoechlin, and Tom Cavanagh himself. 
The Paragons, including Sara, Barry, Kara, Kate, Brandon Routh Superman, J'onn, and a scientist played by Osric Chau, all ended up at the Vanishing Point, a location outside of time that used to be the headquarters of both the Time Masters and the Legion of Doom. Except then we learned that it was not Brandon Routh Superman who had come with them. It was actually Lex Luthor, who had once again been messing with the Book of Destiny and decided to come along for the ride. 
"So, what do we do now?" he asked, which is a great question. 
One big surprise we were not expecting tonight was the arrival of Tom Ellis as Lucifer, from the Fox-turned-Netflix show Lucifer. He's apparently an old friend-ish of Constantine, and he helped the crew get to Purgatory in search of Oliver's soul. They found it there, and after a little bit of a tussle, Oliver's soul chilled out and hugged his BFF Diggle and his daughter Mia. 
They were all on their way out of Purgatory when they ran into Jim Corrigan/Spectre, who explained that it was Oliver's destiny to light the spark and save all of the universes, canceling his plans to head back to his body and sending his pals home. So it seems as if it might be up to Oliver's soul to save the day, which isn't the worst thing in the world. 
Everything we know so far is below, but we won't know anything for sure until 2020, which feels like a long, long wait. 
Crisis on Infinite Earths returns Tuesday, January 14 at 8 p.m. on The CW.