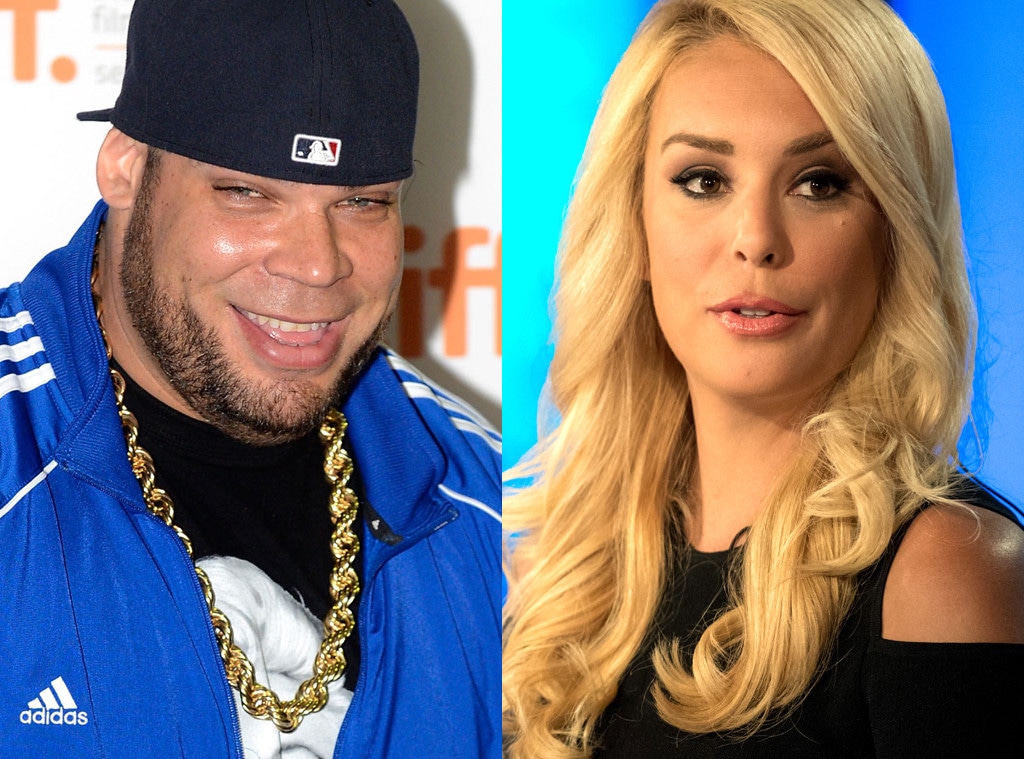 Getty Images
Fox News is facing yet another lawsuit.
On Tuesday, Fox News host Britt McHenry filed a lawsuit against the network and its corporate parents, accusing them of "refusing to investigate some of her claims, shunning her, shutting her out of company events and refusing to allow her on Fox News Channel shows," according to documents obtained by E! News. 
Furthermore, she claims she was "crudely sexually harassed by her co-host," who is named as George Murdoch aka Tyrus. In 2018 and 2019, she and Murdoch co-hosted the show Un-PC on Fox News' Fox Nation streaming outlet. 
It was during the aforementioned time that McHenry alleges Murdoch "threatened to send her a 'd--k pic' over text message, told her he liked her buttocks and legs and speculated what Ms. McHenry would be like after sexual intercourse." But that isn't all. McHenry also alleges that Murdoch once texted her, "I love pony tails and braids you look amazing and it's a real turn on not that you care but I love it." Numerous other texts Murdoch allegedly sent to McHenry are included in the court documents.
When she brought these accusations to the human resources office, she claims management "asked what Ms. McHenry did to provoke her harasser."
To make matters worse, the newscaster claims Fox News "punished the victim and rewarded the harasser" instead of investigating the accusations further. "Throughout 2019, Fox News retaliated against Ms. McHenry, stripping her of professional opportunities while simultaneously promoting her harasser, giving him his own show," she alleges.
As a result, Britt claims she "suffered humiliation, emotional anguish, derailment of her career and significant loss of economic opportunities."
Watch:
Nicole Kidman Says Streep Convinced Her to Take Role in "Bombshell"
In the documents, McHenry requests damages of over $75,000 and monetary compensation for attorney's fees, costs and expense. She also requests her lawsuit goes to trial by jury. The lawsuit names Fox Entertainment Group, Fox Corp, News Corp, Tyrus (George Murdoch), Fox Nation boss John Finley, Fox Nation executive producer Jennifer Cunningham and a human resources executive, Monica Mekeel as defendants.
In a statement, Britt McHenry told E! News, "The last thing I wanted to do was filed this lawsuit. But I had to stand up for what's right for myself and for women."
Her attorney, Lisa Bloom, added, "Britt McHenry's bombshell story should not be happening at Fox News in 2019. I am proud to represent her as she demands justice." 
Fox News denies all wrongdoing and insists they investigated her claims to the best of their ability. "Ms. McHenry's lawsuit recycles the same allegations she filed with the New York State Division of Human Rights in October, to which we filed a response on Friday. As we have previously stated, Ms. McHenry's allegations have been fully investigated and we are confident our actions will be deemed entirely appropriate in litigation," they said in a statement to the Hollywood Reporter. "We expect all of her claims to be dismissed."
Former Fox News host Gretchen Carlson, who filed a sexual harassment lawsuit against Fox news chairman Roger Ailes in 2016, voiced her support for Britt on Twitter. "Fox News wants people to believe it has cleaned up its act and is now at the forefront of anti-harassment compliance, but the allegations made by @BrittMcHenry via  @dianafalzone &  @VanityFair tells quite a different story," she shared. " If  @foxnews has really turned the corner, this kind of alleged outrageous behavior wouldn't still be happening. Fox should also release all women from NDAs they were forced to sign to receive settlements. Only then will there be full transparency and truth. #liftourvoices."