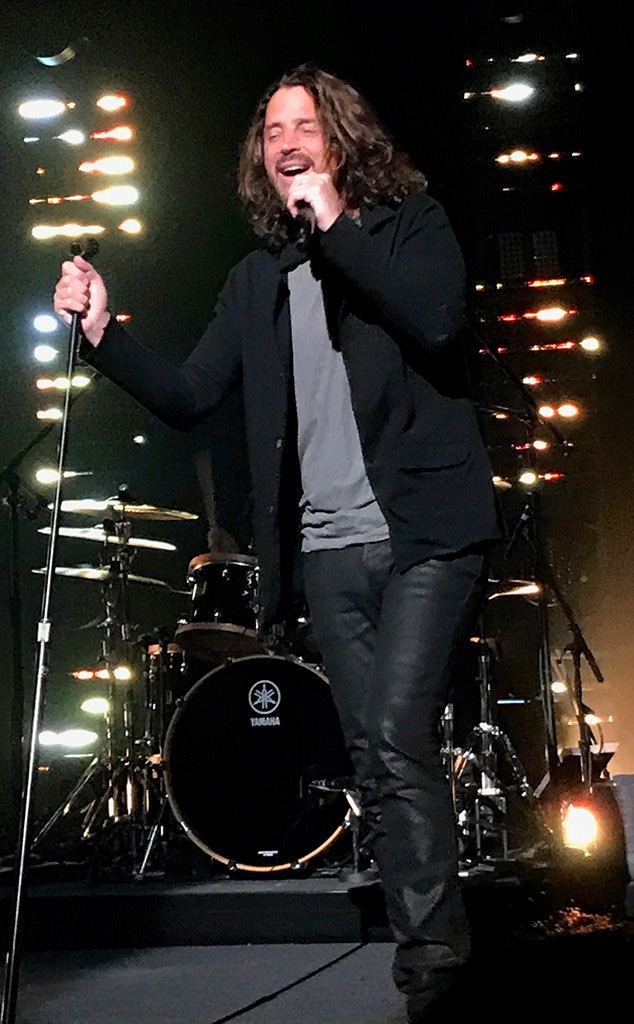 J. Ryan / Splash News
Over two years after the death of musician and songwriter Chris Cornell, his widow Vicky Cornell, has filed a lawsuit against the band Soundgarden.
According to court documents obtained by E! News, Cornell's wife is claiming that the band is withholding royalties from her of over seven unreleased recordings that the late 52-year-old made before his death on May 18, 2017. 
The lawsuit, filed in Florida court on Monday, Dec. 9, filed that former Soundgarden bandmates, Kim Thayil, Matt Cameron and Ben Sheperd, as well as the band's business manager, Rit Venerus have "shamelessly conspired to wrongfully withhold hundreds of thousands of dollars indisputable owed to Chris' widow and minor children in an unlawful attempt to strong-arm Chris' Estate into turning over certain audio recordings created by Chris before he passed away." 
Cornell's wife also took to Instagram to address the lawsuit and the situation.
In her caption, she reflects on feeling grateful for all the "good people around me." 
She continued: "It's not just me, or the rock-star widow, or the political widow; it is the case for the vast majority of women after their partners have passed. It transcends socio-economic class, race, and religion. It is an unpleasant and unfortunately all too common theme. Hard-hearted family members, friends, and business associates; who will exploit a widow's vulnerability when she's broken and alone. These other people who have decided that her time is up as well." 
According to the court records, there are seven audio recordings being disputed that were solely authored by the late musician. They "contain Chris' own vocal tracks; and were bequeathed to Chris' Estate for the benefit of his widow, Vicky Cornell, and their minor children."
Further, the court records obtained stated that Cornell's wife had "long ago offered to share the sound recordings with the band, provided that they were released in a way that would respect her late husband's legacy and wishes." 
But the band had apparently refused "on the absurd contention that the recordings are somehow the sole property of their purported partnership and that they (despite not creating the sound recordings) are somehow entitled to unilaterally dictate how the recordings should be exploited." 
Ultimately, through the lawsuit, Cornell's wife "seeks to vindicate her late-husband's rights in the sound recordings that he created, to recover the substantial sums of money and personal property that are being unlawfully withheld by Venerus and the band [...]."
According to TMZ, Cornell's former bandmates have yet to comment on the lawsuit filed by Vicky Cornell. 
In the lengthy Instagram post, Cornell's wife also wrote: "Through support groups and other widowed friends, and during both difficult and supportive conversations, I have learned that I am not a unique case. This seems to be the inevitable plight of the widow in this world and I cannot help feeling angry, sad and betrayed. I will not be bullied or shamed into silence. I will not accept something so wrong, so lacking in compassion or decency, even with the clear but unspoken threat of social rejection hanging over me. This was not the way I would have chosen to move forward. But I will not be pushed aside for someone else's convenience or gain. I will not sacrifice our children's futures for someone else's greed. And I will not let someone else make me feel shame because the man I loved was taken from all of us too soon."
The singer's wife ended her post by stating that she will do "justice" by Cornell's work and memory. 
"For our children and for everything we stood for. I want to thank everyone who has stood by Chris and has supported us through this devastating time. Your love and your kindness will never be forgotten," she wrote.
At the time of his death, the late musician was found unresponsive with a band around his neck inside his bathroom at the MGM Grand Hotel in Detroit. The grunge rocker was pronounced dead at the scene and after an initial autopsy had been completed later that afternoon in May 2018, the Wayne County Medical Examiner's Office announced his cause of death "has been determined as suicide by hanging." 
In a statement to E! News, his wife said: "What happened is inexplicable and I am hopeful that further medical reports will provide additional details," Chris' widow told E! News in a statement. "I know that he loved our children and he would not hurt them by intentionally taking his own life. The outpouring of love and support from his fans, friends and family means so much more to us than anyone can know."
Since his death, Cornell's legacy has continued to live on. 
During the 2019 Grammy awards, the artist posthumously won a Grammy Award for Best Rock Performance of the song "When Bad Does Good."
Watch:
Chris Cornell's Final Performance Before Tragic Death