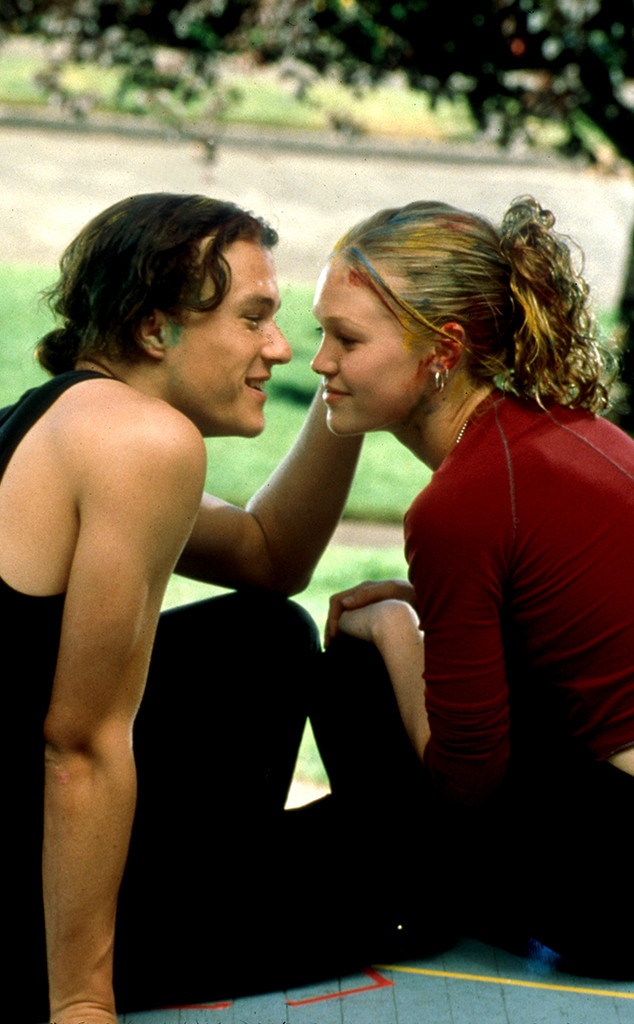 Buena Vista Pictures/Entertainment Pictures/ZUMAPRESS.com
There's nothing to hate about this!
On Friday, Julia Stiles opened up about working on 1999 rom-com 10 Things I Hate About You and working alongside Health Ledger. After receiving a fan question during her visit on Watch What Happens Live, the Hustlers star dished about her favorite day on set—which happened to be when the late Aussie actor, who passed away in 2008, performed Frankie Valli and the Four Season's "Can't Take My Eyes Off Of You."
"My favorite memory of that day—the whole day, he was just phenomenal," she told host Andy Cohen. "I mean, like, running up and down those stadium steps and nobody knew that he had this amazing voice. He just went full out and I got to watch it."
So, are the rumors true that Julia suggested he sing that song during the now-iconic scene? She finally set the record straight. "Yes," she joked. "No, it was definitely not my idea. I wish…I'll take credit for it."
Speaking of famous co-stars, Julia dished about another celebrity that she shared the screen with: Kerry Washington. The actresses appeared together in 2001's Save The Last Dance, which marked one of the Scandal star's first major roles, and even then Julia knew that she was going places.
"She was formidable, I mean, she was so impressive," Julia said. "Just such a centered—everything that you see on screen. Just a centered, graceful, great woman."  
"And I kind of looked to her for guidance during that movie too," Julia continued. "She wasn't a star at that point, but you could feel that she was, like, on the roller-coaster going up. She was just so, like, strong."
Moving on to her role in Hustlers, Julia was very excited to dive in and learn more about the real-life journalist she was playing Jessica Pressler. 
Watch:
Jennifer Lopez Dishes on "Savage" Role in "Hustlers" & Pole Dancing
"I had been following Jessica's work for a long time, so when I was cast in the movie I kind of fangirled," she revealed. "And I just picked her brain about everything having to do with this movie."
So, what was the most surprising thing that she learned from her research? Watch the video above to find out! 
(E! and Bravo are both part of the NBCUniversal family.)