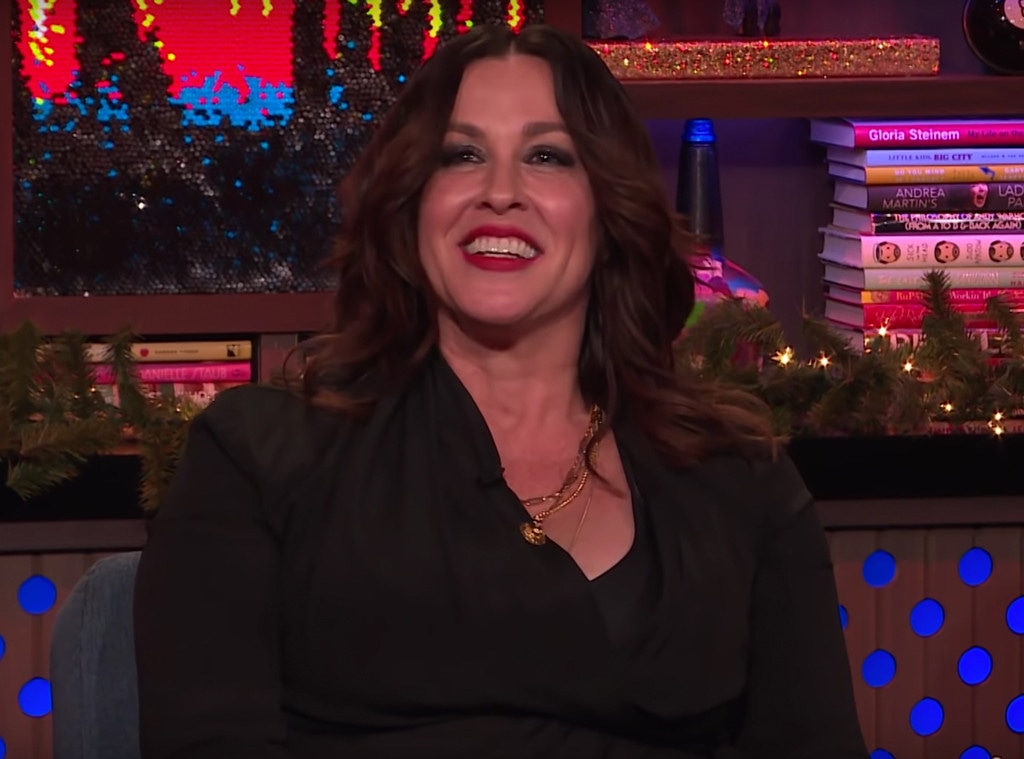 YouTube
Fans still want to know if Alanis Morissette's "You Oughta Know" is about her ex Dave Coulier. 
The 45-year-old singer spoke about the speculation during Thursday's episode of Watch What Happens Live With Andy Cohen.
During the episode, a caller asked the Grammy winner if she's sick of people asking about the rumors. Andy Cohen then wanted to know if the "Ironic" artist would ever reveal who inspired "You Oughta Know."
"No revealing," Morissette replied, "but I am intrigued at the thought—or at the fact—that more than one person has taken credit for it. I'm thinking, I don't know if you want to take credit for being the person I wrote 'You Oughta Know' about."
She then said there have been "about six people who've taken credit for it."
"I just think: If you're going to take credit for a song where I'm singing about someone being a douche or an a--hole, you might not want to say, 'Hey! That's me!'" she said.
While she didn't name any names, Morissette did say the song was written out of "devastation."
"For women sometimes, we're told we can't be angry; we can't be sad and we can't be…17 other feelings. You can't be anything. So just sublimate it all. Just squish it all down," she said. "But I think I was really just devastated when I wrote that and it's a lot easier to siphon that through anger sometimes."
As fans will recall, the "Hand in My Pocket" star dated the Full House actor in the early '90s. However, the two eventually broke up.
Ron Galella/Ron Galella Collection via Getty Images
Coulier, who played Joey Gladstone on Full House and on its spinoff Fuller House, has also weighed in on whether he thinks the song is about him. While the 60-year-old celeb told BuzzFeed he never thinks about the 1995 song, he also said he thinks "it's just really funny that it's become this urban legend so many years after the fact."
"I dated Alanis in 1992," he told the outlet in 2014. "You know, it's just funny to be the supposed subject of that song. First of all, the guy in that song is a real a--hole, so I don't want to be that guy. Secondly, I asked Alanis, 'I'm getting calls by the media and they want to know who this guy is.' And she said, 'Well, you know it could be a bunch of people. But you can say whatever you want.' So one time, I was doing a red carpet somewhere and [the press] just wore me down and everybody wanted to know so I said, 'Yeah, all right, I'm the guy. There I said it.' So, then it became a snowball effect of, 'OH! So you are the guy!' It's just become this silly urban legend that I just have to laugh at."
Watch:
"#NoFilter" First Dates That Might Actually Work Out
In addition, he told HuffPost Live "there were some familiarities all throughout Jagged Little Pill," noting Morissette was "writing a lot of the material" during their time together. In fact, he said there was one line from the song that "got me.": "I hate to bug you in the middle of dinner."
"She called, and I said, 'Hey, I'm right in the middle of dinner, can I just call you right back?'" Coulier recalled to HuffPost Live, noting the two had already broken up at the time. "I remember that line when I heard 'You Oughta Know,' and I just went...it was like, 'Uh-oh.'"
Still, Coulier once told 99.7 NOW he "parted with Alanis as friends."
It looks like fans will just have to wait until Morissette officially sets the record straight. In the meantime, enjoy listening to the hit via the video above.