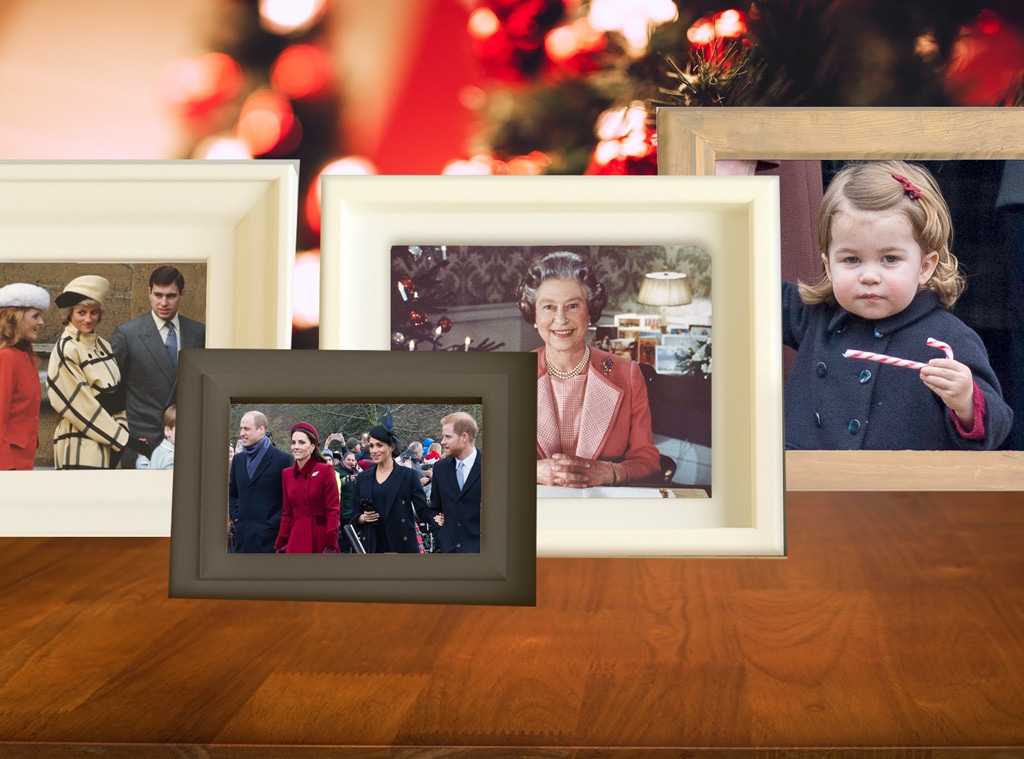 E! Illustration
You don't have to go to Christmas with the queen.
Kate Middleton and Prince William have skipped it a couple of times in the nearly nine years they've been married. And in case you hadn't heard, Prince Harry and Meghan Markle aren't going this year, and will instead spend their son Archie Harrison's first yuletide with Meghan's mom, Doria Ragland—possibly in California, though, this being a private trip, they're not apprising the media of their destination.
But when you do make the jaunt to Sandringham, where Queen Elizabeth II has spent the Christmas holiday for the last three decades with her husband, Prince Philip, and whichever royals show up to fill the house with mirth and merriment, the routine is pretty set in stone.
And while a case of the sniffles is enough to keep Philip, 98, or the 93-year-old queen from venturing into that drizzly English air for nonessential occasions (of which there are more of these days when it comes to maintaining their health), the monarch and her consort of 72 years press on to Sandringham, located in the county of Norfolk in East Anglia, in eastern England, rain or... just general grayness.
The queen and Philip first host a luncheon at Buckingham Palace the week before Christmas, the parade of Range Rovers a sign that the holiday has begun, after which the couple—who personally sign their holiday cards—leave for Sandringham, where they'll stay through New Year's.
When their children were growing up, they spent the holidays at Windsor Castle, still their go-to destination for Easter and now just a hop-skip from Frogmore Cottage, Harry and Meghan's home as of this spring.
Radcliffe/Bauer-Griffin/GC Images
The rest of the family shows up by the afternoon of Dec. 24 (Harry and William have been known to play a bit of football in Norfolk before the festivities begin), and everyone gathers in the red drawing room at Sandringham House to exchange presents. And no, we're not talking Rolexes and keys to a new Rolls Royce.
Rather, the royals do their own white elephant gift exchange, presided over by Prince Philip, who gives the go-ahead to start unwrapping the purposely inexpensive gag gifts they pick out for each other—such as the "Grow Your Own Girlfriend" kit Kate reportedly got for then-bachelor Harry years ago, or the "Ain't Life a Bitch" shower cap Harry once picked out for the queen.
Those naughty kids of all ages clean up their acts in time for their usual black-tie dinner on Christmas Eve.
Chris Jackson/Getty Images
On Christmas Day, the queen and Philip are chauffeured while the younger adults walk to nearby St. Mary Magdalene Church for the morning service—the stroll a public happening that usually draws thousands of spectators angling for a glimpse of the royals.
Some lucky crowd members even get up-close hellos, depending on who's in the procession. Kate's parents, Carole and Michael Middleton, and siblings James and Pippa, have also been part of the party on occasion since Kate and William tied the knot in 2011.
After church, there's a big family lunch, and last year close to 50 people gathered. 
Danny Martindale/WireImage
"It's quite a strange day because if you're from up north, normally I'd spend my whole day in my boxer shorts," Mike Tindall, husband of the queen's granddaughter Zara Tindall, later quipped on the podcast House of Rugby.
"So by the time I'd normally have gotten up, I've been to church twice. It's strange for me, with not really a massive church-going background. So yeah, it's completely different. I've never had to take as many outfits anywhere."
The former professional rugby player said his wife was "incredible" at picking out presents for the whole family.
Throughout the festivities, a highlight is always watching the littlest royals hang out together, the holidays being a prime opportunity for Prince George, Princess Charlotte and Prince Louis to play with their youngest cousins Mia and Lena Tindall and Savannah and Isla Phillips, daughters of Zara's brother Peter Phillips and his wife, Autumn.
Joe Giddens/PA Images via Getty Images
In 2017 Harry told Barack Obama, while interviewing the 44th American president for BBC Radio 4's Today, that, yes, there were "plenty" of traditions he needed to bring Meghan up to speed on before her first Christmas with the royals, but that he and his fiancée (the queen relaxed the family-only rule for her) had a great time "running around with the kids."
Now, of course, they have their own kid to run around after.
And then there's the tradition that predates almost everyone in attendance these days.
Every year since 1952, when she first ascended the throne, the queen addresses the Commonwealth (and thanks to technology, the whole world) on Christmas Day, the broadcast itself dating back to 1932, a tradition started by her grandfather, King George V.
Formally known as "Her Majesty's Most Gracious Speech," it's the only formal address Queen Elizabeth II gives all year that comes entirely from her, without any additions or subtractions courtesy of the government, and therefore it's always her most personal.
John Stillwell-WPA Pool/Getty Images
In last year's Christmas Broadcast, inspired by matters both global and closer to home, the monarch—who historically doesn't get political—advised from the comfort of her private living room at Buckingham Palace, "Even with the most deeply held differences, treating the other person with respect and as a fellow human being is always a good first step towards greater understanding."
A holiday-time photo of the queen released in 2018 was taken in the White Drawing Room at Buckingham Palace, one of the grandest state rooms, which that summer was newly open to public tours.
And in case you're wondering what sort of sorcery the queen is using to be in Norfolk one minute and London the next: the Christmas Broadcast has been pre-recorded since 1959.
In 1963, it was only broadcast on the radio because the queen was pregnant with her fourth child, Prince Edward.
Edward, Earl of Wessex, and his wife of 20 years, Sophie, Countess of Wessex, and their children Lady Louise Windsor and James, Viscount Severn, were also among the revelers at Sandringham last year.
Meanwhile, with all the outings, meals, entertainment, etc. scheduled way in advance, the people themselves are the only wild cards. And there's always something.
Joe Giddens/PA Wire via AP Images
2018, Meghan's first royal Christmas as a part of the family, marked a poignant reunion for her and Harry with William and Kate, coming as it did in the middle of rampant reporting about a rift opening up between the brothers and persistent coldness between the wives—a narrative that Prince Charles was quick to visibly refute once they were all together.
This year, Harry and Meghan are in the midst of a six-week break from official duties leading right up to Christmas. Their time off from the rigors of royaling included a private Thanksgiving with close family.
Harry checked in with his grandmother first before making their Christmas plans and the queen is said to have signed off (no actual signature was required, that we know of) on his absence. 
And while that was going to be the big Christmas conundrum of 2019, overshadowing it on an international scale is the fallout from Prince Andrew's disastrous BBC Newsnight interview last month (not to mention the decade-old allegations that are starting to make him a pariah in polite society) that led directly to him involuntarily relinquishing his royal duties and moving his office out of Buckingham Palace.
Watch:
Meghan Markle & Prince Harry to Take Break & Bring Archie to U.S.
The Duke of York was at Christmas last year with daughter Princess Beatrice (Princess Eugenie and her then-new husband Jack Brooksbank missed it). As for this year...who knows?
According to the The Sun, Prince Charles—also annoyed that his official trip to New Zealand had been overshadowed by the Newsnight interview—summoned his younger brother to Sandringham before Panorama aired an interview on Dec. 2 with Andrew's accuser, Virginia Roberts-Giuffre. She has consistently alleged for years that she was basically pimped out to Andrew almost 20 years ago by Jeffrey Epstein, who was jailed on federal sex-trafficking charges when he died of an apparent suicide in August.
Andrew has denied all charges of misconduct and, in the Newsnight interview, denied even knowing Giuffre, despite a photo that exists showing them together in 2001. In resigning from his royal work, the Duke of York said he'd be willing to cooperate with authorities on any further investigation into Epstein.
Charles, along with their father, Philip, is said to have had a "very civilized and calm" lunch meeting with Andrew, though he did "read him the riot act and told him there was no way back for him in the near future."
Andrew thought it unfair but "he accepted the decision," a royal source told The Sun. "He really had little choice."
The Telegraph then quoted a royal source adding that Philip told his son he "had to take his punishment."
"There was no screaming or shouting," the source said, "but Philip told him in no uncertain terms that he had to step down for the sake of the monarchy.
"Philip doesn't like trial by the media but he is realistic enough to realize that Andrew's actions were a danger to the very fabric of the royal family."
Added another insider, "The feeling is that with Prince Philip retired at 98 and the Queen now 93, Charles has to take a firm grip on the family and plan for the future. The first task was to support the Queen in helping to sort out the Andrew problem."
Chris Jackson/Getty Images
So, it's unsurprising that The Sun is now reporting that Andrew may be unwelcome this year, not at Christmas in general, but at church. (He was there last year—in fact, he accompanied the queen, while Philip stayed at the house—as were Andrew's daughters Princess Beatrice and Princess Eugenie, and his son-in-law of two months, Jack Brooksbank.)
"There are discussions about Christmas day and a desire from many courtiers for Prince Andrew to stay away from the church, where he would be pictured with the rest of the family," a source said.
The main worry is that protesters may be lined up along the way or otherwise try to confront Andrew, which would be the dominant headline to emanate from royal Christmas 2019 if that is the case.
The queen of course wants to do all the normal holiday rituals, including attend church, with everyone, and those close to her can't picture her actually telling Andrew not to go.
Like her guests, she'd prefer to just show up, the details seen to by someone else.