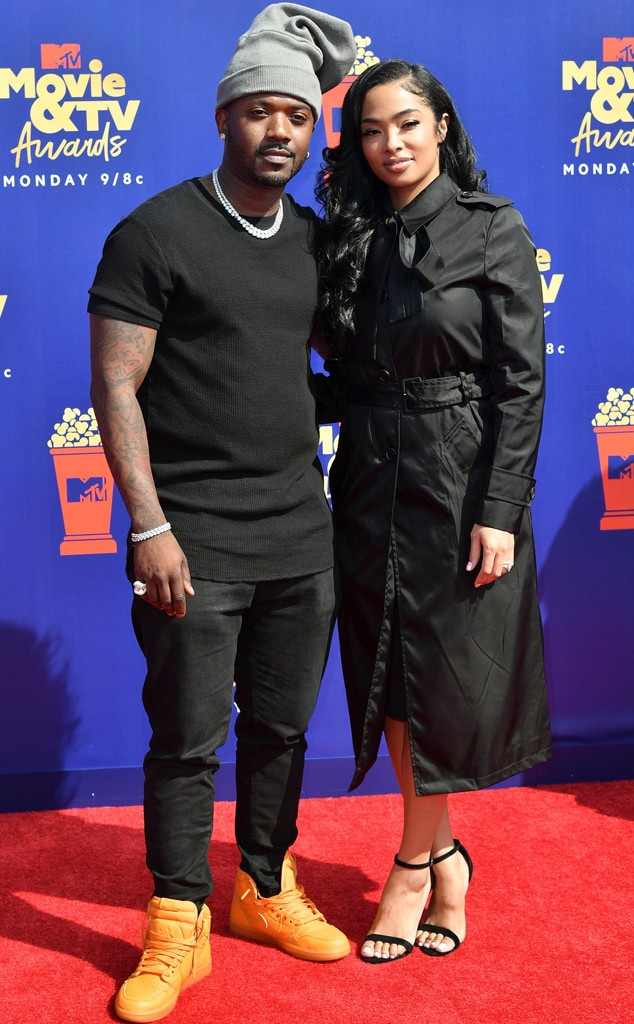 Rob Latour/Shutterstock
And a baby makes four!
Princess Love and Ray J have welcomed their second child together, a baby boy. A rep for Princess Love confirms to E! News that the star has given birth. The Prella Cosmetics founder and the rapper are already parents to 17-month-old daughter Melody Love Norwood.
Ray J took to social media to share the news with his fans, posting a YouTube video of him and Princess Love in the hospital.

"I love you princess love! And my babygirl melody! I don't ever wanna lose our time together. I'm sorry for everything," Ray J captioned the video, referencing the couple's marriage troubles. "2020 will be somthing very special."
Shortly before their little bundle of joy arrived, Princess Love showed her Instagram followers how she was prepping for her son's arrival. She posted a picture of an adorable newborn onesie that had the words "Little Brother" written across the front, which she got to match Melody's "Big Sister" t-shirt.
Back in October, the Love and Hip Hop stars shared that they were expecting a baby boy with an epic gender reveal. While riding in a helicopter, Ray J dropped blue smoke from the sky to unveil the baby's gender while Princess Love and Melody watched from below. "We're having a boy!" the "Sexy Can I" rapper shouted from the helicopter.
Their wonderful addition comes amid the couple's marriage drama, which began unfolding in November when Princess Love claimed that Ray J abandoned her and Melody in Las Vegas.
She blasted the "One Wish" rapper by recalling the moment in a comment she left on his Instagram, writing, "Left me and Melody stranded in Las Vegas and blocked me from calling... now you wanna post family photos. #ByeUgly."
After deleting the post and blocking his wife on social media, Ray J pleaded with Princess Love to put an end to the "crazy" drama days later. "To insinuate I've done anything to harm my daughter is sad, man," he said in a video. "I just don't understand how somebody can get stranded when we never left, we've been right here.
"People are going to get into little arguments here and there," he continued. "It's small stuff that you could work out, but to take this to social media and create this crazy story about me leaving my baby in harm's way is not cool. I apologize for everything that's happened."
Ending the video with a shout-out to Melody and saying that he missed her "so much it hurts," Princess Love was quick to point out the holes in his story. She wrote, "If we've 'so called' been there the whole time, why would you miss your baby?"
After hearing her husband's plea, it was reported that Princess Love was allegedly filing for divorce. Then, she fired back at the "Hit It First" rapper with another fiery claim on her social media.
"He basically admitted he had been entertaining, you know, some women," she said, alleging that she discovered Ray J's "extra phone" for contacting women. In another post, she wrote, "A man will have a whole wife, kid and baby on the way and start an argument with you... just to go to his other hotel room to party with escorts and strippers."
Weeks later, Ray J addressed the entire situation on The Wendy Williams Show and once again tried to reconcile with his wife. "Hey, Princess! I love you, baby if you're watching," he said into the camera. "Hey, Melody. I love you. I love y'all. I'll be home soon."
Watch:
Kim Kardashian, Kylie Jenner, Ray J, Tyga & More Attend Diddy's Party
After confirming that he and Princess Love are still married, Ray J insisted that he'd "die first before I leave them on the side of the road." Still, he admitted that he's not totally in the right.
"She's right. I'm not going to even defend it," he added. "Baby, I was wrong. You are right. I have to do better, and I have to understand my wife is pregnant…I have to think a little more wiser when I'm making decisions."
He then denied Princess Love's claims that he cheated on her thought out their marriage. "Oh no. It would never be like that," Ray J said. "I would never get married if it wasn't super locked between us. I think what we gotta work on is keeping your circle tight. Me, her and our baby."