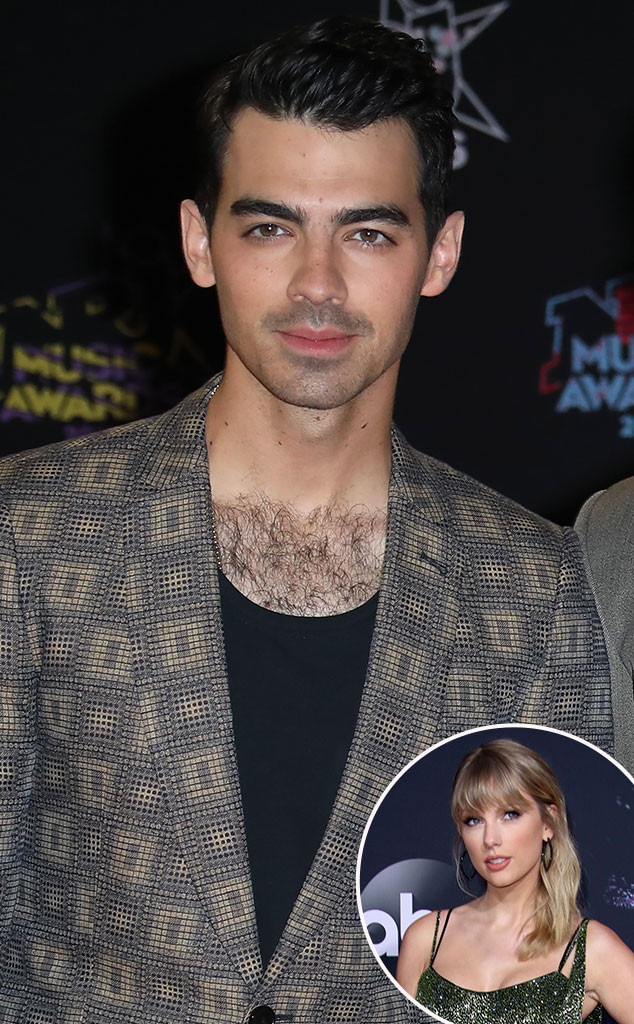 Toni Anne Barson/FilmMagic, Shutterstock
We'll forever and always cherish this moment.
On Wednesday, Joe Jonas treated his Instagram followers to a cool cover of his ex Taylor Swift's song "Lover." In a quick Instagram Story, the Jonas Brothers singer serenaded brother Nick Jonas and put a hilarious spin on the chorus.
Zooming in on his unsuspecting younger bro during their flight, Joe sang, "My, my, my…brother." Paying the 30-year-old no mind, Nick continued scrolling through his phone.
Joe isn't the first of Taylor's famous exes to cover the hit song. Last month, John Mayer performed a parody of it on his Instagram Live talk show Current Mood. Like Joe, the "Body Is A Wonderland" singer also changed up the lyrics a bit.
While chatting with his guest Shawn Mendes, who appears on the "Lover" remix, John admitted that he leaves his Christmas lights up until January as Taylor does in the song. Then, he broke into song. 
"We can keep the Christmas lights up 'til January," he sang. "And then about January 5th, we'll take the lights down. And then we'll put 'em in a box and we'll label that box Christmas lights. Yeah, we'll put 'em in the attic until next December."
The "Only Human" singer's brotherly rendition of "Lover" further proves that Joe and Taylor are on good terms. Back in May, Taylor apologized for the mean-spirited things she said about their 2008 breakup.
When asked to name the most rebellious thing she ever did as a teenager on The Ellen DeGeneres Show, she responded, "Probably when I, like, put Joe Jonas on blast on your show. That was too much. I was 18. We laugh about it now but that was mouthy."
Following her apology, Joe said that he has nothing but love for the "You Need To Calm Down" singer. "It's something that I was probably feeling pretty bad about when I was younger," he said during an interview with ITV's Lorraine Show. "At the end of the day, I've moved on. I'm sure Taylor's moved on. It feels nice. We're all friends. It's all good. We were so young."
Watch:
What Joe Jonas Really Thought About Taylor Swift's Apology
But the love doesn't stop there. During the 2019 Billboard Music Awards, the "Sucker" singer was spotted dancing to Taylor's "ME!" during her performance. He's not the only one that was feeling the beat. His wife Sophie Turner was also bopping along to the drumline.  
Now we just need a "Lover" rendition from Jake Gyllenhaal!