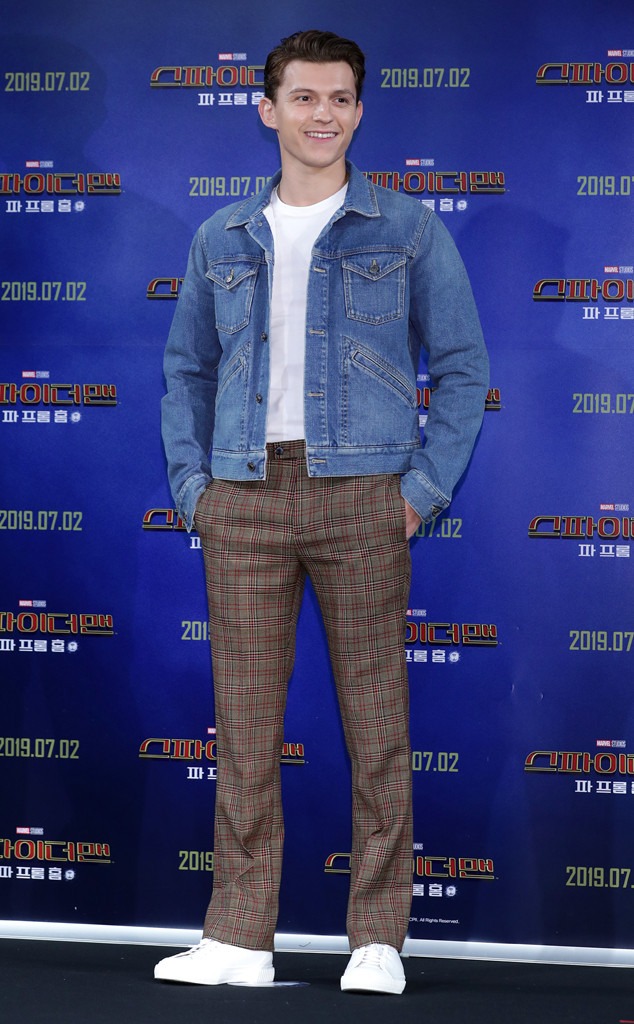 Han Myung-Gu/WireImage
Tom Holland's spidey senses aren't fazed by anything—not even a couple of drinks.
While sharing his take on Spider-Man rejoining Disney's Marvel Cinematic Universe during Wednesday's episode of Jimmy Kimmel Live, the British actor revealed that he played a major role in saving the franchise by reaching out to Disney CEO Bob Iger. Impressed by the 23-year-old's professionalism over email following the shocking news, the media executive wanted to hop on a call with Tom. But of course, he picked the least opportune time to chat.
"My family and I went to the pub quiz in our local, like, town," he told host Jimmy Kimmel. "We're doing a quiz and I'm, like, three pints in, right? I haven't eaten much and I get a phone call from an unknown number. And I have a feeling, I'm like, 'I think this is Bob Iger…but I'm drunk.'"
Tom added, "You don't give Bob Iger, like, a schedule. You're like, 'Whenever, Bob.'"
Once he got some encouragement from his father, the Spider-Man: Far From Home star answered the call and received some good news.
"But I basically just said thank you for the opportunity and he said, 'There is a world in which we can make this work,'" he continued. "And there was a bunch of phone calls back and forth from [Sony Pictures chairman] Tom Rothman—he was really instrumental in the process. And it was really interesting for me to these, like, two studio heads, like, 'What do you think?'"
Comparing the situation to a custody agreement, Jimmy asked the Avengers: End Game star if the rumors were true that he cried on the phone. Tom said that they were spot-on. 
"I weeped," he quipped. "No, I didn't weep. Yeah, no, I was really emotional because I felt like it was all coming to an end."
Watch:
Tom Holland Gushes Over Working With Marvel's Elite Actors
Reflecting on Disney and MCU's decision, Tom said that he felt they made the right choice in the end.
"We had a really good plan with what we were gonna do with Sony," he began. "The future of Spider-Man was still very bright. But it would have been a shame to take him out of the MCU, you know? That's where he belongs and we've built such a strong character in that world and it would have been a shame to lose that. But, I'm just really glad that we managed to work it out."
Watch Tom hilariously recall his drunken phone call with Bob in the video above!