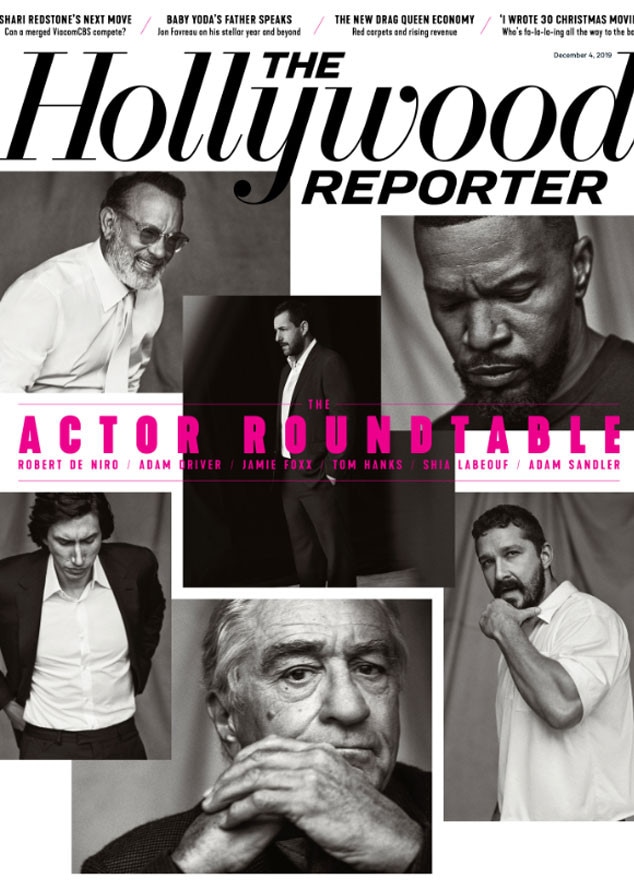 The Hollywood Reporter
Back in action! 
Every year, The Hollywood Reporter rounds up some of the most buzzed about actors from the biggest films of the year and picks their brain about everything from their career success and acting process to their motivations for some of their biggest roles. This year, for THR's actor roundtable interview, they spoke with Shia LaBeouf, Robert DeNiro, Adam Sandler, Jamie Foxx, Adam Driver and Tom Hanks. 
All of whom have had a long and varied career, but the one thing they all have in common is their passion for their craft. Jamie recalled one particularly tough moment for him early in his career, "I remember Oliver Stone, when I first auditioned [for Any Given Sunday], he was like, 'You're horrible.' And I was like, 'What?' He was like, 'Just get the f--k out of here.' As I'm walking out he said, 'Jamie Foxx, slave to television.' But I learned from that toughness," he shared. 
Shia also chimed in with his experience with the director while working on Wall Street: Money Never Sleeps. "He would never look me in the eyes," he revealed. "He always looked just above my eye, to the eyelid."
Regardless of that experience and what it taught him, Jamie also revealed that if he could go back and do any of it again, he wouldn't change a single thing. 
Watch:
Jamie Foxx Says Taron Egerton Has an Amazing Singing Voice
"If I gave myself any advice, I would have gone left instead of right, then I probably wouldn't have ended up in this situation," he shared about what he would tell his younger self. "I wanted to be married and work at Kodak—and all that sort of fell through. So, boom! I said, 'I'm on my way and I'll figure it out.' You've got to live it and then look back and say, 'OK.' Anything could have set [me] in a different direction and I wouldn't be sitting here, and I wouldn't change sitting here for the world."
Things definitely seemed to work in his favor!