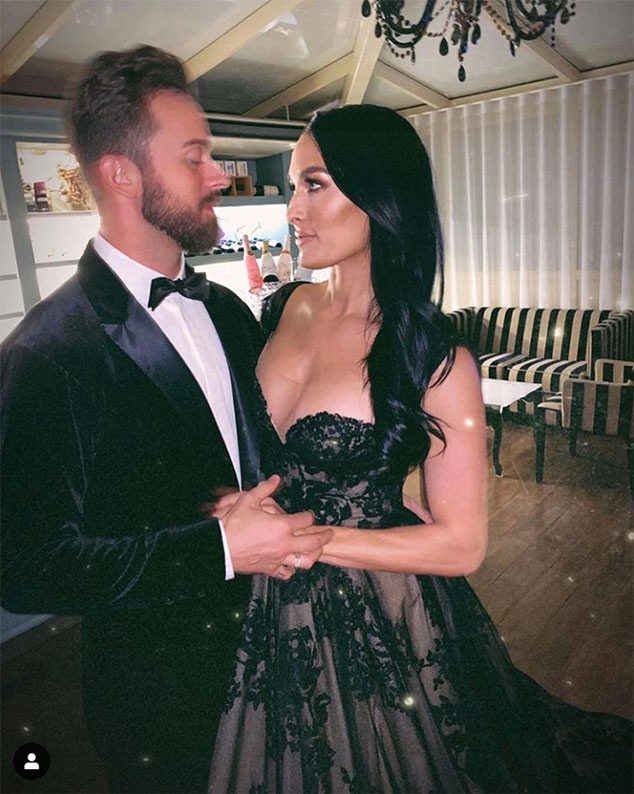 Instagram
First comes love—then comes meeting the parents. 
Such was the case for Nikki Bella, who's been dating her former Dancing With the Stars partner Artem Chigvintsev for the past year. As she revealed on her and sister Brie Bella's podcast, the time came for her to meet his mom, dad and brother during their trip to France—while Artem reunited with them after five years apart. 
"It was the first time Artem saw his parents in five years and his brother," she revealed. "He was so nervous and excited and emotional...They all got really emotional when they saw each other. They cried."
Meanwhile, Nikki also had pre-meeting jitters. "I'm not gonna lie—I was really nervous," the reality star admitted. 
Chatting also proved to be a bit of a challenge. "They don't know English. I don't know Russian, but somehow we made it work," she said, noting Total Bellas captured it all. 
"It's crazy when you're put in the situation where you have a language barrier and you're forced to communicate without speaking," Nikki said. 
Watch:
Nikki Bella Talks Possibility of Marrying Artem Chigvintsev
Ultimately, it sounds like it was a successful first meeting. "They are the sweetest people in the world," she complimented. "Overall, Artem's parents did say they liked me a lot, which is amazing." 
As Nikki previously revealed on the podcast, Artem's parents have also been asking about grandchildren. 
"His dad asked his mom so his mom could ask Artem when we were having kids," she shared. "I started to think, 'Is it because I'm old? Did he Google and know I'm going to be 36 in November and he's like, Well those eggs are shriveling up, so she better get pregnant.'"
However, as she told E! News in October, "Marriage and babies are really scary for me right now." 
For now, she can check "meeting the parents" off the To-Do list. 
Total Bellas returns this fall, only on E!