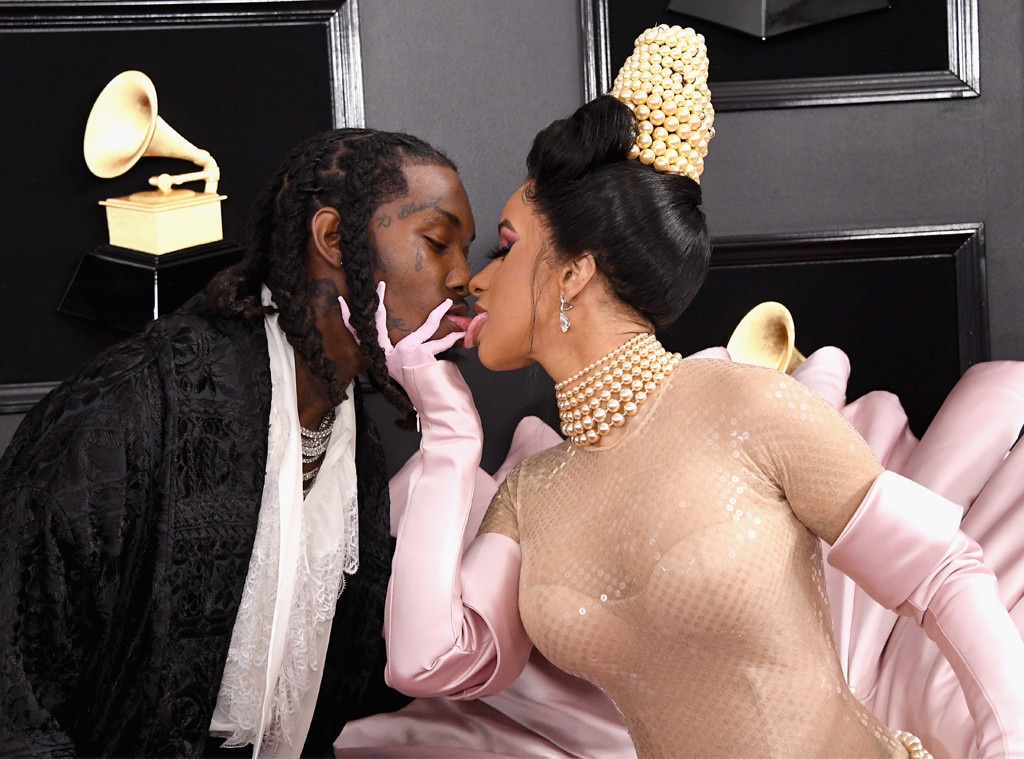 Steve Granitz/WireImage
Offset is setting the record straight on those cheating rumors.
After being accused of sending Tekashi 6ix9ine's girlfriend Jade a DM via Instagram, the Migos star attempted to prove his account had been hacked.
"Somebody hacked one of my emails. You know what I'm saying? It's connected to all of my s--t," he said in a video posted to Cardi B's Instagram Stories. "And that's how I got hacked."
The video also showed an email Offset allegedly received from the social network notifying him of some "unusual activity."
"I've been having a good weekend, man. I wake up to the bulls--t. I'm with my family man," he added, noting that he had just had a "great Thanksgiving" with his loved ones and that he "aint on no bulls--t."
In addition, Offset thanked Facebook, Twitter, Google and Instagram for "all sticking together and helping me." He also told his followers he still didn't have access to his account.
According to The Shade Room, Jade shared a video of Offset allegedly sliding into her Instagram DMs and writing "miss u fr."
 "Your wife @iamcardib has a OPEN CRIMINAL CASE, why are you writing me you don't respect her???????" she wrote in a since-deleted post. "There [is] a lot of s--t I haven't exposed yet, but there's a time for that."
Tekashi 6ix9ine's leading lady then quoted a line from Pardison Fontaine's hit "Backin' It Up," in which Cardi B raps, "I'm the QUEEN of talking s--t now I'm backing it up." 
Offset's love quickly shot down the rumors.
"Hey guys. So, as you can see, this guy's Instagram has been hacked," she said in one video. "We look crazy. We just woke up. We've been sick throughout the whole damn night...Anyways, you know, I know babe, you've done some dumb s--t. Everybody knows he's done some dumb s--t. But come on now, [he's] not dumb. He's not crazy. we've been so good. We had a sweet weekend. Our life has been good. He's not going to play himself like that. That's why I'm not going to entertain that. That's why I'm not getting rowdy. Simple as that."
Watch:
Offset & Baby Kulture's Cutest Father-Daughter Moments
According to The Shade Room, Offset's Twitter account was also hacked. Cardi B even showed a video of Offset's Twitter account privacy settings and noted the two were attempting to reset or change his password.
Still, some fans questioned the whole situation. A few followers, for instance, noted that the video shared by The Shade Room showed that Jade received the message in question at around 1:36 a.m. However, the tweets shared by the alleged hacker didn't appear until later on.
Jade claimed "the hack started after you got exposed." 
"Why it didn't start at 1am?" she added. 
This wasn't the first time Cardi B and Offset had experienced a bit of drama with Tekashi 6ix9ine and Jade. It also wasn't the first time Offset had been accused of being unfaithful.
"Every single day there's rumors about me and my dude," Cardi told W Magazine in 2018. "And it almost drives me crazy, because I start to believe them. I don't have no proof. I don't have receipts. But I just got to know my man. We practically on the phone 24 hours a day. If I can't find him, I'm going to find his friend. Somebody going to answer the phone. But I cannot be feeling insecure, to a point that I would drive my dude away, because these people want that to happen."