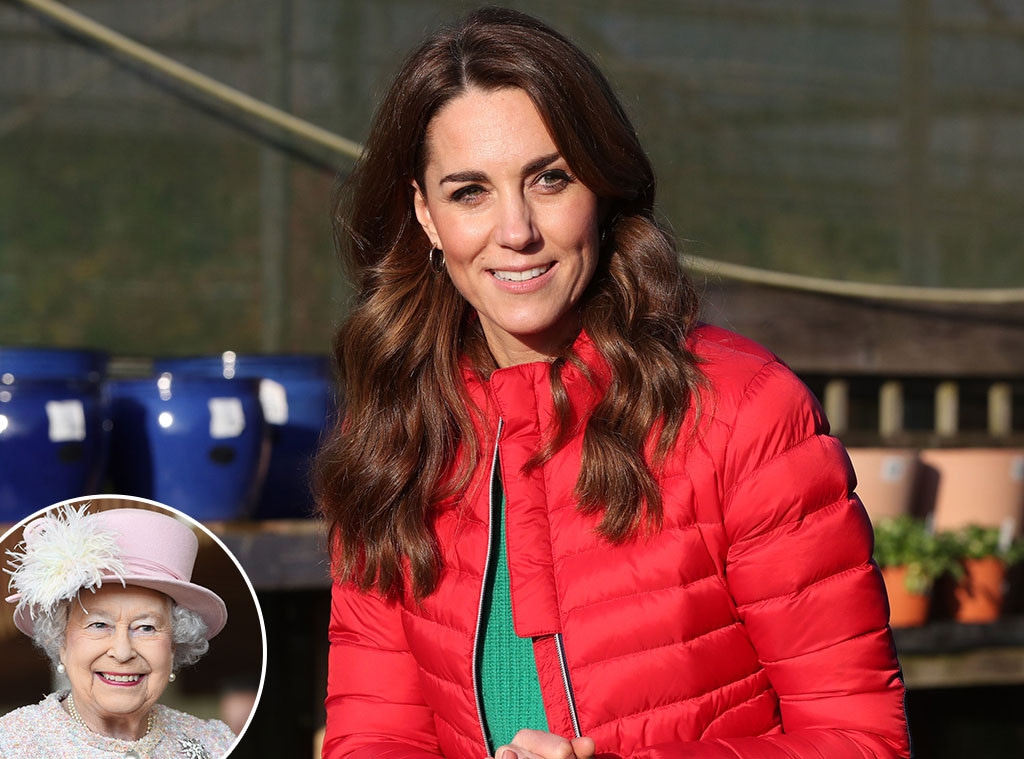 Jonathan Brady/PA Wire, Stuart C. Wilson/Getty Images
Kate Middleton has something new to add to her resume.
On Tuesday, The Palace announced that the Duchess of Cambridge now has a patronage with the British charity Family Action, a role that Queen Elizabeth has had for 65 years. Under her new role, Kate will help the charity in its efforts to provide support for families affected by mental health issues, domestic and substance abuse and financial difficulties.
The mom of three is already seamlessly transitioning into her new duties. On Wednesday, she attended her first event as Family Action's official patron. Dressed in her favorite red Perfect Moment puffer jacket, a green knit sweater, dark-wash jeans and brown walking boots, she visited the Peterley Manor Farm in Buckinghamshire to meet some of the children that are being helped by Family Action. In the spirit of the holidays, she and the children enjoyed a number of Christmas-inspired activities, including decorating and making hot chocolate and eco-friendly reindeer food.
Kate also used the outing as an opportunity to learn more about Family Action and the organization's work with disadvantaged children through local and national services. Members of the charity expressed their excitement to have the Duchess on board.  
"Family Action is honored that The Duchess of Cambridge has become our Royal Patron," Family Action Chief Executive David Holmes, who has worked alongside Kate through her Early Years support steering group, in a statement. "Everyone at Family Action would like to extend our thanks to Her Majesty for her steadfast support and encouragement to us over so many years. I have seen The Duchess's passionate support for disadvantaged families first hand and have been impressed by her leadership in understanding and promoting the vital importance of the Early Years. Family Action looks forward to working with The Duchess in the years to come." 
This isn't the first time that Kate has worked with Family Action. Back in January, she visited their Lewisham base and celebrated the launch of the charity's FamilyLine support services, a phone line that offers immediate and long-term support and guidance to families that need it.
"Everybody experiences the same struggle," she said during the visit. "You get a lot of support with the baby as a mother particularly in the early days but after the age of one it falls away. After that there isn't a huge amount — lots of books to read."
Watch:
Is There a Royal Rift Between Meghan Markle & Kate Middleton?
Throughout her eight years as Duchess, Kate has dedicated her time to a number charities and organizations that strive to improve the lives of families and communities. She also serves as a patron of East Angela's Children Hospices, which she has supported since marrying Prince William back in 2014.
At a recent event to commemorate the unveiling of its new state-of-the-art Nook hospice center, Kate said, "EACH was one of the very first charities that I decided to become Patron of after my marriage. Whilst a lot has changed since then, my commitment and support for this wonderful organization and the work that you do has not. Over the years, I have seen first-hand the depth of EACH's reputation as a standard-bearer in children's hospice care, both here in the U.K. and internationally too, during my visits to Malaysia and Australia."