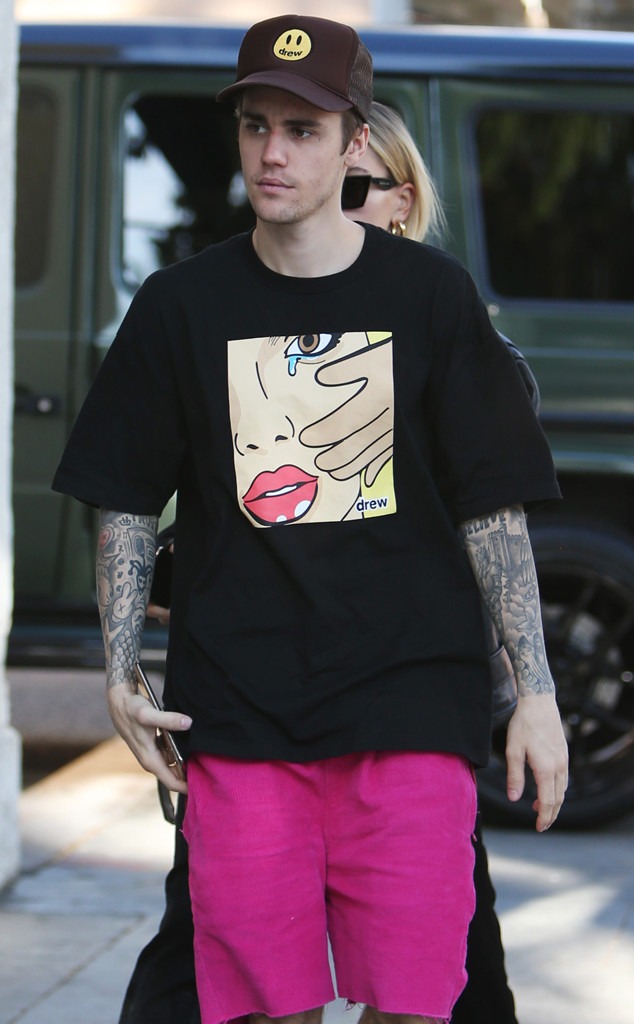 Broadimage/Shutterstock
Justin Bieber is owning his past mistakes.
In an emotionally honest Instagram posted on Tuesday night, the "Sorry" singer owned the fact that he made racist comments when he was younger. And now, he's trying to make up for those actions by using his platform for good.
Sharing a photo that reads "STAND AGAINST RACISM" in bold grey lettering, the star wrote in his caption, "When I was young I was uneducated and found myself saying really hurtful things not knowing the power of my words. Racism Is still very prevalent and I want to use my voice to remind we are all human being and all of EQUAL VALUE BEFORE GOD!" And that wasn't his only post about the matter.
Bieber prepared his followers for his "STAND AGAINST RACISM" post by talking about his "shortcomings" in another. Sharing a photo of a Drew-themed Christmas tree illustration, the 25-year-old said, "I'm determined this holiday season to take ownership of all my shortcomings and work on them for myself and the ones I love! What is your goal?"
While he did not cite which specific moment from his past he was referencing, it's possible the "Baby" singer was referring to his use of the N-word in videos from his early teen years.
In 2014, two videos surfaced the same week that showed a 14-year-old Bieber (who was 19 when the clips surfaced) using the N-word. In the first clip obtained by TMZ and U.K. publication The Sun, Bieber is heard saying, "Why are black people afraid of chainsaws? Run n----r, n----r, n----r, n----r, n----r."
In the second clip obtained by TMZ, Bieber remixed the lyrics of his single "One Less Lonely Girl" and sang, "One less lonely n----r/ One less lonely n----r/ One less lonely n----r." Later in the video, he added, "If I kill you I'll be part of the KKK."
Shortly after the videos surfaced, Bieber apologized for his actions. And his message was similar to his Tuesday Instagram. As his statement said, "As a kid, I didn't understand the power of certain words and how they can hurt."
"I thought it was ok to repeat hurtful words and jokes," he went on. "But didn't realize at the time that it wasn't funny and that in fact my actions were continuing the ignorance. Thanks to friends and family I learned from my mistakes and grew up and apologized for those wrongs. Now that these mistakes from the past have become public I need to apologize again to all those I have offended. I'm very sorry."
Watch:
Justin Bieber Claps Back at Haters After Being Criticized
As the apology continued, "I take my friendships with people of all cultures very seriously and I apologize for offending or hurting anyone with my childish and inexcusable mistake. I was a kid then and I am a man now who knows my responsibility to the world and to not make that mistake again. Ignorance has no place in our society and I hope the sharing of my faults can prevent others from making the same mistake in the future. I thought long and hard about what I wanted to say but telling the truth is always what's right. Five years ago I made a reckless and immature mistake and i'm grateful to those close to me who helped me learn those lessons as a young man. Once again....I'm sorry."
Now, at 25, his sense of responsibility seems to have grown.