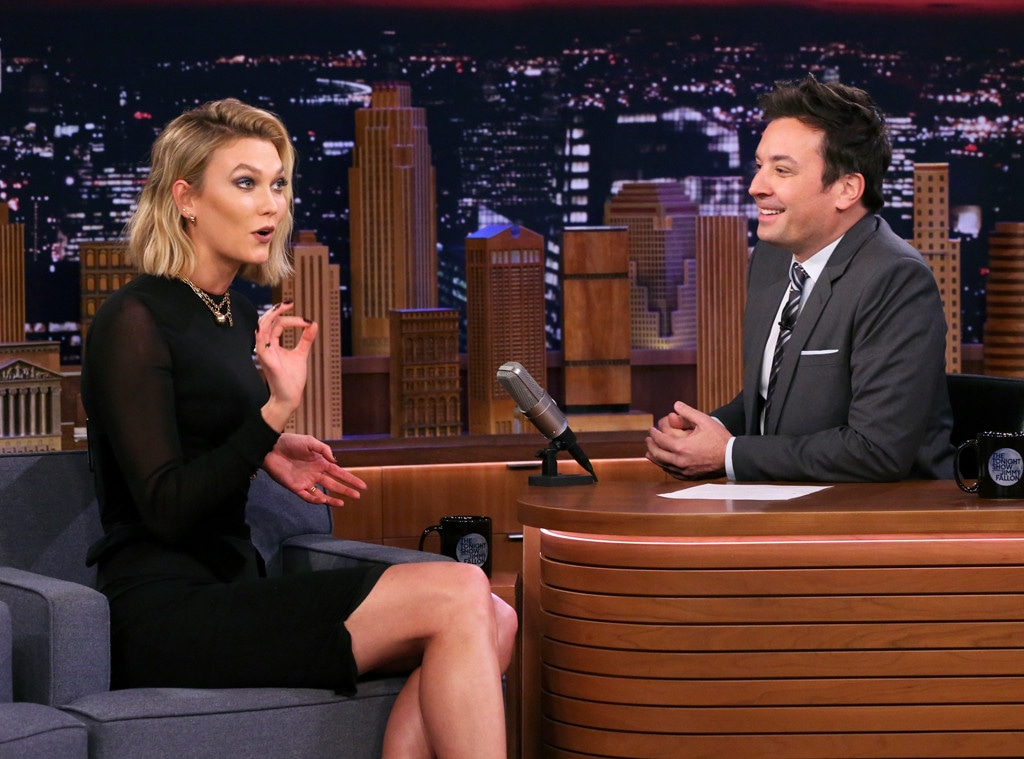 Photo by: Andrew Lipovsky/NBC
Karlie Kloss knows a thing or two about fashion—she is a supermodel, after all!
On Monday, the Project Runway host brought her expertise to The Tonight Show Starring Jimmy Fallon and critiqued some of host Jimmy Fallon's most cringeworthy looks.
"This is going to be the most embarrassing show I've ever done," Jimmy said before showing Karlie the unflattering outfit  he wore to the 2003 Grammy Awards. In the photograph, the late night host can be seen wearing a black suit that featured dramatic high-water sleeves. Naturally, he decided to pair the look with sequined cufflinks. Much to our surprise, Karlie didn't mind the cufflinks—but that doesn't mean that she approved the outfit. She quipped, "You kind of look like you're auditioning for Big Bang Theory."
Reluctant to share his next look, Jimmy unveiled what he wore to the New York City premiere of The Beastie Boys' Awesome; I... Shot That! concert film back in 2006.
He showed up to the event wearing a tweed paperboy cap that was so hilarious, it almost made Questlove do a spit take! This time, however, Karlie wasn't a fan of Jimmy's choice of accessories. 
"You guys know that scene in Love Actually where Keira Knightley's, like, wearing that hat?" she asked the audience. "You look like you mugged her."
For his third and final look, Jimmy unearthed a red carpet picture of himself from the 2003 MTV VMAs. Before showing the outfit to Karlie, Jimmy gave her and the audience a warning. "I do not even know who this guy is at all," he said.
What did he wear? Showing off his love of music, Jimmy donned a distressed Skid Row vintage tee and khakis. To really tie the look together, he wore a pair of oversized square-frame sunglasses. Still embarrassed by his fashion choice, Jimmy said, "It looks like someone threw up on my shirt."
Watch:
What Christian Siriano & Karlie Kloss Bring to "Project Runway"
Despite delivering some spot-on zingers, Karlie confessed that it took time for her to settle into her new judging role for season 2 of Project Runway.
"I grew up, like, being taught to be polite and, like, say your 'please and thank you's,'" she explained. "So, like, to be tough and, like, you know, fashion is critical. So, I got tough this time around. No more nice Karlie!" 
(E! and NBC are both part of the NBCUniversal Family.)