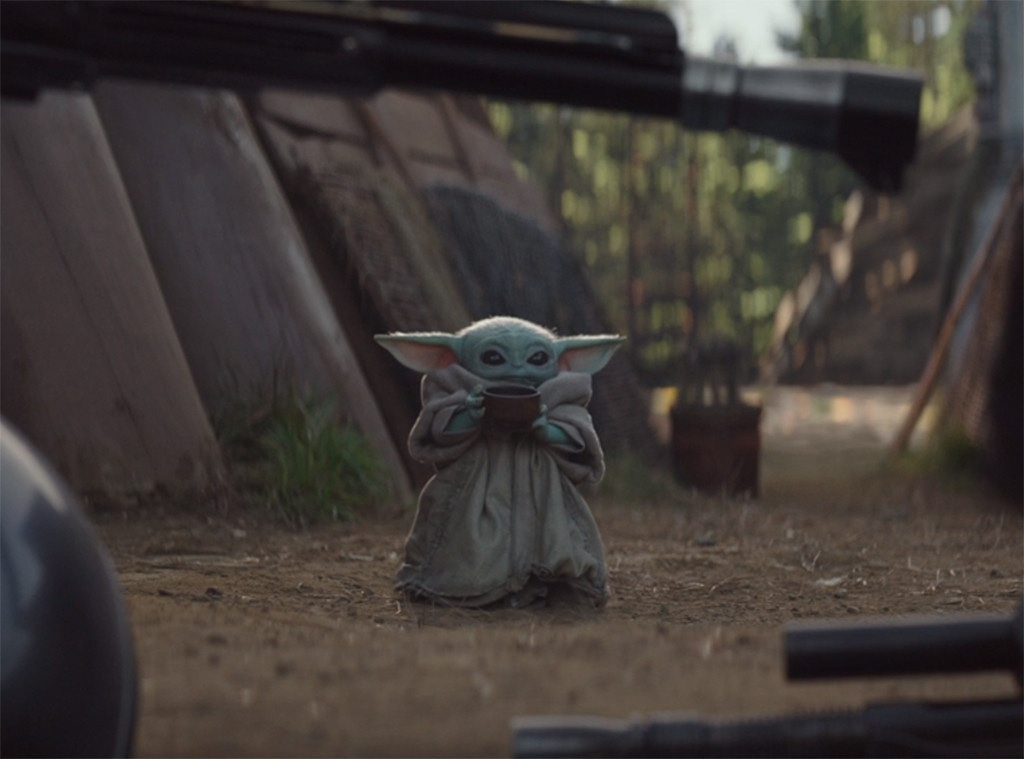 Disney Plus
The hottest new meme in town is also the cutest thing we've ever seen. 
The Mandalorian's best kept secret (until just about the debut of episode two) was Baby Yoda, the official unofficial name of the child now under the care of the titular Mandalorian, with the whole galaxy after him. 
The latest episode, directed by Bryce Dallas Howard, marked the debut of the show's first human character with an actual face, Cara Dune (Gina Carano) and also gave us Baby Yoda Sipping Soup. It's exactly what it sounds like: Baby Yoda, sipping soup, and it's the best thing TV has possibly ever given us. 
The moment interrupts a fight between the Mandalorian and Cara. They're about to destroy each other, and then they hear a loud slurping sound. They look over to discover Baby Yoda, staring at them as he sips his soup. It's so damn cute that it overshadowed the rest of the episode for many people, maybe even including Bryce Dallas Howard and the Mandalorian crew according to a new interview with Variety. 
"When we were shooting that fight just before, so much rested on Gina because Pedro at that point was on rehearsal for another show. It wasn't like I was working with Pedro on a day-to-day basis, so Gina was the face of the episode. Working with Mando's stunt double and body double it was exciting because Gina was able to do all that action and we could lean into it. That day was all about that brutal fight: Gina and Mando's stunt double were just destroying each other," Howard said. "And then it gets to Baby sipping his soup and everything else goes away, all these amazing feats of athleticism and martial arts, and all this stuff just becomes Baby with soup and all we wanted to do was a zillion takes of how Baby was going to drink his soup. Would he drink it with one hand? With two hands? Sipping it a lot? Sipping it a little bit?" 
Would he drink it with one hand?? Sipping it a little bit??
That's got to be the cutest set of questions any director has ever had, and the cuteness in that interview didn't stop there. Howard cited working with Baby Yoda as the biggest "pinch me" moment of directing the episode. 
"He is the light of all of our lives; it's so exhilarating to be able to share my love and obsession with him with others," she said. 
Her first interaction with Baby Yoda, who is part puppet, part CGI, was when the crew was trying to figure out exactly how much puppet Baby Yoda can do. 
"I had worked with the same puppeteering folks on Terminator and Jurassic, so we spent a lot of time playing with the puppet, we wanted to use it as much as possible rather than relying on CG. I wonder if Baby can walk? Can Baby reach for things? Can Baby articulate with its hands?" she said. "And because of the fact there were other kids in the episode, we could lean into his earnest cuteness and those scenes might have otherwise felt put on. But we know it was OK if Baby is cute right now." 
If you ask us, it is always OK if Baby Yoda is cute right now.
In an interview with THR, Howard said that the puppeteers (from the Legacy company) used her a lot while operating the Baby Yoda puppet, because she was particularly concerned with whatever he was up to. 
"The Legacy operators said that each director would have a different way of directing Baby, and for me, what they would do is they would just look at me the whole time because I was just pulling faces," she said. "They were like, 'We would just copy the faces that you were making, Bryce.' I was obsessed with Baby and Baby's internal journey. I would just talk it out, 'Oh, Baby is very worried right now, but guess what? Baby has a little bit of an idea, and Baby is a little bit curious and thinking about his idea.' I was sort of being an announcer for what Baby was possibly doing." 
Baby Yoda was basically the best kept secret in pop culture this year, even though Howard's young children knew about him the whole time. Her then six and 11 year-old kids were on set while she was filming her episode. 
"The thing I was most nervous about was that my kids had been on set quite a bit. So, they had seen Baby and interacted with Baby," Howard told THR. "When we were filming, my kids were 6 and 11; they're now 7 and 12. When the kids went back to school, every single day I would say, 'So, what are you not gonna talk about today?' And they would say, 'Baby!' I'd be like, 'That's right!'" 
"I would just consistently remind them that there's no circumstance that could ever arise where they're allowed to talk about Baby," she continued. "Now, for them, it's very confusing because I'm like, 'Oh, now, you can talk about Baby,' and they're like, 'Oh, okay.' We've been having this routine for about a year now, and it's fun; it's really, really fun."
Howard also pointed out that fans have been a little upset that there's no merch available, like the Baby Yoda doll we're all dreaming of, but that was part of the secret-keeping. 
"I think they made a good choice in not focusing there and just focusing on the storytelling," she said, which is great and all, but somebody had better be working on that merch now. 
Watch:
Baby Yoda Breaks the Internet
The Mandalorian is now streaming on Disney Plus, with new episodes available on Fridays.