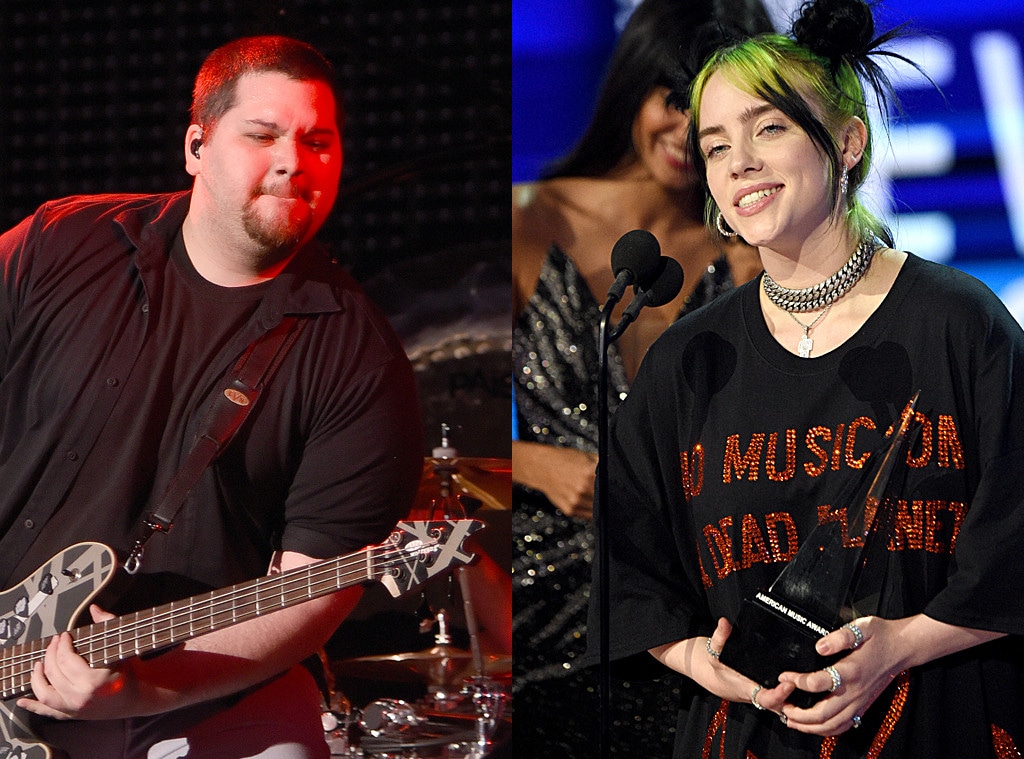 Getty Images
Billie Eilish is sorry to that band.
A couple of weeks ago, the 17-year-old singer made an appearance on Jimmy Kimmel where she talked to the host about her historic Grammys nominations, her first-ever award show performance at the 2019 American Music Awards, on turning 18 and on dealing with fame.
But what people online have recently picked up on is that when the "Bad Buy" singer was asked if she could name any member of American rock band Van Halen, she responded, "Who?" 
To which Kimmel jokingly replied, "I'm going to start crying." 
And because it's 2019 and nothing gets past people on the internet—even if the interview is from a month prior—people took to social media to give the teen star a hard time over not knowing who Van Halen is. Mind you, the band formed in 1972 and Eilish wasn't born until 2001.
Further, the pop star was only 10-years-old when the band put out their latest album in 2012, A Different Kind of Truth. 
Now, the band's bassist, Wolfgang Van Halen has some words for those going on about the "Lovely" singer. 
On Monday, Dec. 2, the 28-year-old bassist—one of the three Van Halen's in the band and son of guitarist Eddie Van Halen—took to Twitter to weigh in. 
"If you haven't heard of @billieeilish, go check her out. She's cool. If you haven't heard of @VanHalen, go check them out. They're cool too," he tweeted. "Music is supposed to bring us together, not divide us. Listen to what you want and don't shame others for not knowing what you like." 
Talk about a classy and respectful response to the internet trolls. 
Watch:
Billie Eilish on Her First Ever Award Show Performance
Further, many people on Twitter also rallied behind the young star. 
One Twitter user wrote, "Van Halen has been trending at #1 just because Billie Eilish didn't know who they were?! 1. Who cares? 2. She's 17 3. Who cares?"
"If you're surprised Billie Eilish has never heard of Van Halen, I would love to ask you what music you were listening to as teenager from 40 years ago.
That's listening to music from the 1930s when you grew up in the '70s, and the 1940s if you grew up in the '80s.
Calm down," another user tweeted. 
The band Smash Mouth also weighed in. "We grew up listening to #VanHalen and we're old as fck so why would @billieeilish know who they are? #NoDiss," the band tweeted.