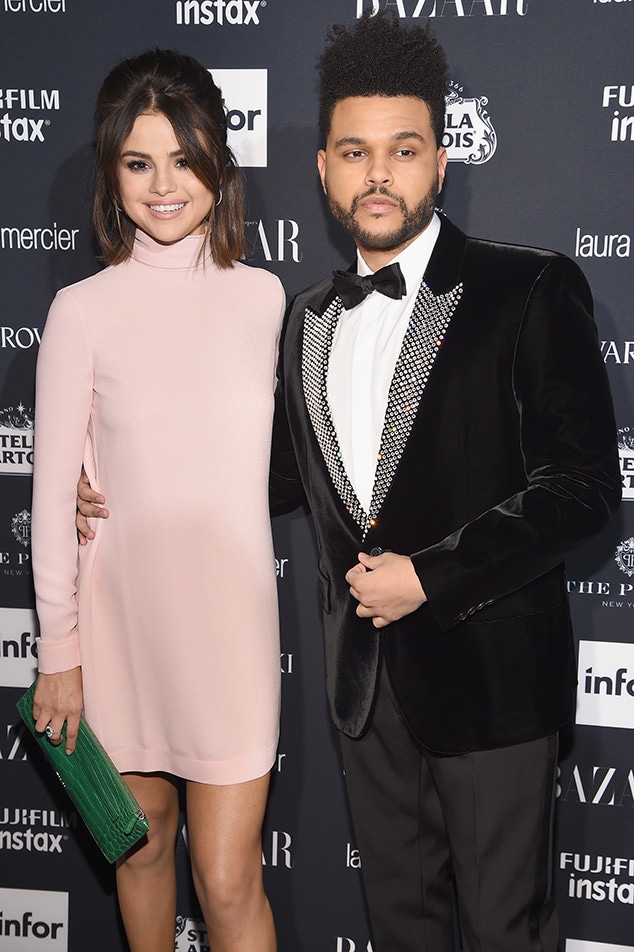 Getty Images for Harper's BAZAAR
After much speculation that one of The Weeknd's upcoming new songs would seemingly be about his former flame, Selena Gomez—it turns out it was just a false alarm. 
On Nov. 25, the ASCAP (the American Society of Composers, Authors and Publishers) website showed that the "False Alarm" singer had registered a song titled, "Like Selena." 
Now, it looks like the "Wasted Times" singer is no longer releasing "Like Selena." On Monday, Dec. 2, several outlets reported that the ASCAP website has taken down the page with information that the song was listed under the singer's real name, Abel Tesfaye, as both the writer and performer.
As pop culture fans might recall, he and the 27-year-old singer began dating in January 2017 but by October of the same year, the two decided to split after only 10 months of being together. Further, any Weeknd fan knows that the Canadian singer is no stranger to letting his life experiences—or relationships—inspire his music. 
In 2018, his album My Deal Melancholy was full of callbacks to their short-lived flame. Songs such as, "Call Out My Name," "Starboy," "Privilege," "Hurt You," "I Was Never There" and "Wasted Times" all referenced Selena. 
News of The Weeknd possibly releasing new music referencing his former flame comes as a surprise not only because it's been some time since the two were together, but also because since his separation from Selena—the 29-year-old singer has gone on to reconcile with and split again from model Bella Hadid. 
Dimitrios Kambouris/Getty Images for Victoria's Secret
In the chorus, The Weeknd sings about going back to his "old ways" after feeling heartbroken and going through tough times. "Why? 'Cause I'm heartless. And I'm back to my ways 'cause I'm heartless / All this money and this pain got me heartless / Low life for life 'cause I'm heartless." 
He goes on: "I lost my heart and my mind / I try to always do right / I thought I lost you this time / You just came back in my life."
Now, fans didn't have a hard time drawing parallels between that last lyrics since the two recently reunited in October, two months after they split. 
"Bella and Abel have been in touch the last couple of weeks and have been working on their relationship," a source told E! News in October. "Initially, Abel reached out to Bella first checking in to say hello, and she agreed to meet up with him."
"There was no love lost between the two Abel just had a few things he needed to work on and his focus was elsewhere," the source added. "They are in a better place right now but are trying to keep things on the down-low. They both want to be more private about it this time around."
Now, with some new music already out and more on the way, fans will just have to wait and see if any of it will continue to reference Bella or if we'll also hear about Selena.