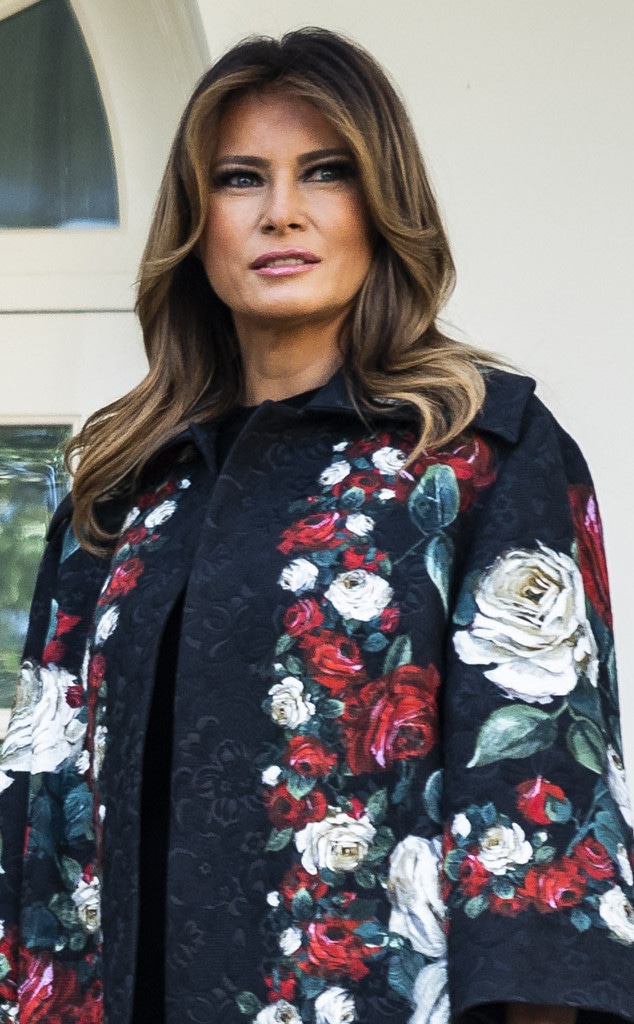 Jabin Botsford/The Washington Post via Getty Images)
The holiday season is in full swing at The White House!
On Sunday, First Lady Melania Trump unveiled this year's holiday décor via Twitter with a festive compilation video.
Showcasing the 2019 White House Christmas Decorations, which followed this year's theme of "Spirit of America," the FLOTUS brought cameras on a tour of the joyful displays.
"'The Spirit of America' is shining in the @WhiteHouse!" she wrote. "I am delighted to share this beautiful exhibit of patriotism for all to see, and excited for everyone to experience of the #Christmas season!"
To spread holiday cheer, the exhibit features ornate paper stars that are hung from the ceilings along with a festive red carpet and light fixtures. Among the twinkly lights and an array exceptionally-decorated Christmas trees, stands the White House's official tree, which Melania can be seen putting the final touches on in the video.
Staying on theme, the tree is decorated with several patriotic ornaments including an American flag and red, white and blue ribbons. It is also adorned with handmade paper flowers that represent the floral emblems of each state and territory. The FLOTUS even gave her Be Best campaign a sweet shout-out in the display by hanging an ornament that spells out the anti-cyberbullying initiative's name in Scrabble letters.
Also making an appearance in the video is the Gold Star Family Tree, which is located in The East Wing and honors fallen members of the armed forces with golden stars and patriotic ribbons.
Heading into the State Dining Room, gingerbread house versions of the South Portico of the White House and other famous U.S. landmarks such as the Statue of Liberty and the Golden Gate Bridge are on display.
Last year, the 2018 Christmas Decorations at the White House's theme was "American Treasures" and honored the nation's heritage with a festive and patriotic display.
Watch:
Donald Trump Gushes Over Wife and Kids
After unveiling the exhibit, Melania thanked the White House staff for their hard work, saying, "This is a joyous time of year when we decorate the White House for the Christmas Season. Our theme honors the heart and spirit of the American people."
"Thank you to the many volunteers and staff who worked hard to decorate the halls of the People's House in Christmas cheer," her statement continued. "On behalf of my family, we wish everyone a very Merry Christmas and a Happy New Year."