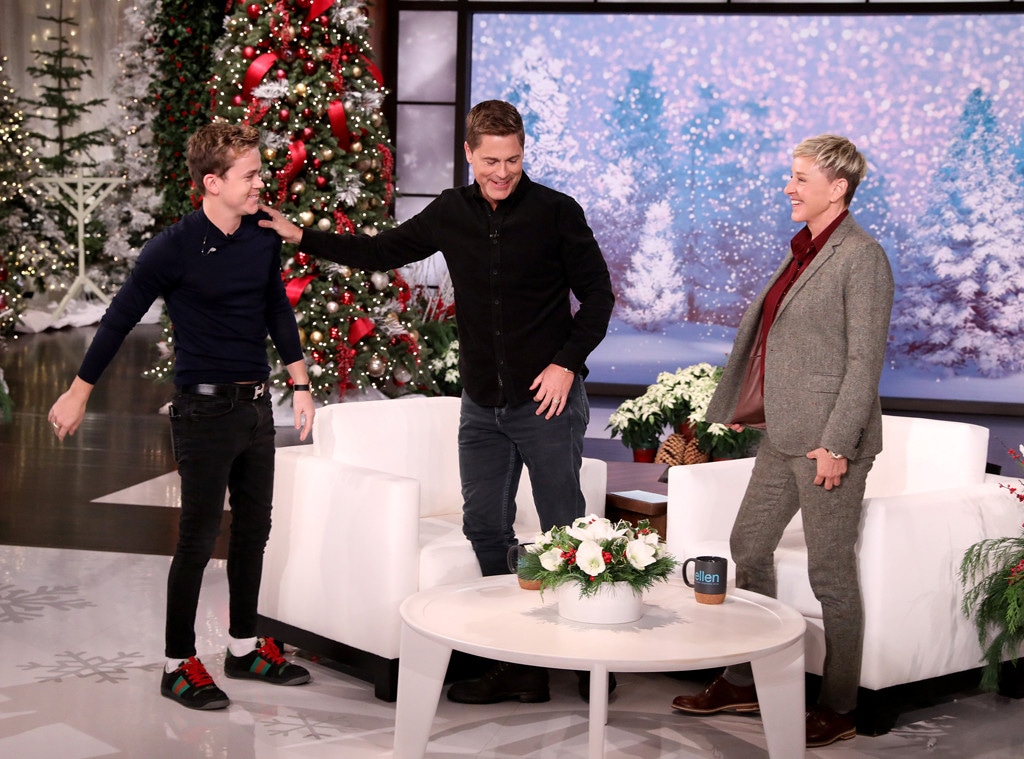 Michael Rozman/Warner Bros.
A family that trolls together, stays together?  
On Monday, Rob Lowe was hilariously trolled by his son John Owen Lowe on The Ellen DeGeneres Show—and of course the whole thing was host Ellen DeGeneres' idea. Hanging out backstage, the 24-year-old live-trolled the actor's interview and showed his famous dad no mercy.  
Kicking things off, Ellen asked the Holiday in the Wild star about scoring a mention on People's 2019 Sexiest Man Alive "Sexy At Every Age" list. While the duo discussed the coveted issue, John Owen was busy typing away. He wrote, "You should ask him how many times he's been on the cover."
Once he saw the message, Rob admitted that his lack of Sexiest Man Alive titles are a sore subject for him. To cheer him up, Ellen put together a slideshow of his steamiest Instagram posts—most of which were shirtless. Obviously, John Owen couldn't let this moment pass without chiming in. "Honestly surprised he's not shirtless right now!" he commented.
Switching gears, the Parks and Recreation alum shared a picture from his recent trip to the Galapagos Islands, where he met a 100-year-old tortoise. Seizing the moment, John Owen said, "Just a bunch of dinosaurs hanging out, rob fits right in…"
Being a good sport, Rob didn't let his son's trolling faze him. After answering Ellen's questions about the holidays, he was eager to share his love of decorating the Lowe family's Christmas tree.
"But when it comes to the Christmas tree, I am all over it," he told the Ellen's Game of Games host. "I am obsessed with it drying out…"
Unfortunately, his holiday cheer was interrupted by a message from John Owen that read, "It's the only thing he's ever done around the house."
Watch:
Rob Lowe & Sons Investigate Haunted Houses in New Series
Despite his relentless messages, Rob still couldn't help but gush over his son to Ellen and his career achievements, which include working as a writer on Ryan Murphy's new spin-off show 9-1-1: Lone Star.
"He graduated with straight A's at Stanford," the West Wing actor said. "Got in because he was the earliest intern in Eli Broad's Stem Cell Laboratory. Got out because he decided he wanted to be in Hollywood. And I wanted to kill myself…He's a very smart kid and he's doing great."
Once the trolling was over, John Owen joined his dad on-stage and put the roasting aside for a sweet hug. Aw!