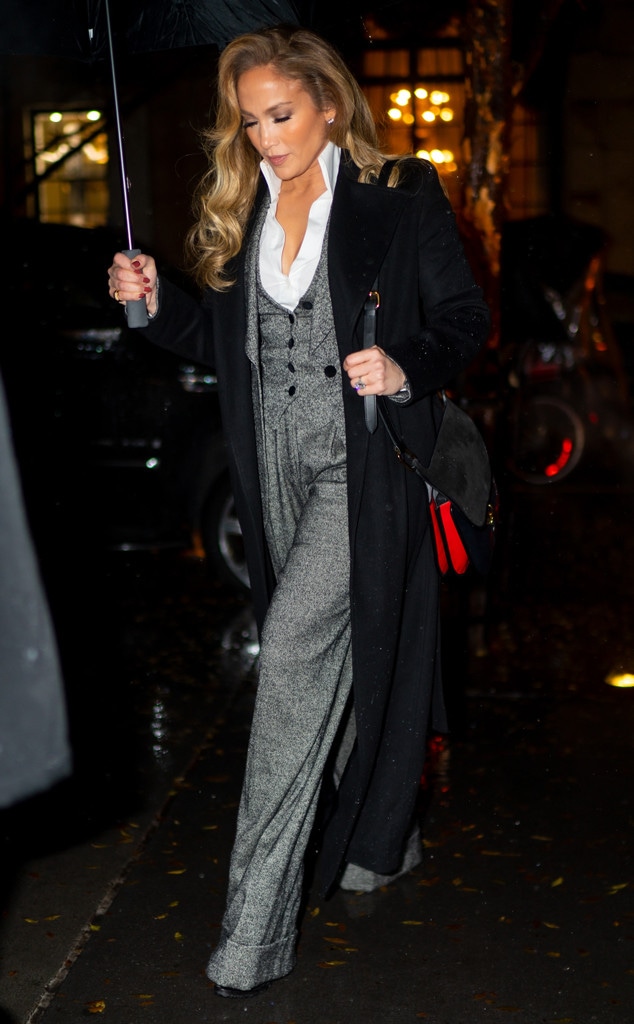 Gotham/GC Images
Suited up!
On Sunday evening, Jennifer Lopez took the New York City streets by storm with her chic ensemble. Attending a special screening of Hustlers, which was presented by Will Ferrell, the 50-year-old icon showed up and showed out for the star-studded event.
J.Lo beat the rain and cold weather in the Big Apple wearing a dazzling silver Dolce & Gabbana pantsuit that she paired with a black coat. It was a full-on lewk and the perfect fashion inspiration for the holiday season. As if her outfit wasn't fierce enough, the Marry Me actress went ultra-glam with her hair and makeup. 
Naturally, she stuck to her famous contour and signature nude lip for the special screening, as she rocked her go-to beauty look. However, she switched up her hairstyle and opted for old-Hollywood waves and a deep side part.
From her ensemble alone, it was safe to say J.Lo meant business.
Of course, she was actually in New York for business. "THANK YOU @stxentertainment and Will Ferrell for hosting the @hustlersmovie screening," J.Lo wrote on Instagram, alongside a photo of her sleek get-up.
Lopez wasn't the only Hustlers star to attend the special screening. Constance Wu, Keke Palmer, Lili Reinhart and Julia Stiles all made an appearance at the event.
Watch:
Jennifer Lopez Is Super Excited About "Hustlers" Oscar Buzz
Of her role in Hustlers, J.Lo admitted she was definitely taken out of her comfort zone, especially when it came time to doing that infamous pole-dancing scene. 
"I was terrified. I felt exposed," she told Variety. "I was like, 'I've never done anything like this. I'm going to be up there in f--king dental floss. What is this? Who is this person?'"
"And then you get up there, and you have to have a 'f--k you,' empowered attitude. You have to take your power back. You have to be so bold," Lopez continued. "It's almost like when you say you're a rock star, you have to be arrogant to go up there in front of all those people or you crumble. You realize it's the same type of balls that it takes to do something like that."
She added, "And these women have that. They are tough, hard, vulnerable and damaged. It's a great character to play."
As of late, the 50-year-old star has been getting Oscar buzz for her role in the film. With awards season quickly approaching, it's only a matter of time before nominations roll out.