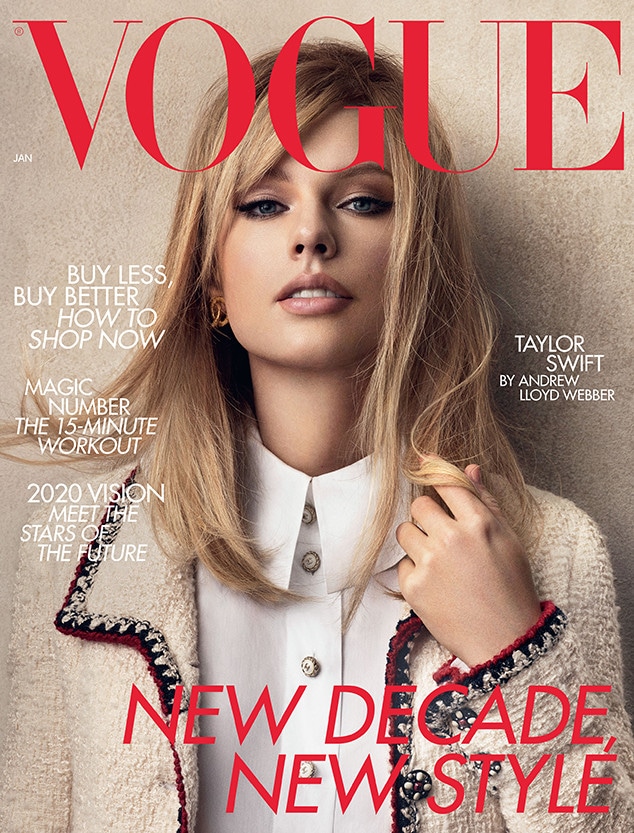 Craig McDean
It's safe to say Taylor Swift is ending 2019 on a strong note. 
The 29-year-old singer recently made history at the 2019 American Music Awards by winning more AMAs than any other artist. While Michael Jackson has held the record with 24, Swift surpassed it after winning Artist of the Year and Favorite Pop/Rock album thanks to Lover. What's more, the pop songstress was also honored during the AMAs this year when she received the Artist of the Decade Award. 
It's no doubt that Swift has had one hell of a decade. The "Lover" singer also became Billboard's first-ever Woman of the Decade. Billboard announced that the singer would receive the momentous award at its 2019 Women in Music Event, which highlights the industry's most powerful female artists and executives. 
Now, the singer is gracing the cover of British Vogue's January issue ahead of the Dec. 20 premiere date of Cats.
Appropriately enough, the singer sat down with Andrew Lloyd Webber—who composed the 1981 Cats musical based on the 1939 poetry collection by T.S. Eliot—to talk about the impact of Tom Hooper's cinematic adaptation of Cats, about the music writing process, whether Swift would ever side-step into acting and about the "weirdness" of Cats, which the singer stars in. 
The conversation between the two begins by touching on the importance of writing one's music as an artist, or as Swift puts it: "Even if you aren't a natural writer, you should try to involve yourself in the messages you're sending." 
She prefaced this by saying: "I think [writing] is really important—also from the side of ownership over what you do and make." (And music ownership is something extremely important to Swift, who has recently been publicly outspoken about men like Scooter Braun soon owning her entire music catalogue.)
The impresario of the theatre world, Lloyd Webber, goes on to ask Swift about her seventh studio album, Lover. "Am I right in thinking you approached its recording just as though you were giving live performances?" 
Swift answers that she did and that at that point, it was largely in part because she was really singing a lot since she had just finished a tour and then went on to work on Cats shortly thereafter. 
"So a lot of that album is nearly whole takes," she adds. "When you perform live, you're narrating and you're getting into the story and you're making faces that are ugly and you're putting a different meaning on a song every time you perform it." 
That prompted Lloyd Webber to ask whether she's ever felt the need to step into acting. 
"I have no idea," the singer replied. "When I was younger, I used to get questions like, 'Where do you see yourself in 10 years?' I'd try to answer. As I get older, I'm learning that wisdom is learning how dumb you are compared to how much you are going to know. I really had an amazing time with Cats. I think I loved the weirdness of it. I love how I felt I'd never get another opportunity to be like this in my life."