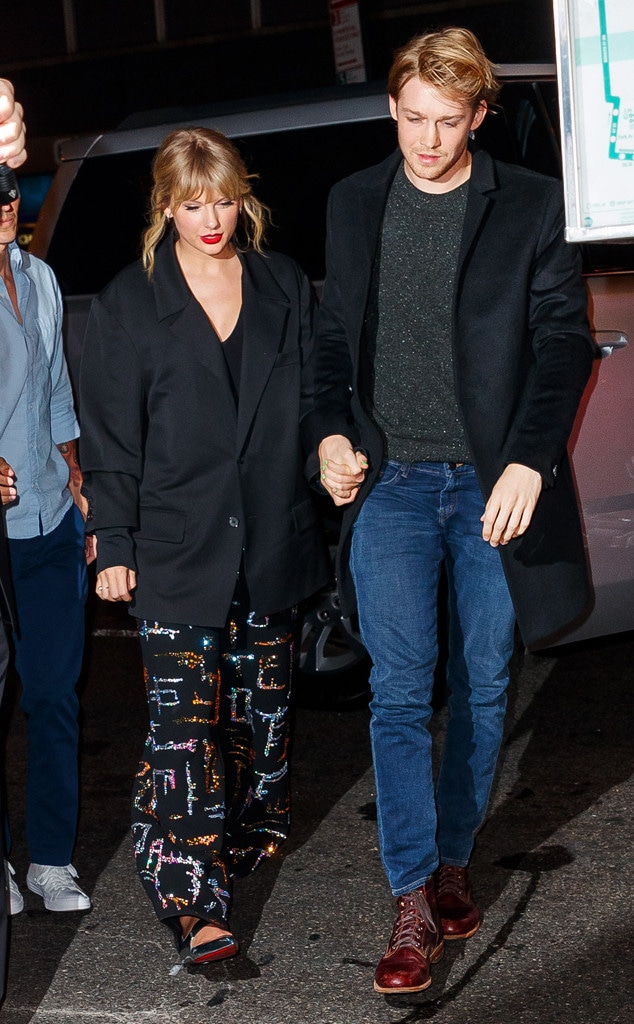 Jackson Lee/GC Images
Looks like Taylor Swift is shaking off the last couple of weeks and spending time with her loved ones. 
From recently delivering one hell of a performance at the 2019 American Music Awards to dealing with the Scooter Braun dilemma in regards to her music, Swift has been pulled in all sorts of directions lately.
In case you missed it, the 29-year-old pop superstar was honored as the Artist of the Decade during the AMAs and performed a medley of her hit songs but before taking the stage, Swift was continually dealing with the battle over the rights to her music. 
But for the Thanksgiving holiday, it looks as though Swift is taking a step back to spend some much needed time with her friends and her beau, Joe Alwyn.
As you may recall, Swift and Alwyn have been dating for about three years now but have continued to keep their relationship private and under wraps. An E! News source shared that this Thanksgiving, Swift traveled to London to spend the holiday with the 28-year-old actor. 
"She arrived on Thursday from New York and is spending the weekend there," the source added. 
Prior to leaving the country to be with Alwyn, Swift hosted her annual Friendsgiving party with model Gigi Hadid, 30-year-old Martha Hunt and Queer Eye's Antoni Porowski. 
"It's an annual tradition for Taylor to get together with close friends and do this," an E! News source shared. "Many have been at her gathering in years past. This year was intimate and casual, but they all had a great time."
Her friend Hunt shared a sweet picture of the two friends hugging it out for the 'gram on Thanksgiving, captioning the photo, "thankful for friends."
Hadid also shared a group picture of the lovely Friendsgiving celebration on her Instagram Story where Swift could be seen taking a sip of wine. "Friendsgiving this week :)," wrote the model on her picture. "Love you all sm."
Further, Hunt also reposted the Instagram Story and added: "love and miss y'all already." 
In October, Swift and Alwyn made a rare public appearance after the "You Belong With Me" singer performed on Saturday Night Live. For her SNL performance that night, Swift showed off her romantic side with a stripped-down performance of "Lover" and "False God" which are believed to be about her relationship with Alwyn. 
Following the live broadcast, Swift joined the cast at their after-party in New York City and was accompanied by Alwyn. 
In an interview with The Guardian's Weekend magazine, the songstress made it clear that she wasn't going to open up about her romance with the actor. 
"I've learned that if I do, people think it's up for discussion, and our relationship isn't up for discussion," she said. "If you and I were having a glass of wine right now, we'd be talking about it—but it's just that it goes out into the world."
Swift added: "That's where the boundary is. And that's where my life has become manageable. I really want to keep it feeling manageable." 
Watch:
Taylor Swift & Joe Alwyn Take Their Romance to New Level