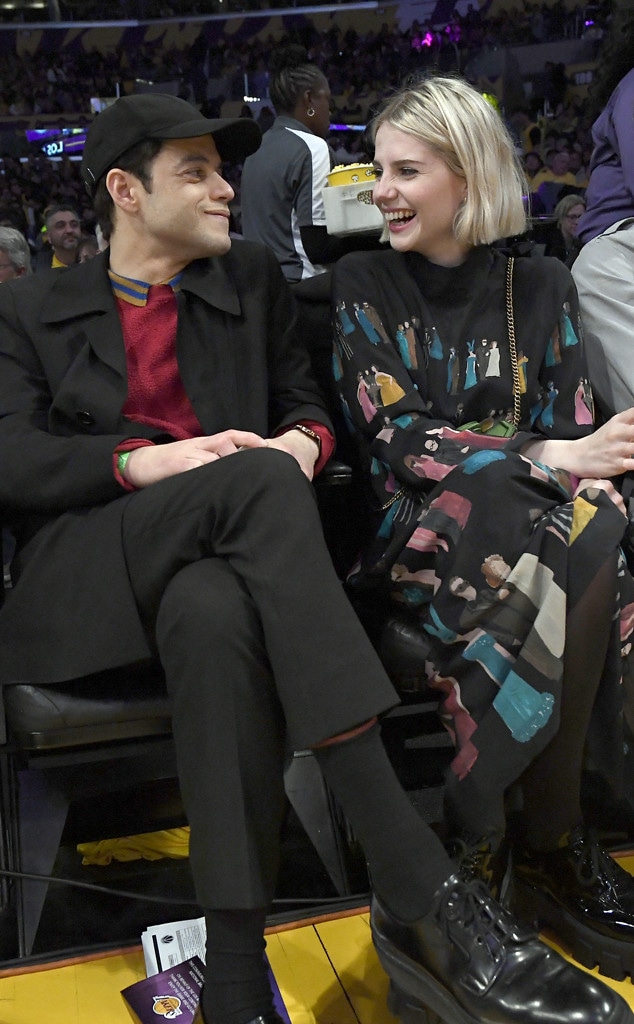 Kevork Djansezian/Getty Images
Black Friday shopping is out and a Black Friday date night is so in. 
On Friday, Nov. 30, Rami Malek and Lucy Boynton were all smiles while sitting courtside at the Los Angeles Lakers basketball game at the Staples Center. 
While the two usually opt to stray away from the public eye when it comes to showing some PDA, the two looked head over heels with each other as they watched the basketball game. The Bohemian Rhapsody co-stars watched the Lakers play against the Washington Wizards and take home on the win with a score of 125-103. 
The 25-year-old actress was wearing a long black mock turtleneck dress paired with black tights and platform shoes while the 38-year-old actor was wearing an all-black suit with a red sweatshirt underneath and matching black platform shoes as well. Can you say relationship goals? 
Recently, the two lovebirds have opened up about their relationship on separate occasions during interviews with several publications. 
In August, the two gave a rare glimpse into their private romance. 
For his interview with GQ, Malek headed into a local Goop shop in New York to purchase a gift for his lovely girlfriend. While the two weren't necessarily celebrating any special occasion, Malek simply wanted to show Boynton how much he cared. As a little joke, the actor grabbed a container of Schmidt's Jasmine Tea deodorant and a gold chain with a crescent-shaped pendant then asked the salesperson to place the deodorant in a jewelry box and the necklace in an informal shopping bag. 
"Good. this will be funny," Malek said during the interview. "She'll think I'm being goofy." 
While the two first kept their relationship under wraps, Malek kissed Boynton after being named Best Actor at the 2019 Oscars. That night, he also admitted she had captured his heart during his acceptance speech. 
But despite their recent show of PDA, Boynton still prefers to keep details of their relationship private. 
Watch:
Rami Malek's Not So Overnight Success
"I had an interview recently where I was asked such crude and candid questions about my relationship," the actress said during an interview with The Cut. "It kind of forced me to pull way back."
Later in August, during the 2019 Venice Film Festival made a rare red carpet appearance together and put their romance on display.