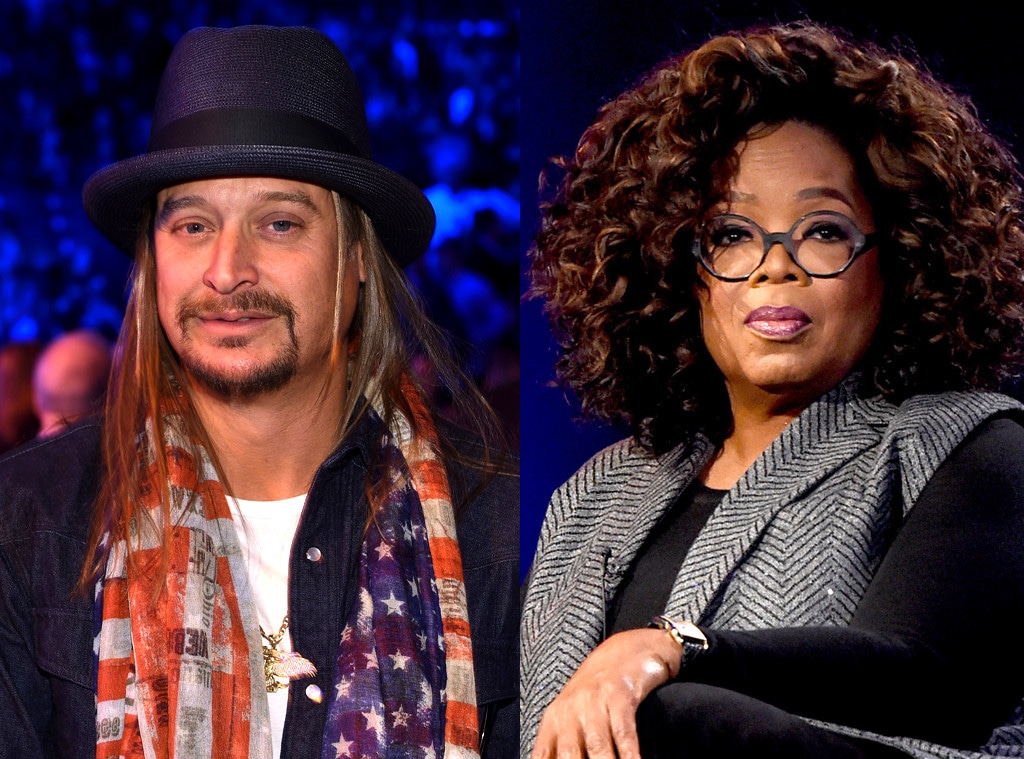 Getty Images
While we're approaching the end of 2019, it's not too late to squeeze in a fresh celebrity feud, right? Enter Kid Rock.
TMZ recently posted a video of the singer holding a near-empty beer cup and ranting onstage about Oprah Winfrey, saying "F--k Oprah!" and addressing accusations of racism. The outlet said the incident occurred at his bar, Kid Rock's Big Honky Tonk & Steakhouse, in Nashville last week, and that security escorted him offstage after his tirade.
"My people tried to get me to do The Oprah Winfrey Show years ago and her people wanted me to write down 5 reasons why I loved her and her show," Kid Rock tweeted on Friday. "I said f--k that and her. End of story."
Winfrey has not commented publicly about Kid Rock's onstage tirade or tweet.
During his tirade, Kid Rock makes a crude sexual comment directed at both Winfrey and The View's Joy Behar, with whom he feuded last year. He also takes aim at fellow TV personality Kathie Lee Gifford.
"F--k Oprah Winfrey," he said, drawing cheers. "F--k Kathie Lee Gifford."
"I'm not a bad guy," he said. "I'm just an honest guy that says, hey, I don't like Oprah Winfrey or Joy Behar."
He also shrugged off accusations of being racist.
Watch:
Oprah Winfrey: In Her Own Words
"[People say] 'Hey, you're f--king racist.' I'm like, 'You're f--king weird,'" he said. "You call your people, I'll call mine."
"Oprah Winfrey's like, 'Hey, I'm gonna get some white women to believe in this shit I'm- f--k her," he said. "And if you say that, you're like, 'Hey, well, pretty sure Kid Rock's a racist.' I'm like, OK fine. F--k off sideways...I'm not the bad guy in this equation. I'm the f--kin' guy you want, like, 'Hey, he's pretty cool.'"
Kid Rock has had beef with Winfrey for years; In 2008, he told the UK newspaper The Independent that the TV mogul was his "real-life villain," adding, "Oprah Winfrey, she rubs me up the wrong way. I just don't believe her. Maybe it's because I'm not one of the 150 million brainwashed women who heed her every word."