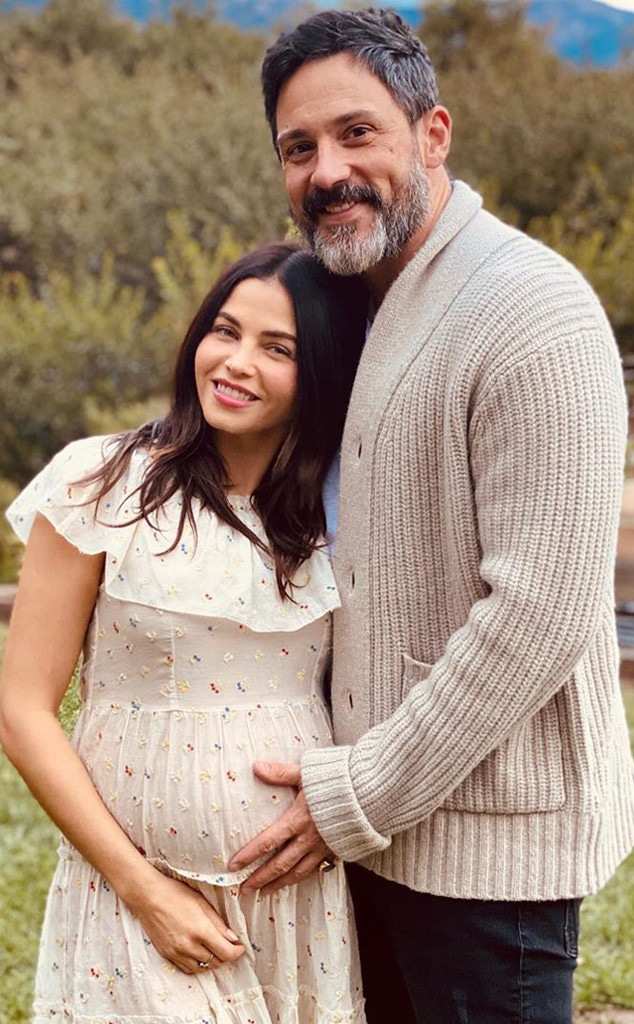 Instagram/Jenna Dewan
Jenna Dewan and Steve Kazee celebrated Thanksgiving with their loved ones.
The Flirty Dancing host and her actor beau, who are currently expecting their first child together, spent time with their family in Santa Barbara, Calif. on Thursday. Photos posted to Dewan and Kazee's Instagram accounts show them striking a pose in matching cream outfits. In one picture, Kazee can be seen cradling Dewan's baby bump.
"Thankful. Hope everyone had a wonderful day with their friends and loved ones!" Kazee captioned the sweet photo with Dewan. "Happy Thanksgiving!"
"We are that couple that matches for our pictures and I'm here for it," Dewan commented on her boyfriend's post, adding clapping and heart emojis.
The couple was also joined at the holiday celebration by her daughter, Everly Tatum, who she shares with ex Channing Tatum. Everly, whose face is intentionally covered by a heart emoji, can be seen in pictures posted to mom Jenna's Instagram.
"The journey to get a good group picture though," Dewan wrote alongside a series of fun group pics. "Grateful for so much today❤️Happy thanksgiving everyone!!!"
"The happiest," Kazee commented on his leading lady's post.
It was just last week that E! News confirmed that Dewan and ex Tatum had finalized their divorce. The Step Up co-stars announced their separation in April 2018 after eight years of marriage.
Though the divorce has been finalized, it seems as though the former couple is still working out a custody schedule for daughter Everly.
Earlier this week, E! News obtained documents filed by Tatum, in which he requested for the court to issue orders regarding child custody and visitation of Everly, 6. The duo currently shares joint legal and physical custody of their daughter. In the docs, Tatum put forward terms for Everly's travel as well as taking her out of school, and fairly dividing up holidays with her.
"It's very important to Channing that everything is in writing and laid out very clearly," a source shared with E! News. "They don't want to have any surprises or conflicts over scheduling and if it's figured out ahead of time, they will both have a better idea. It's better for Everly to know what to expect and everyone can plan accordingly." 
And it appears that Dewan only wants the same thing.
"Jenna has been working to provide for her family and to make sure that Everly has a great relationship with her father," an insider told E! News. "Jenna's number one priority is her daughter and her well-being. She wants Everly to have stability and happiness."