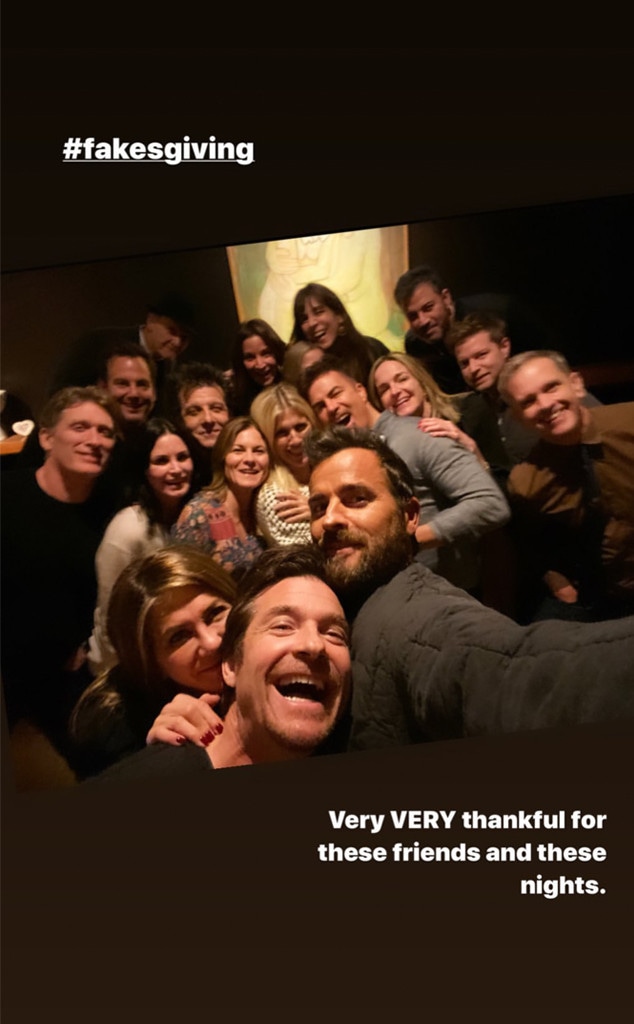 Instagram/Justin Theroux
This is the one where we're feeling especially thankful.
On Thursday, Jennifer Aniston hosted a Thanksgiving dinner that was better than any Friends holiday episode. The star-studded guest list included Courteney Cox, Jimmy Kimmel, Jason Bateman, Will Arnett and, of course, her ex Justin Theroux. Yes, despite their split, Jen and Justin are still grateful for one another.
"#fakesgiving," Theroux captioned an epic selfie of the group on his Instagram Story. "Very VERY thankful for these friends and these nights."
The evening included plenty of turkey, enchiladas—per the request of Jimmy—and, naturally, some speeches. "Jen, I love you so much," Courteney began her toast before realizing the Leftovers star was capturing the moment on camera. "Justin, please stop recording me!"
Caught, he quickly cut away from the actress. "I'm supposed to be recording toasts!" he said then addressed the fans watching from home. "I'm so sorry I have to cut. Anyway, It'll be on the DVD commentary."
Back in 2018, after nearly three years of marriage, Jen and Justin announced they were going their separate ways. 
"This decision was mutual and lovingly made at the end of last year," the couple said in a statement to E! News at the time. "We are two best friends who have decided to part ways as a couple, but look forward to continuing our cherished friendship."
The two certainly kept that promise, remaining close friends through and through. In July, the duo reunited to mourn the loss of their beloved dog Dolly. And, three months later, when the superstar broke the Internet and joined Instagram, the actor gave her a warm welcome to the site.
Watch:
Necessary Realness: Jennifer Aniston Shocks Social Media
"Woot-Woot," he wrote alongside a string of celebratory emojis. "#first."
He's since used the platform to get her attention when it comes to promoting a good cause. After visiting the Ventura County Animal Services shelter in Calif. with his four-legged best friend, he took the Instagram to encourage others, including Jen, to adopt a rescue pet.
As he wrote in the caption, "@jenniferaniston (yep, now that you're on here, your gonna get this a lot too)."
Yes, this year, we're grateful their friendship lives on!