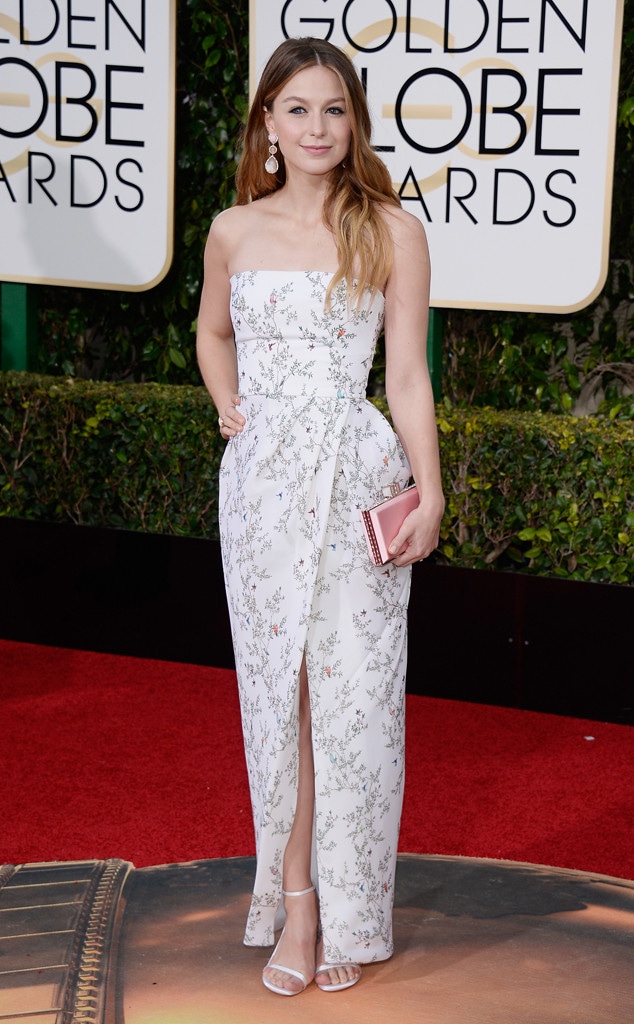 Kevork Djansezian/NBCU Photo Bank/NBCUniversal via Getty Images via Getty Images
Note: The following story contains sensitive information that may not be suitable to all readers.
Melissa Benoist is receiving an overwhelmingly amount of love and support from her fellow friends, co-stars and fans online. After the Supergirl actress took to Instagram to share her domestic violence survival story, the hashtag #IStandWithMelissa began trending on Twitter. 
"So I don't normally do things like this but I've written something that I want to share, and I have wanted it to stay my words and not have to edit it down for publishing," Benoist said in the Instagram video as she began to detail the domestic violence she experienced in a previous relationship. "I'm gonna read it out loud, and I'm quite nervous so bear with me." 
The 31-year-old continued: "I am a survivor of domestic violence or IPV (intimate partner violence), which is something I never in my life expected I would say, let alone be broadcasting into the ether." 
After sharing her story with her fans and followers, support for the Supergirl actress came pouring in. The co-creator of The CW show, Ali Adler, wrote on Twitter, "If it can happen to #SUPERGIRL it can happen to anyone. So proud of @MelissaBenoist for speaking about her experience. #IPV." 
Riverdale actress Lini Reinhart also took to Instagram to show her support for Benoist, writing: "Please take the time to visit @melissabenoist's IGTV. I am so moved by her bravery and strength in coming forward about her experience. Share this message, talk to your family about this, do not shy away from this subject."
In the video, Benoist continued to describe her abuser and what she experienced. Although she did not name her abuser, she shared that he was her partner for quite some time and that he was younger than her. 
"He was a magnanimous person, who didn't really give you a choice not to be drawn to him. He could be charming, funny, manipulative, devious," she said. "He was younger than me, his maturity obvious. For a period of time, I wasn't interested. I was newly single, gaining my bearing in a change in my life." 
Further, the actress detailed that while there wasn't violence involved at first, she was still being manipulated and controlled by her abuser—he would make her change her clothes when they went out and would "snoop" through her devices. She goes on to say that she began turning down job offers and test deals because her abuser didn't want her going through with scenes that were "flirtatious" or anything of the sort.
Moreover, Benoist said: "None of that registered as abuse, because I was worried about how he felt at that point, to even comprehend how it even affected me. In retrospect, I see that each red flag followed a very clear path on things becoming violent."
Benoist then went on to detail and explain the physical violence she experienced at the hands of her abuser. 
After listening to what Benoist went through, many in the industry and fans of Supergirl took to social media to uplift her and share her survival story. Insecure's Natasha Rothwell tweeted that she "stands in awe" of the Benoist's courage and encouraged folks to donate to the National Domestic Violence Hotline. 
Gymnast Laurie Hernandez also wrote on Twitter: "melissa, i am so proud of you. there is so much courage in sharing your story, and you chose to take your story and share it with the world. we see your strength. thank you for sharing."
Actress Rachel Zegler tweeted in support of the actress, writing: "i adore you, melissa benoist. you are strong and beautiful and loved." 
After Benoist detailed the explicit ways in which she was physically abused, she also talked about how she "became a person I could have never lurked inside of me [...] I experienced firsthand that violence begets violence. I started fighting back because rage is contagious." 
Benoist continued: "I developed an astonishing poker face. Inwardly I was the ugliest version of myself I had ever known. I became unreliable, unprofessional, sometimes unreachable. There were stretches of weeks where I wouldn't get out of bed for more than two hours a day. If you met me at this time, I was most likely friendly, just to the point of getting close and aloof to the point of getting cold."
However, she shared that this experience taught her what real love is and isn't and the amount of strength that she carries within herself.
And her friends, fans and supporters know that calling her strong is an understatement. 
Her fellow co-star Jeremy Jordan took to Instagram to share her video and write: "This is what a superhero looks like. Love u so, @melissabenoist." 
Another co-star, Elizabeth "Bitsie" Tulloch, wrote on Twitter: "Very proud of & impressed by @MelissaBenoist for sharing something so indescribably painful & personal in order to maybe help someone else who's suffering from IPV (Intimate Partner Violence). Pls watch her video/share it [...] If you need help call 800-799-SAFE." 
Others on Twitter shared their own personal experience with domestic violence using the hashtag #IStandWithMelissa. 
One fan also wrote: "We couldn't ask a better Supergirl playing Supergirl. A very strong woman. A brave one. Who still gives hope to everyone while being in difficulty. She's an inspiration. It took a while for her to be finally speaking openly about it and I'm proud of her."
Further, Benoist shared in her video that "breaking the cycle was the most rewarding, empowering choice" she ever made.
"I feel an enduring strength," she continued. "I will be healing from this for the rest of my life." 
For more information on domestic abuse or to get help for yourself or someone you love, visit the website for The National Domestic Violence Hotline (http://www.thehotline.org/) or call 1-800-799-7233.