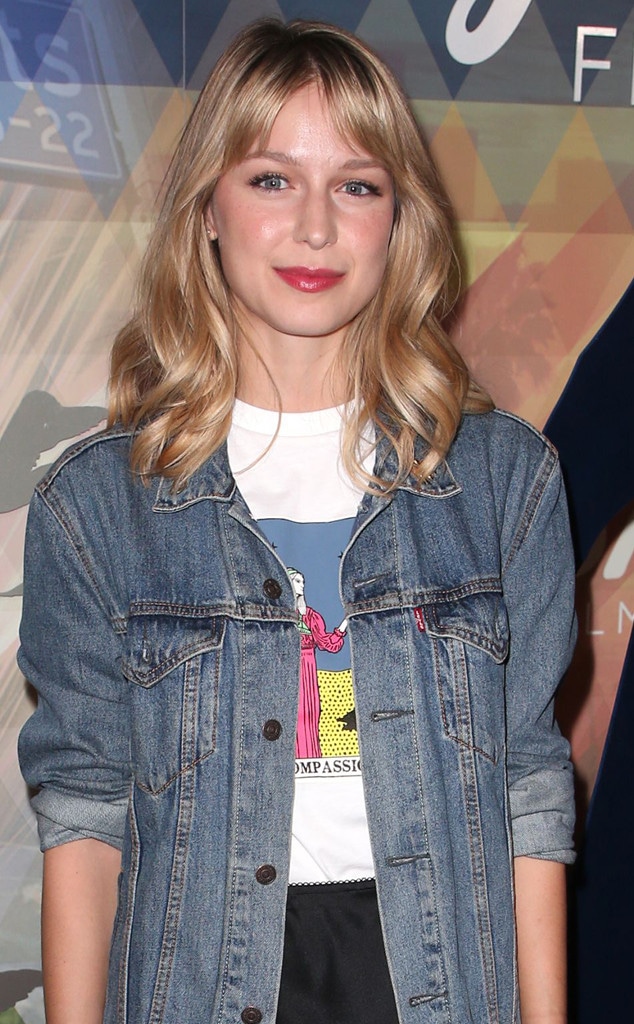 MediaPunch/Shutterstock
Note: The following story contains sensitive information that may not be suitable to all readers.
Melissa Benoist is ready to share her story.
On Wednesday, the Supergirl actress took to Instagram to open up about her domestic violence survival story. "So I don't normally do things like this but I've written something that I want to share, and I wanted it to stay my words and not have to edit it down for publishing," she began her detailed and personal video. "I'm gonna read it out loud, and I'm quite nervous so bear with me."
While the 31-year-old star didn't name her abuser, she did share that he was her partner for quite some time and younger than her.
"I am a survivor of domestic violence or IPV (intimate partner violence), which is something I never in my life expected I would say, let alone be broadcasting into the ether," she said, before describing her abuser. "He was a magnanimous person, who didn't really give you a choice not to be drawn to him. He could be charming, funny, manipulative, devious."
"He was younger than me, his maturity obvious," she continued. "For a period of time, I wasn't interested. I was newly single, gaining my bearing in a change in my life."
She explained he made her "feel less alone" and "special" during that time, in which they bonded and became friends. However, the Glee alum said there was a shift once they started dating.
"It's still hard for me to dissect what I was thinking and feeling that kept me from stopping what felt like a runaway freight train," she expressed of her relationship. "It didn't matter that I had misgivings, whether or not he was the one, at the time, it felt very good how much he coveted me. How much he seemed to treasure who I was. He loved me. I thought I loved him, and I was going to make it work."
The Supergirl actress explained there wasn't violence at first. But she recalls him "snooping" on devices, making her change her clothes when they went out and him being controlling about her working with co-workers on certain jobs.
She said she began turning down job offers and test deals because her abuser didn't want her doing scenes that were "flirtatious" or anything of the sort. Moreover, Benoist said she also "didn't want to hurt him," so she didn't think much of those requests.
"None of that registered as abuse, because I was worried about how he felt at that point, to even comprehend how it even affected me," she shared. "In retrospect, I see that each red flag followed a very clear path on things becoming violent."
Watch:
"Supergirl" Melissa Benoist's Special Moment With Cast
However, once things became physical, the 31-year-old star explained the violence happened so quickly, she "didn't know how to respond."
She detailed some of the abuse in her video, which may be triggering for those who continue reading.
"The stark truth is I learned what it felt like to be pinned down and slapped repeatedly, punched so hard the wind was knocked out of me, dragged by my hair across pavement, head butted, pinched until my skin broke, shoved into a wall so hard the drywall broke, choked," she said. "I learned to lock myself in rooms but quickly stopped because the door was inevitably broken down. I learned to not value any of my property—replaceable and irreplaceable. I learned not to value myself."
"I have changed and I'm not proud of how I changed. I became a person I could have never imagined lurked inside of me. I was livid at what was happening and that fact that I was allowing it to out of the fear of failure," she expressed. "I experienced firsthand that violence begets violence. I started fighting back because rage is contagious."
"I developed an astonishing poker face. Inwardly I was the ugliest version of myself I had ever known. I became unreliable, unprofessional, sometimes unreachable," she continued. "There were stretches of weeks where I wouldn't get out of bed for more than two hours a day. If you met me at this time, I was most likely friendly, just to the point of getting close and aloof to the point of getting cold."
"Melissa in public put on a happy face and a healthy life, where as Melissa at home dropped the veneer and lived a nightmare in the middle of one never-ending dispute. Battle wounds and all," she said.
However, she shared the occasion that was the final straw for her. "It was a blow to my face with his iPhone," she began detailing the experience. "The impact tore my iris, nearly ruptured my eyeball, lacerated my skin and broke my nose. My left I swelled shut. I had a fat lip... Something inside of me broke, this was too far."
Things became even more clear to her when a friend of hers spoke to her privately and asked if she was suffering from domestic violence. Benoist began to let her friend in on what was going on but she admitted that splitting from her partner wasn't easy.
"Leaving was not a walk in the park. It is not an event, it's a process. I felt complicated feelings of guilt for leaving and for hurting someone I had protected for so long, and yes, mournful feeling of leaving something familiar," she explained. "But luckily, the people I let in, the more I was bolstered, I never lost the sense of clarity that kept telling me, 'You do not deserve this.'"
Steve Granitz/WireImage b
She shared that this experience taught her what real love is and isn't and the amount of strength she has within herself.
"Breaking that cycle was the most rewarding, empowering choice I've ever made for myself. I feel an enduring strength," she said. "I will be healing from this for the rest of my life." 
Furthermore, the Supergirl star took to Instagram with an additional post.
"The long and winding road of healing and reconciliation has brought me to this moment where I feel strong enough to talk about my experience openly, honestly and without shame," her post read. "By sharing my story, hopefully I can empower others to seek help and extricate themselves from abusive relationships. Everyone deserves to be loved void of violence, fear and physical harm."
Benoist is currently married to Supergirl co-star Chris Wood, whom she tied the knot with earlier this year. She was previously married to Blake Jenner, but in 2016, she filed for divorce. Their divorce was finalized in 2017.
For more information on domestic abuse or to get help for yourself or someone you love, visit the website for The National Domestic Violence Hotline (http://www.thehotline.org/) or call 1-800-799-7233.