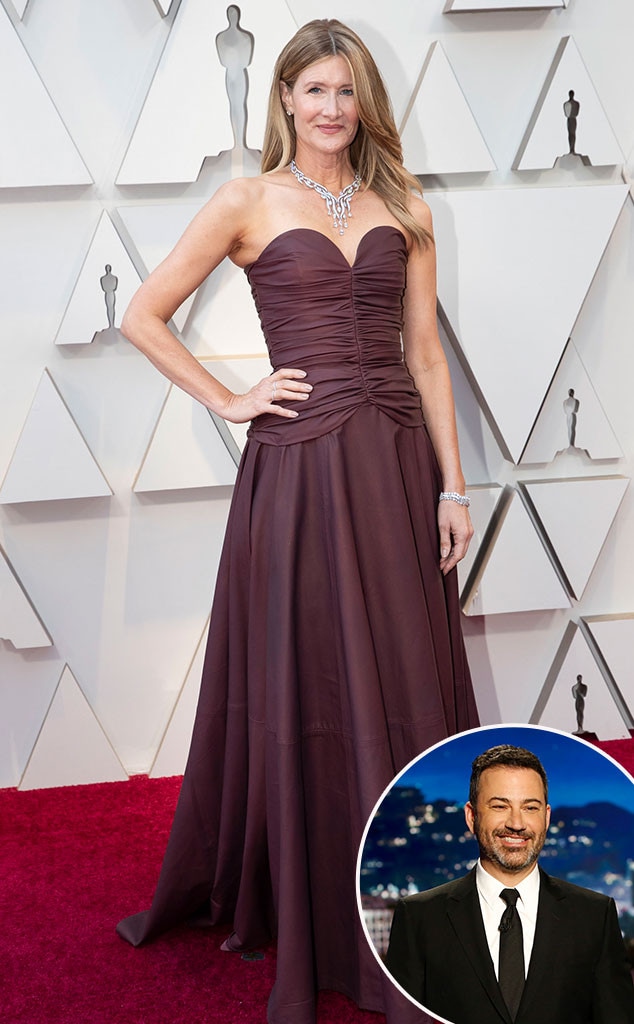 ABC
Laura Dern needs a place to go for Thanksgiving.
On Tuesday night's episode of Jimmy Kimmel Live, the actress revealed that her Turkey Day plans have suddenly changed and begged host Jimmy Kimmel for an invite to his festivities.
"You're gonna help me figure this out right now," she began. "My house is a horror film right now. My daughter has 104 [fever]. My son has 102 [fever]. I have two dogs: one tore her hamstring. The other dog has a pinched nerve. All night long…And it's just someone's waking up every two minutes. No one's sleeping. It's a nightmare. Our plans are changing and I hear you love to cook."
Noting that Laura's debacle seems like the perfect plot for a Hallmark movie, the Big Little Lies star proceeded to beg for an invitation.
"I just think cooking is too much for me," she continued. "So, if you guys are comfortable…"
Still on the fence about inviting the Dern family over, Jimmy asked Laura if she had any interesting family Thanksgiving traditions to share.
After explaining how her holidays have always been "very entertaining," the Marriage Story star recalled how her famous dad Bruce Dern hilariously name-dropped Quentin Tarantino while saying what he was thankful for at their last Thanksgiving.
"My dad's like, 'I don't know what to share.' And Ellery, my son, says, 'Well, Grandpa Bruce, what have you been doing? Share something about your experience.' He goes, 'Interesting you bring that up, I just did this Tarantino movie. Do you know the story of the Manson murders?' And then tells the entire Manson murder story to my children at Thanksgiving."
Bruce portrayed George Spahn in the Oscar-winning director's latest film Once Upon A Time In Hollywood, which was originally intended for his longtime pal Burt Reynolds before his untimely death in September 2018. 
Watch:
What?! Laura Dern Didn't Watch "Jurassic World"
Switching gears, the duo discussed the upcoming Jurassic Park reunion that she's been working on with co-stars Sam Neill and Jeff Goldblum. While on the topic of the epic franchise, Jimmy asked the actress to share a behind-the-scenes story from the 1993 film's set that had never been told before. Her mind immediately went to the day that Hurricane Iniki hit the Hawaiian island Kauai where they were filming. 
After describing the devastation, Laura revealed the creative way director Steven Spielberg passed the time while they were waiting out the storm: "So, even in the midst of a hurricane, guys, he will make a very cool movie!" 
Watch Laura tell the amazing story in the video above!