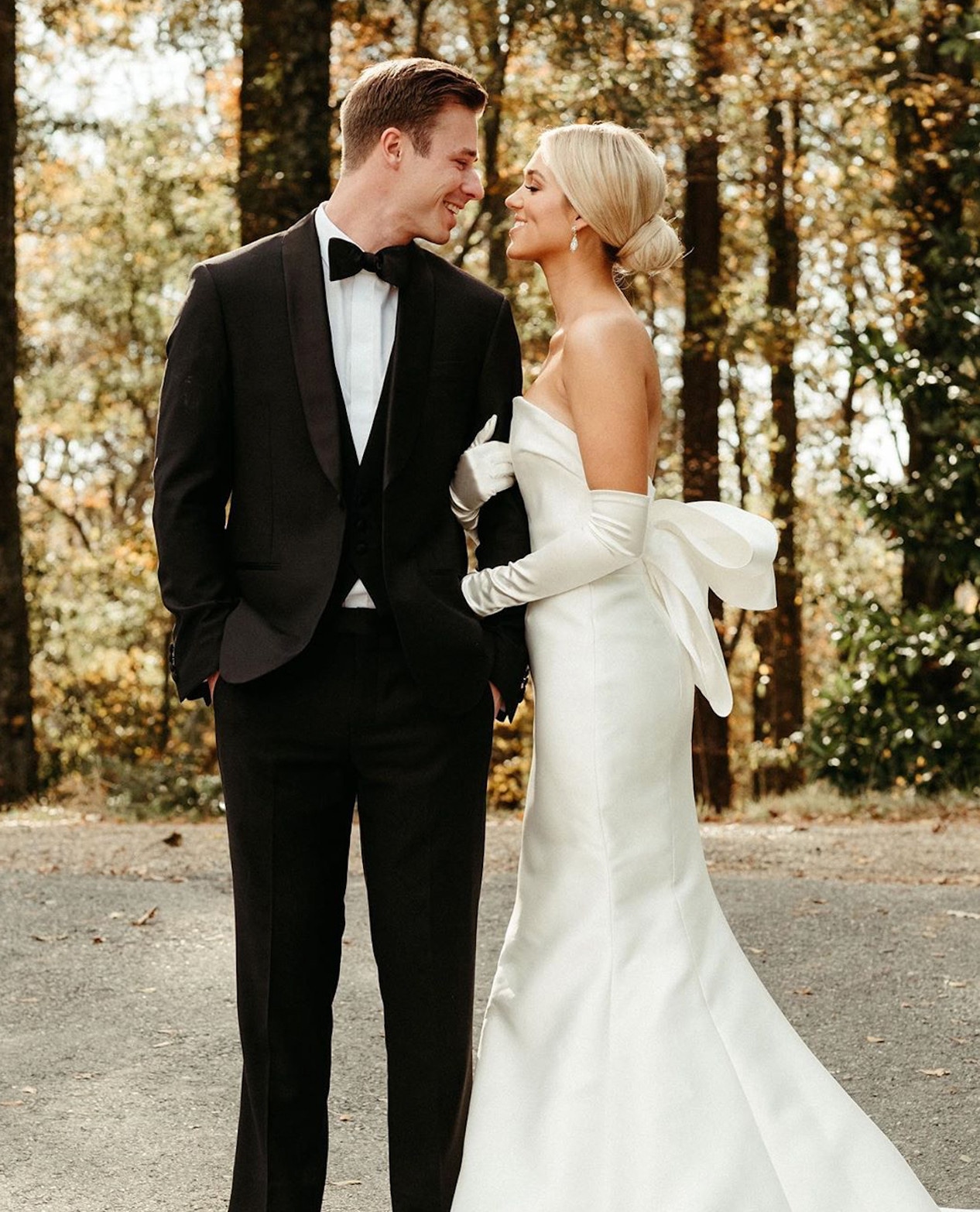 AndrewAbajian.la
Sadie Robertson was a sight for sore eyes during her wedding day.  
The Duck Dynasty star married her beau Christian Huff on Nov. 25 in Robertson's parents' home in West Monroe, Louisiana in front of their loved ones and closest friends. 
On Monday evening, attendees began sharing sweet moments from the newly wedded couples' special day and today, the beautiful bride is finally sharing what her wedding gown looked like. It's safe to say, we're speechless. Earlier today, the 22-year-old took to Instagram to share the first picture of her and Huff as a married couple. "Forever, me and you," Robertson wrote on Instagram. 
The reality TV star shared with E! News ahead of her magical day that she'd be donning a timeless wedding dress from Kleinfeld Bridal. Robertson's dress was nothing short of magical as she stepped out in a classic all-white strapless satin dress that gracefully hugged her figure. She also wore matching satin gloves with her dress—looking just like a princess!
Keeping it sophisticated and elegant, Robertson wore her hair in a low bun and topped off her look with a pair of diamond earrings. 
But as the Duck Dynasty star shared with E! News exclusively ahead of her wedding, Robertson changed into something more comfortable for her wedding reception. Designed by Sherri Hill, her second dress was necessary because she's "been looking forward to the dance party at my wedding my whole life. I got a reception dress so I can do my dancing, it's really fun and pretty and has more details than my wedding dress." 
For her reception dress, Robertson slipped into a floral embroidered bridal dress with a sweetheart neckline.
Mary Kate Robertson shared a photo of the bride on her big day, writing: "These two got married yesterday and there were several times over the weekend through all the festivities that I thought, "Wow this has got to be a taste of what heaven will be like!" A wedding and a weekend marked by love, sweet friends and family, and an absolute adoration of Jesus. Sadie and Christian, we are SO over-the-moon happy for you and cheering you on as you start this new life together! We love you!"
Robertson shared her big day with her immediate family and shared with E! News that her sisters stepped in as her bridesmaids and her brothers stepped in as some of Huff's groomsmen. 
Her father Willie Robertson also walked her down the aisle and said a prayer during the wedding as well. 
Another one of Robertson's wedding attendees shared a series of pictures on Instagram that gave a sneak peek into the process of everyone getting ready for the big day. 
But one particular picture tugged at our heartstrings—a picture-perfect moment was captured of the newly wedding couple embracing in what looks like their first dance. 
"Sadie & Christian. two of the kindest, most genuine, loving, people I know, are MARRIED and I couldn't be more happy for them. They deserve the best. If you know them, you know they are a rare gem in this world. It's an honor to call them friends. @legitsadierob, such a privilege to stand by you on your special day. Can't wait to keep standing by you both and cheering you on in the days to come. Love you buddy," wrote Robertson's friend on Instagram. 
Now, according to People, the two are off to their honeymoon in Cabo San Lucas. Congratulations to the happy couple! 
Watch:
5 Things to Know About Sadie Robertson's Fiance