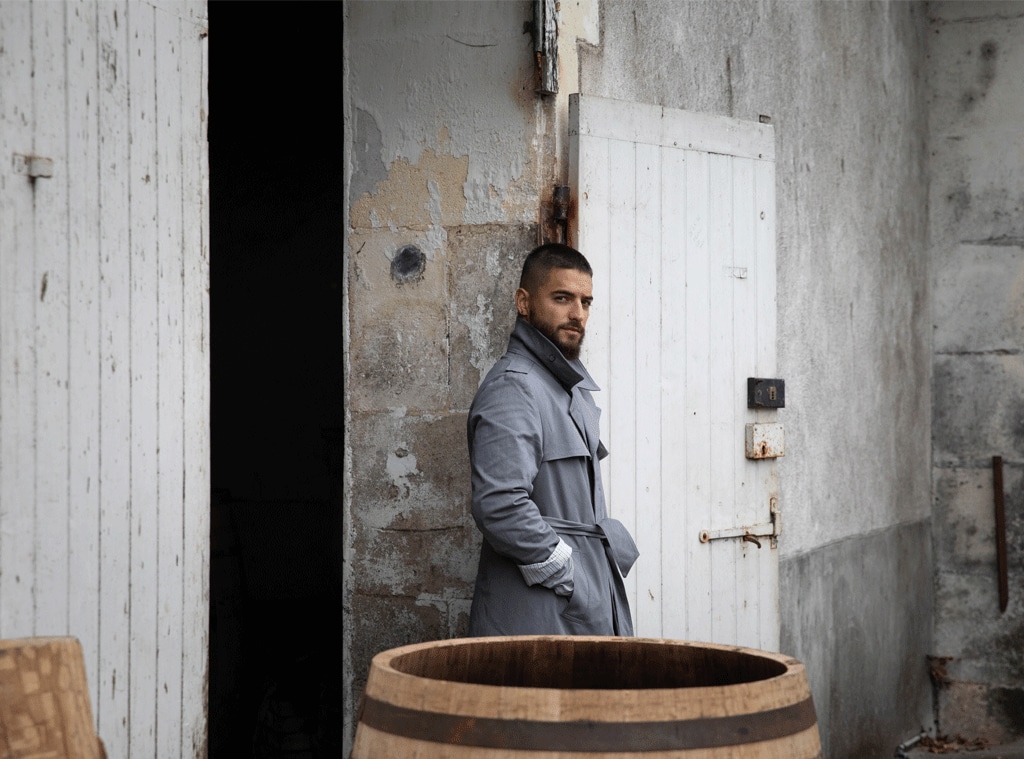 Hennessy
If you think Maluma is living his best life, it's because he is.
The 25-year-old Latin pop star, whose real name is Juan Luis Londoño Arias, is soaking up every moment in the spotlight—and it's not because he's vain or cocky either.
"I work so f--king hard to make my own thing," he tells E! News, with passion echoing through his voice. "You know, I'm young, I need to keep working to keep getting good things. I think I will always want more and it's good."
That's why his upcoming projects hold plenty of meaning to him, including his recent partnership with Hennessy, in which he'll launch his own cocktail courier kit with them on Dec. 5.
"They work so hard to make a beautiful product in the same way that I do," he shares.
When the global sensation isn't crafting his own cocktail, he's preparing to hit the big screen with none other than Jennifer Lopez.
Considering the romantic-comedy will mark Maluma's first feature film, he's fully aware of how much of a big deal it is. Of course, it helped that J.Lo personally called him about the project.
"I needed to do it," he says about accepting the role, where he'll play Lopez's love interest in Marry Me. "I'm at a [place] in my career, where I just needed to begin that step. When I started my career, I wanted to do everything, and now I'm 25-years-old, so I felt like I needed to do a movie."
"It was the right timing because when Jennifer called me, and said that she wanted to do it with me, it was incredible," he continues. "It was amazing working with Jennifer. She's a wonderful woman, she's a boss lady."
And it's easy to see why they'll play each other's love interest in the romantic-comedy, which also stars Owen Wilson, Sarah Silverman and John Bradley.
In October, the 50-year-old icon made a surprise appearance at Maluma's concert at Madison Square Garden in New York City. However, the dynamic duo didn't just perform together that night. They actually used the sold-out concert as a backdrop for the upcoming movie. During their performance, it was clear they had off-the-charts chemistry.
While singing a duet in front of a massive crowd was a piece of cake, the Colombian singer recalls filming an emotional and "painful" scene, where he pleads for Lopez to stay with him.
Watch:
Jennifer Lopez Joins Maluma Onstage for Surprise Performance
"There was a moment where we were singing this song, 'Segundo Chancé' (Second Chance), where I was begging for her to come back to me," he reveals. "Because my heart was so hurt, it was a very painful moment for me to sing and perform for her."
He adds, "That was the moment where I was at the rooftop [and] I drank a shot of Hennessy."
"This was my first movie but I feel like I did it," he says, explaining a sense of accomplishment after shooting the vulnerable scene. "It was very good for me, my own scene for the first time. It was amazing."
Swan Gallet/WWD/Shutterstock
On the topic of expression, Maluma shares that fashion is one of the ways he conveys his feelings.
"It's like my music. Sometimes I get in the studio and I want to show the world how I'm feeling," the 25-year-old star shares. "It's the same thing, the way I dress. I feel like every time I go out, and people see me, I know that they feel what I'm thinking in that moment."
"I feel very connected to the fashion world," he continues. "I like it, I love it, it's something that I was born with."
In fact, he's enamored with the world so much, he tells E! News that he wants to launch his own clothing line.
"I think that's gonna happen very soon. I have many ideas in my mind, designing, doing sketches," he reveals. "But right now, I feel like I'm missing someone who understands my vision. But I know it's gonna happen pretty soon."
Even though we're still weeks away from closing out 2019, the "Qué Pena" singer is eager for the year ahead. "I'm working. Right now, I'm in the studio doing music," he shares. "I think next year, 2020, is gonna be a big year for me."
It certainly is.
With his first-ever film set to release in January, it looks like Maluma is more than ready for his close-up: "It's just the beginning for my career."