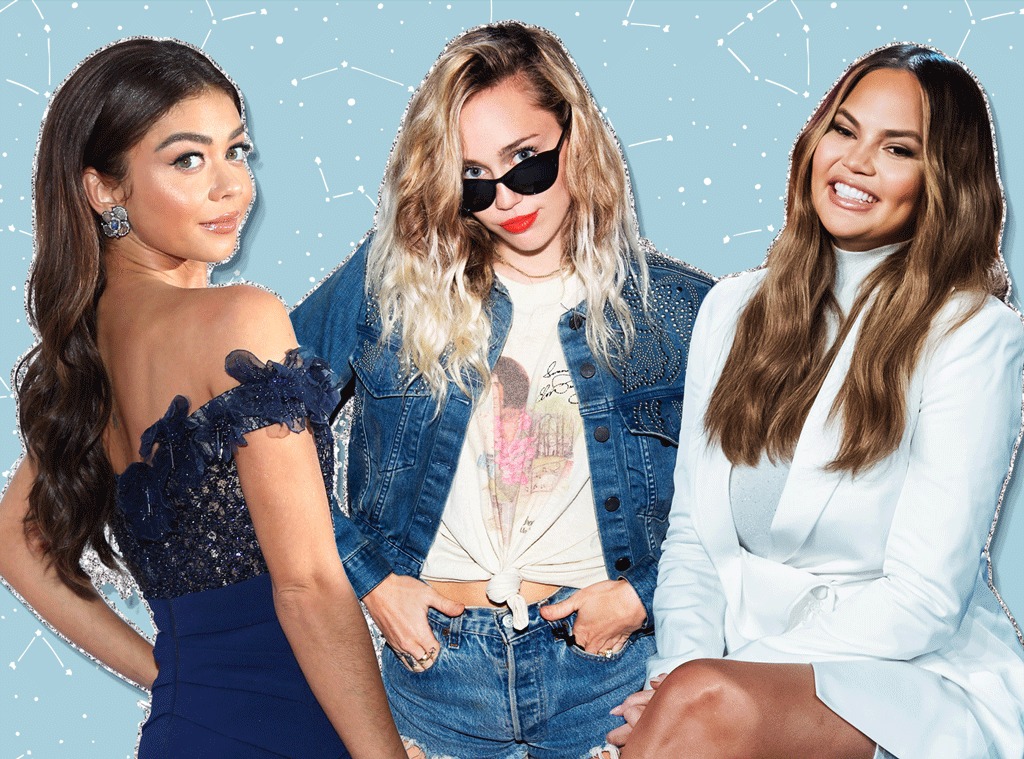 Getty Images/E! Illustration
We love these products, and we hope you do too. E! has affiliate relationships, so we may get a small share of the revenue from your purchases. Items are sold by the retailer, not E!.
December is here, readers. Can you believe it? It's the last month of the year—and this decade!
"Jupiter enters Capricorn for the next year, so December starts off with a swing between optimism and pessimism," forecasts our resident spiritual advisor Lisa Greenfield.  "Not an easy way to wander the holiday season but a few tips help make it productive, if not altogether pleasurable. When something fails to meet your standards, find a creative way to add your individual touch and improve it. Watch out for power plays. People love an invitation much more than an order. Persuade with authentic joy and watch good things come out of trouble spots. Now that's a gift you can celebrate."  
As for gifts, here's a list of what to give according to your astrological sign this month. Shop wisely and well.  
Sagittarius
"You are on fire this month my bold archer, with insight that can dial up the heat when it's chilly or cool down an overheated moment. The only catch is that blind spot of yours. Invest in some Ascended Masters Oracle Cards to ensure that your ego doesn't drive too recklessly with all that you see.  Your wisdom is needed, so drive carefully with those big ideas."
Capricorn
So much is rocking with you, my sure-footed one, you may feel more than a bit dizzy as a new life stretches out ahead. You need a spa day, and make it a good one.  If you can't get to a spa near you, book an in-home massage and take at least one day to pamper, pamper, pamper your spinning self. The world won't stop its seismic shifts, but you'll handle the ups and downs looking and feeling fabulous.  
Aquarius
You've got challenges with the trickster Mercury making waves that have you a little more reactive than normal. Best to get some foundational garments and let the soft support from inside out soothe that busy brain and look good while they do. Fab and functional, now that's a good addition to your wardrobe.
Pisces
"My sweet fish swims this month with your intuition is at peak performance levels. You can see around corners and almost read minds. Best to get yourself a good book on the meaning of symbols to make each day an adventure chock-full of visual cues that stand out for you. Yes, that billboard message has lots of layers to it's message, watch and see."  
Aries
"This month has you pecking your way through little challenges one at a time as the shell of the old life falls free to reveal a new world.  A jade facial roller is just the thing to soothe your energized, excited soul—and skin—as you gear up for the unfolding world ahead. Hold change in your hand that is as smooth as that silky roller, and round the corners rather than ram them."
Taurus
"You need to feel your feet this month my determined bulls. It's important to take the next step into fresh opportunities as you move off of uncomfortable but familiar ground. Luxuriate in these plush slippers when you get home to remind you that new territory can still have soft ground to stand on as you go into the unknown."
Gemini
"My twins are served both the good and the bad all wrapped together this month. You've got good fortune coming with a string attached. Add a beautiful hourglass to your desktop to remind you that the light and dark both serve you equally well in time."
Cancer
"With Venus in Capricorn bringing big changes in your love life, what you need most is a great haircut. If that's too much to tackle, start with a pampering hair care set and luxuriate in treating those tresses and head to something soothing. You'll sleep better once you do."
Leo
"Ah, time to rewrite the old love story that didn't turn out so well and unleash a new feminine and masculine in your world, proud lion. Add a beautiful vintage calendar for next year to remind you month by month how to 're-view' the old and see the beauty where there once was wound. In no time at all, you'll be purring with delight at the love you attract." 
Virgo
"My industrious Virgo, this month it's time to do less and attract more. You'll see how incredibly powerful it is to lean back and let things (and people) come to you. You are a living magnet this month so pause, learn how to attract more of what you want. Invest in an eye-catching set of magnetic lashes so you see how beautiful attraction is every time you open and close those eyes."
Libra
"Two halves make a whole this month my relationship wizard. Balance, balance, balance is within reach, which makes you beam with delight. Add a two halves necklace to remind you to let others add their half (without editing them too much please). Invite them to meet you and give them time to answer. Chances are good they will when you trust and lean back."
Scorpio
"Whoa, are you a force to be reckoned with this month, my dark one. With Mars in your sign, your efforts can bring about significant change—for good or for bad. A Merkaba necklace is the perfect symbol to keep near you to bring laser-focused effort to anything you wish to accomplish. The results will be visible and the ripples travel a long, long way. Use your power wisely."
Looking for more shopping ideas and gifting inspo to get you through the holidays? Check out our 2019 Holiday Gift Guide!