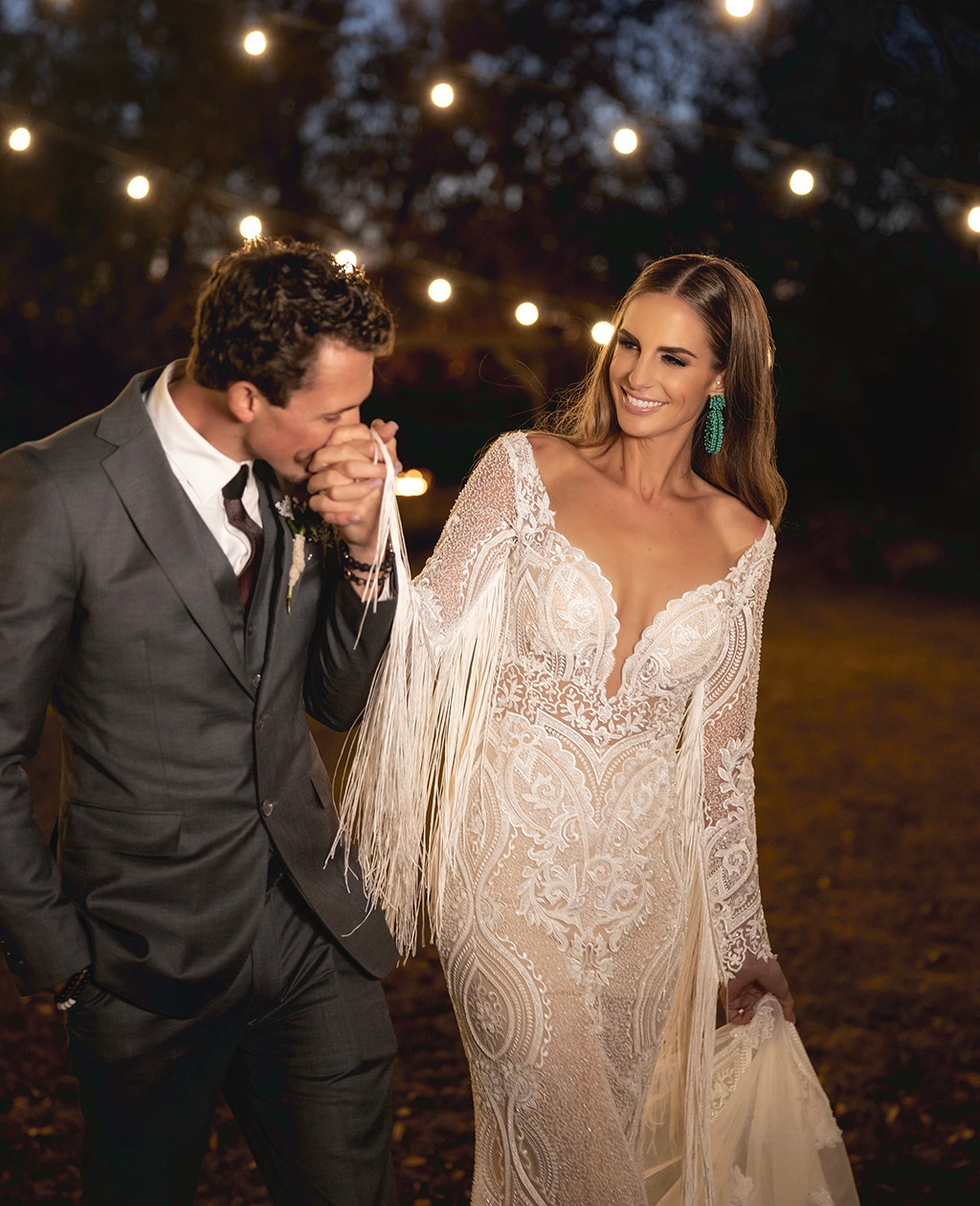 @forevermorefilms
The tribe has spoken! It's time to say "I Do."
Over the weekend, former contestants Joe Anglim and Sierra Dawn Anglim exchanged vows in a romantic wedding ceremony at The Hideaway on Angel in Utah.
In pictures captured by Forevermore Films, fans were able to see the bride's stunning wedding dress from Naama & Anat Haute Couture. As for Joe, he looked pretty darn handsome too in DC Tuxedos and ModernTie accessories.
"No words to describe how full my heart is after this weekend. I married the love of my life, my soulmate, twin flame and very best friend. We have been blessed with incredible families, friends, and complete strangers who have affirmed us in more ways than we could ever imagine," Joe wrote on Instagram with a photo from the special day. "I know I'm not alone when i say just how stunning, beautiful and special @sierra_dawn_ truly is."
He added, "We are both so thankful for all the support and kindness in our celebration of our marriage and union. Thank you all from the bottoms of our hearts."
Not to be outdone, Sierra also took to Instagram and reiterated just how special the day was. And yes, she's more than happy to have found her "prince charming."
"Thank you to our family and friends who made this night more than we ever could've imagined. Your love and support was poured upon us and we've never felt more lucky for each and everyone of you," she shared. "Huge shoutout to all our venders for making our vision a reality. Here's a little sneak peek from our photographer/videographer. Can't wait to share more with you all."
Famous friends including Vanderpump Rules star Ariana Madix were quick to congratulate the couple. And yes, more than a few Survivor contestants couldn't help but share their excitement.
"Love you both! Your love is one for the ages. Sierra and Joe to the beginning of the universe and back!" Aubry Bracco wrote in the comments section. "Thank you for sharing your love story with us."
Survivor alumni including Ron Clark, Davie Rickenbacker and Rodney Lavoie Jr. also shared their well wishes.
The pair first met on the show's "Worlds Apart" 30th season back in 2014. While Sierra voted off Joe during the season, they revealed on social media that they were dating close to three years later.
If you're curious to see what other Survivor couples are up to now, we're here to help! Take a look at our status check-in below!
Survivor airs Wednesday nights at 8 p.m. on CBS.