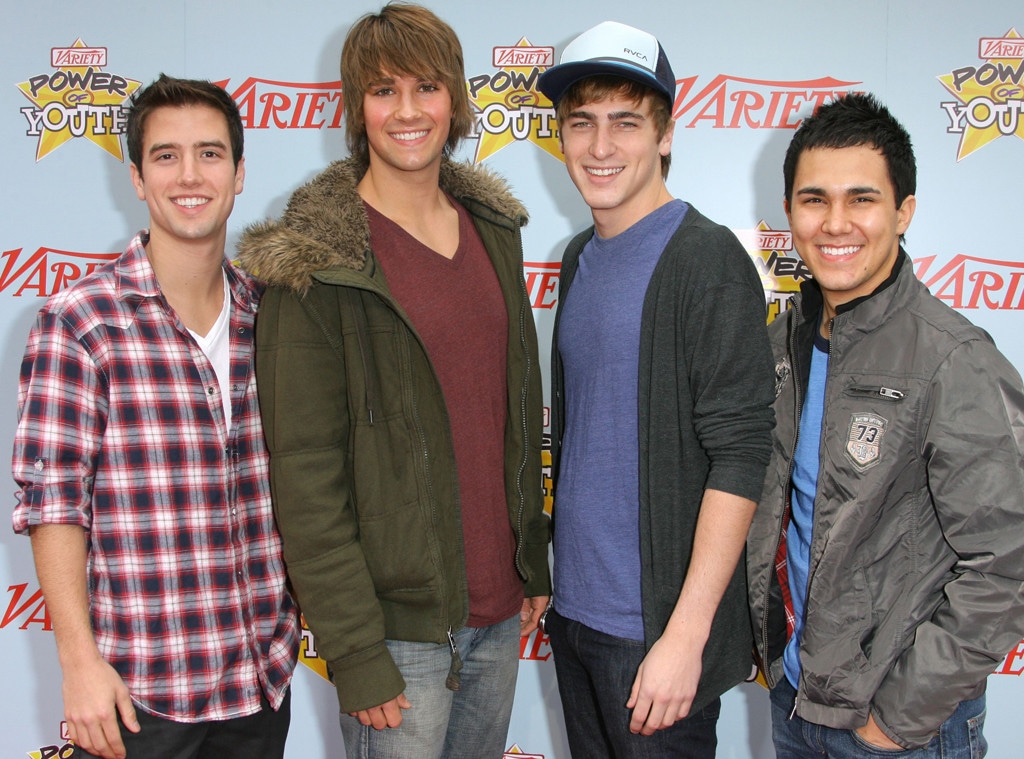 Matt Baron/BEI/Shutterstock
You've got your boy bands made up of aspiring stars who showed up at a come-one, come-all audition organized by a hustling producer. You've got your lads who were put together on a competition show by a visionary with a knack for developing raw talent. And then you've got your groups who can both sing and act—and whose fortunes rose thanks to a hit sitcom.
Groups like Big Time Rush.
It's been more than 10 years since the show of the same name premiered on Nickelodeon, turning its four stars into teen idols and charting pop stars, the glow of the boy band they played on TV handily filtering into the real world.
Kendall Schmidt, James Maslow, Carlos Pena Jr. and Logan Henderson played...wait for it... Kendall, James, Carlos and Logan, hockey-playing buddies from Duluth, Minn., who get a chance to go to Los Angeles to make their dream of boy band stardom a reality.
Their aw-shucks adorable ways, comic timing and onscreen chemistry earned the boys of BTR comparisons to no less than The Monkees—who, lest you forget (or never knew), started out as a band formed for the purpose of a TV series about a band in 1965. The zany show only lasted two seasons, but the group's original run together lasted until the 1970s and to date The Monkees have sold more than 75 million records.
Bryan Bedder/Getty Images for Nickelodeon
The music of Big Time Rush may not be quite as enduring, but their series lasted four seasons and spawned a TV movie, three successful albums and a still-devoted fan base. (Never forget, One Direction was their opening act in 2012, the British group's first foray into performing in the U.S., on BTR's Better With U Tour.)
Kendall, James, Carlos and Logan last performed live together in February 2014, but, naturally, with nostalgia being all the rage, there was always talk of a reunion.
The four fellows made their fans' month in April when they reunited for a video call—as James said "a hot minute" since they'd all been together—with a sweet message about spreading more "love and compassion" in the world in a time when we need it most. 
Today is Maslow's 30th birthday (they grow up so fast!), so here's an update on what those four cute characters are each up to on his own (and sometimes together), 10 years since that first big rush:
Broadimage/Shutterstock; Amanda Schwab/Starpix/Shutterstock
Kendall Schmidt
The Kansas native, who played Kendall Knight, the charming leader of the group, was the last of the four to be cast, reportedly replacing Curt Hansen (who played Dak Zevon on the show) after producers ultimately determined that Hansen's voice wasn't distinguishable enough from James Maslow's. 
After he and BTR went their separate ways, Schmidt reunited with Dustin Belt, the other half of Heffron Drive, the duo they performed as (named after the street they both lived on in Burbank, Calif.) before Kendall joined the Nickelodeon family. They started recording and touring, releasing their debut album Happy Mistakes in September 2014 and a live album, Unplugged, in 2015. They most recently released a handful of songs in 2018, including "Mad at the World" and "Black on Black."
Also in 2018, Heffron Drive won the iHeartRadio Music Festival's Rising Star Competition, prompting a congratulatory shout-out from James Maslow, who has remained one of Kendall's good friends.
Back in 2016, when asked about the idea of performing again with BTR (the band had just been trending on Twitter days earlier), Schmidt told Bustle, "Whenever I see fans getting excited about it and there's an opportunity to get back together, I'm all for it. I know for sure it would involve a tour. I don't know if it would involve new music.
"It'll take a little finagling, but I think, at some point, we'll come up with something."
It seemed as if something was in the works, but who knows how the coronavirus affected his (or everyone's) plans for more public projects.
"I was happily sporting my mustache most of November so far, but had to shave it last night for an audition," he shared on Nov. 13 when he shaved his Movember mustache.
Cancer prevention and awareness isn't his only cause, either: He showed up for the Climate Strike in L.A. in September and advocates for wildlife preservation. He's a dog lover himself, and these days he's keeping company with girlfriend Mica
"Get married already," none other than Carlos Pena Jr. commented on her birthday shout-out for Kendall on Instagram in November.
"The road trip continues and it just keeps getting better. Love the uninterrupted time with my beautiful road warrior @mica_chu," Schmidt wrote on July 14.
MediaPunch/Shutterstock; Tiffany Rose/WireImage
James Maslow
Fresh from BTR, the New York-born, SoCal-bred performed (whose James Diamond was "the cute one"—'cause there's always got to be a cute one—on Big Time Rush) competed on Dancing With the Stars, finishing fourth.
In 2015, he starred in the Lifetime movie Seeds of Yesterday and dropped his first single as a solo artist, "Lies."
His debut album, How I Like It, came out in 2017, and last year he lasted on the premiere U.S. edition of Celebrity Big Brother for 24 days.
Watch:
James Maslow and Victoria Justice Team Up
The various irons Maslow has in the fire are heating up: In April 2019 he dropped some new music again, as promised, the single "Love U Sober," and he's got the indie movie We Need to Talk in post-production and the World War II action drama Wolf Hound, in which he plays an American pilot shot down behind enemy lines in Germany, still reportedly due out sometime in 2020.
And, of course, he's working out. A lot.
They spent her last birthday together in South Carolina, and were enjoying the winter sun in Miami this week—and other recent exploits include doing the Joker-Harley Quinn costumes for Halloween and attending a benefit for ACEing Autism.
They've been hunkered down at their Venice home together, and today James thanked fans for their birthday wishes from his patio while enjoying his morning coffee.
"I wouldn't be here without all of you #love #fans #birthday #dirty30 #vacationclub and yes this is what my hair looks like when I wake up haha," he shared.
Shutterstock; Rodin Eckenroth/Getty Images
Carlos Pena Jr.
Speaking of being off the market, Pena Jr.—the joke-cracking Carlos Garcia on BTR—now goes by Carlos PenaVega, having joined surname forces with his wife, Alexa Vega (also now PenaVega). He and the former Spy Kids star married back in January 2014 and are parents of two sons together, 2 1/2-year-old Ocean and 5-month-old Kingston.
"Carlos actually called me when they first found out," Kendall told Bustle in 2016, about finding out his buddy was going to be a dad. "And he said, 'Are you ready to be an uncle?' And I was like, 'No, what are you talking about?' And he was like, 'Oh, we're having a baby!' And I thought that was really cool. I'm so stoked about it. They're going to be great parents."
Back in 2015 he and Alexa competed on the same season of Dancing With the Stars, finishing fourth and sixth, respectively, and supporting each other all the way. They've been chronicling their adventures as a family, from Alexa's first pregnancy to their early parenting days to their idyllic-looking trips to Maui, on their YouTube channel, Lex Loves Los.
In 2018, Carlos poured some gasoline on that smoldering BTR reunion fire, writing on Instagram in marking the ninth anniversary of the Big Time Rush premiere, "9 years ago my life changed forever. Thank you to everyone who has supported me since then! Can't wait for the next 9!! #9yearsofbigtimerush #wazzaaa #letsgo #bigtimerush #BTR shall we do a 10 year reunion tour for next year?! ;)"
That prompted Kendall to write the next day, "So I know I'm 1 day late, but it is #tbt so I think this still counts. There are so many amazing memories that it's impossible to think of one. All I know is that we still have the best fans in the world. They've followed us to our new passions and projects and just know that the boys and I are grateful. I second what Carlos posted about a reunion tour. I'm down.
"Sending you all love from the boys and I!"
Shutterstock; Manny Carabel/Getty Images
Logan Henderson
Is Big Time Rush's bookish Logan Mitchell going to be the one who needs the most convincing if the opportunity to get the band back together really arises?
In 2018 he was getting his own solo debut ready, and Henderson told Celeb Secrets at a charity event in L.A., "I want a great first album. I want to make it the way that I envisioned it, I wanna see people on the road that I haven't seen in a long time and I want to travel." The album would have "special collaborations," he said, but not anyone from BTR.
"I've done enough with those guys," he said, adding, "I love them to death."
His digital album, Echoes of Departure and the Endless Street of Dreams, came out in 2018, and this year he dropped the single "End of the World" and went on tour.
Summer fun this year included a performance at the Orange County Fair, a trip to Spain, and pool time with his S.O.
His past girlfriends include Alexa PenaVega's sister Mackenzie Vega, but lately Henderson has been keeping his personal life especially private, so much so that fans swooned—"Finally!"—when he posted a photo with his apparent girlfriend in August (liked by Kendall, naturally). Some fans went with a single-tear emoji after finding out that all four former members of Big Time Rush are taken.
They were still going strong at least as of Valentine's Day. On March 24 he mused about social distancing, writing, "S--t term when you enjoy being active, social and creative. Better term for me is self celebrating Meaning I'm using this space to enjoy some downtime..keeping myself grounded and putting some goals and priorities into effect and doing some stuff I've never done before."
But someone had to be taking those photos with the majestic desert landscape behind him.
Unlike his former BTR mates, Henderson took a few years off from music and showbiz in general, saying on The Zach Sang Show in 2017 that he basically needed a break from the obligations that came with the territory. He even stayed off Instagram until 2016.
"We were going, going—there was no stop," he reflected. "I think that's why it took me so long to get started back with just music, I needed to kind of, like, decompress and kind of go find yourself a little bit—'cause it was a lot of work." All the while they were touring, he continued writing his own music and envisioning what having his own solo career would look and sound like.
But while Big Time Rush lasted, "it was a blast. We did it all."
(Originally published Nov. 28, 2019, at 4 a.m. PT)