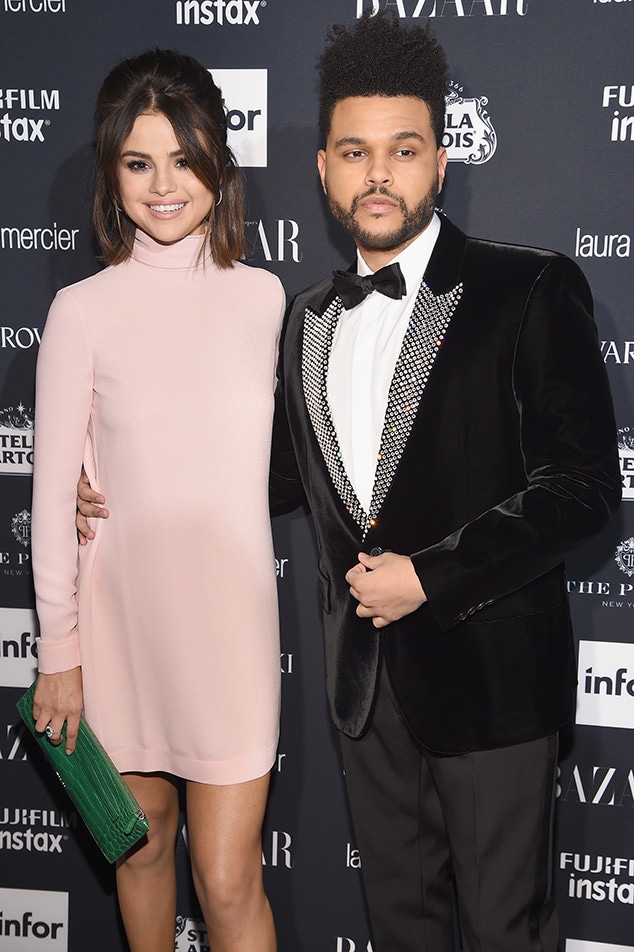 Getty Images for Harper's BAZAAR
We can't feel our face after The Weeknd's latest announcement.
On Monday, the 29-year-old star (whose real name is Abel Tesfaye) returned to Instagram after taking a break from the social media platform to tease something exciting: a possible music release. "the fall starts tomorrow night," he cheekily captioned his post, alongside a blurry black-and-white image. 
Moments later, he uploaded the same snapshot to Instagram Stories with a message that read: "tomorrow night we start again."
While the "Can't Feel My Face" singer is keeping a tight-lip on his latest release, one thing is for sure: Selena Gomez seemingly inspired one of his upcoming tunes. According to the ASCAP website, The Weeknd registered a song titled, "Like Selena."
As fans of his might recall, he and the 27-year-old star began dating in January 2017 but by October of that year, the two decided to split after 10 months of being together.
At the time, a source told E! News their busy schedules made things hard on their relationship.
Rob Latour/REX/Shutterstock
"Selena and Abel both agreed that this relationship wasn't going to work due to his busy schedule, but Selena was the one who wanted to end it," the insider previously shared with us. "She didn't feel secure while he was away, and the schedule conflicts got very exhausting for her."
A separate source echoed the first insider's sentiments. "They are still talking and will remain friends. They have been very grown-up about it," the second insider explained. "It's been hard for them to come to the realization that this is the direction things were heading, but it's been hard for months.
The source added, "They have been open and honest about it and where they were going. Distance definitely played a factor."
Watch:
Selena Gomez Responds to Bella Hadid's Deleted IG Post
However, the news of The Weeknd's possible song about Gomez comes as a surprise considering they've been broken up for quite some time. But, of course, this isn't the first time he's referenced the "Look at Her Now" songstress in his lyrics.
In 2018, his album My Dear Melancholy, was full of SelGo Easter eggs. Songs such as, "Call Out My Name," "Starboy," "Privilege," "Hurt You," "I Was Never There" and "Wasted Times" all heavily referenced the brunette beauty.
And for all we know, The Weeknd's upcoming music about Selena could have been in the works during or after their breakup. The timing of his "Like Selena" song is interesting, though, especially because the 29-year-old singer recently reunited with his ex-girlfriend, Bella Hadid (whom he dated before and after Selena).
The "Pray for Me" singer was spotted hanging out with the 23-year-old supermodel for her birthday party celebration in October, which came two months after they officially called it quits again.
It's clear The Weeknd is already hitting all the right notes and his new music hasn't even dropped yet!